If you want a top that always looks and feels effortless and chic, look no further than the classic button-up. It's a timeless piece and is easy to style with jeans, a skirt, or trousers. Next, try the oversized version to add a little twist to your outfit. It has the same timeless feeling as the classic, but the oversized version adds a cool-girl factor to your outfit. Let's take a look!
Classic Button-up Shirt and Jeans
The combination below is perfect to wear shopping, for a casual lunch, or a night out with friends. The beauty of this look lies in the simplicity of the pieces!

Style Board 1
Try wearing a button up shirt under a utility jacket for a casual look or a black blazer (a favorite style) for a more polished look. The possibilities are endless!


Additional Button-up Shirts

Style Board 2
Warm tones and stripes are the focal point in these outfits. How cute is the Chloe bucket bag? It's the perfect combination of fashion and function. The drawstring closure ensures that everything remains secure while you carry your essentials in style. The Sam Edelman Waylon sandal looks luxe with the bucke bag too!

Oversized Shirt and Jeans
Oversized shirts are so versatile and chic. There are so many different ways you can wear them – untucked, front tucked into your favorite pair of jeans, tied at the waist, or even as a stylish third layer. And if you're planning your next trip, don't forget to pack your oversized shirt because it makes for the perfect beach cover-up.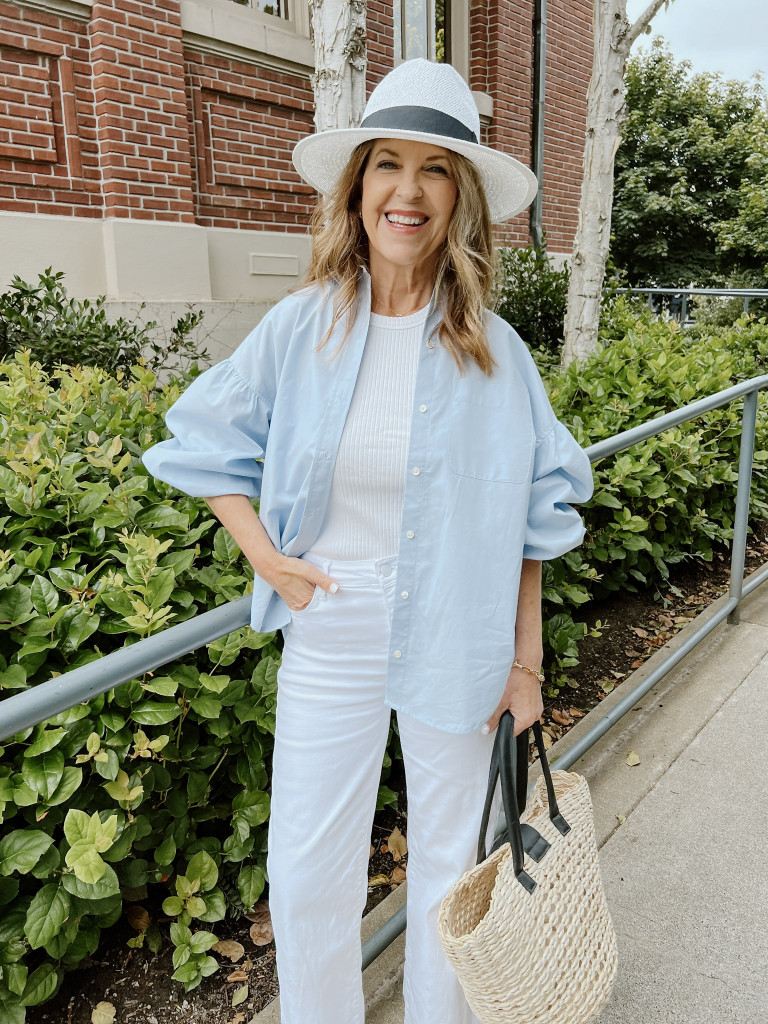 Similar: Shirt | Tank | Jeans | Hat | Straw Tote

I love the Citizen of Humanity Kayla shirt by I'm wearing in the photo below. Initially, I had it on as a 3rd piece for my walk on the beach, but then the wind picked up, and I decided to switch it up and do a front tuck – it's such a versatile piece! Plus, I did not wear my Gucci Horsebit sandals in the sand. Ha!

Thank you for reading. Please let me know if you have any questions or comments.
xo Sandy