Chilly Fall weather has arrived in the Pacific Northwest; we even had a sprinkling of snow in the mountains at our local ski resorts. With the change of seasons, I always put away last season's wardrobe and replace it with the current season's clothes. I get excited to pull out the timeless staples that I love to wear year after year—soft, cozy sweaters, wool coats, and Chelsea boots that are my go-to items for fall. I also create a list of things I need to replace and new trends I want to add to update my wardrobe for the season.
One item I am replacing this season is the sweater dress. Sadly, my old sweater dresses have seen better days, but there are so many new styles to choose from, and I'm excited to get something new. Also, sweater dresses are so easy to wear! Please look at some of the options below; I think you will find a sweater dress that fits your lifestyle. Styling tip-wear a sweater dress with tall boots, lug sole boots, Chelsea boots and tights, chunky loafers, and ankle socks or sneakers.
Belt a Dress and Wear a Tall Boot
Sweater dresses are timeless and a great addition to your wardrobe.  This photo was taken 4 years ago at a Nordstrom event in NYC. It was a classic dress then and is still trending now.  Styling tip – add a belt when wearing a straight dress to provide shape and structure.


Other Options – Shop the Boutique

This Max Mara Leisure sweater dress is comfortable and fits all body types. I wore it in a recent Instagram reel. If you missed the reel, you can watch it here.
1 | 2 | 3 | 4 | 5 | 6 |7

Other Options – Shop the Boutique

Burgundy Dress
Fall is the time to play with layers and autumnal colors.  The off-white boot in the photo was fun to style and was very comfortable too. All warm tones and black boots will work well with this sweater dress.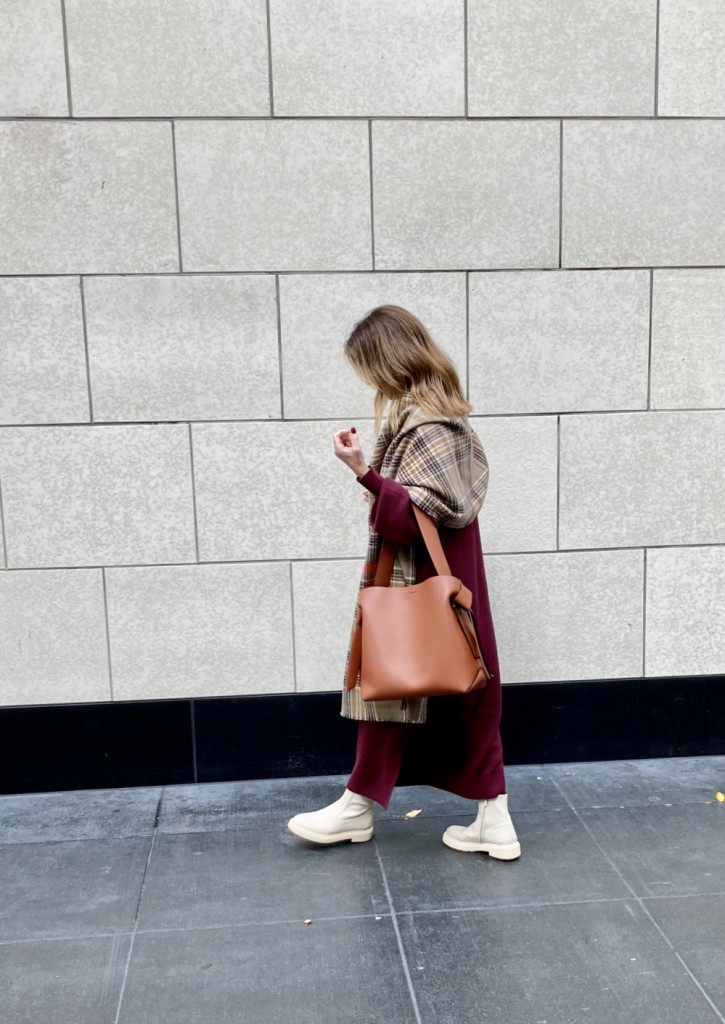 1 | 2 | 3 | 4 | 5 | 6

Additional Options – Shop the Boutique 

Just For Fun-Dress With A Hoodie
1 | 2 | 3 | 4 | 5 | 6 | 7

Thank you for reading.  Have fun with fashion!
xo Sandy