Add a fun jacket to dress up your casual denim look! Today I'm highlighting jackets from the Nordstrom brand, Zella, to wear when you want to dress up your outfit. Many of you might know the Zella brand for it's athletic wear for the entire family, but did you know they make outerwear too? 
Longline Bomber Jacket
Below is a favorite Zella jacket. This longline bomber jacket continues to trend and will keep you looking modern, warm, and dry. I wear this style from fall through spring, layering it over a favorite t-shirt, plaid shirt by Treasure & Bond, Nordstrom hoodie, or sweater, depending on the weather. 
Stylist tip: I like to layer a sweater over a blouse or tie it around my shoulders.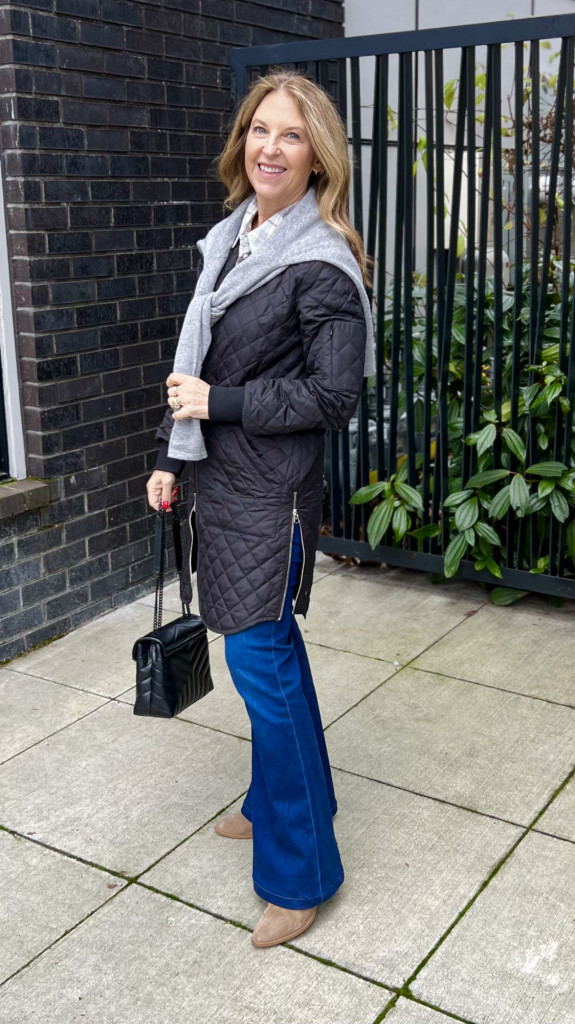 Nordstrom House Brands (NPG)
Nordstrom has many house brands like Halogen, Treasure & Bond, Open Edit, and Zella, which strive to create the best fashion and home items for you and your family. A goal for Nordstrom is to focus on fashion-forward, inclusive, and excellent-quality merchandise that is moderately priced and ethically sourced.
Add Accessories!
Pictured below I'm wearing jewelry by Monica Vinader and a vintage necklace by Bony Levy. All are pretty chains that are easy to layer and go with every outfit. 
Stylist note: To stack your necklaces, look for chains in lengths of 14″, 16″, 18″ or 20″(stack in odd numbers). Plus, most Monica Vinader Jewelry is available in sterling silver and rose gold too.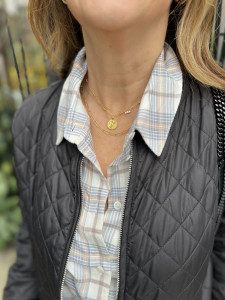 [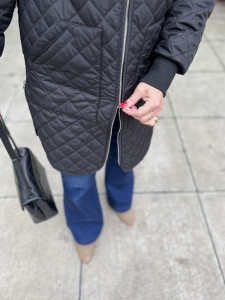 Zella Corded Faux Fur Lined Bomber Jacket
A faux fur jacket always elevates your look, even when wearing casual jeans or Zella leggings! So, with bomber jackets trending this season, why not try a faux fur version? This jacket is available in other colors and makes a great gift too.

Details
I love a winter jacket with a hood, how about you?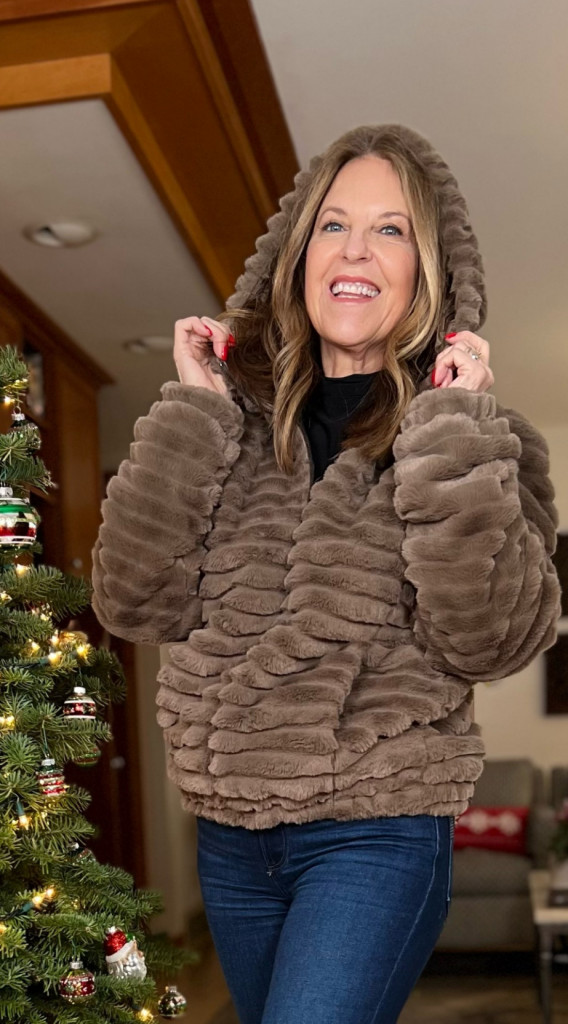 Zella Responsible Down Hooded Jacket
A down jacket is a must-have item to keep you warm during the colder months. I was intrigued by this Zella jacket because of the color and the moderate price! It's a pretty style to elevate any denim outfit and is a nice gift item too.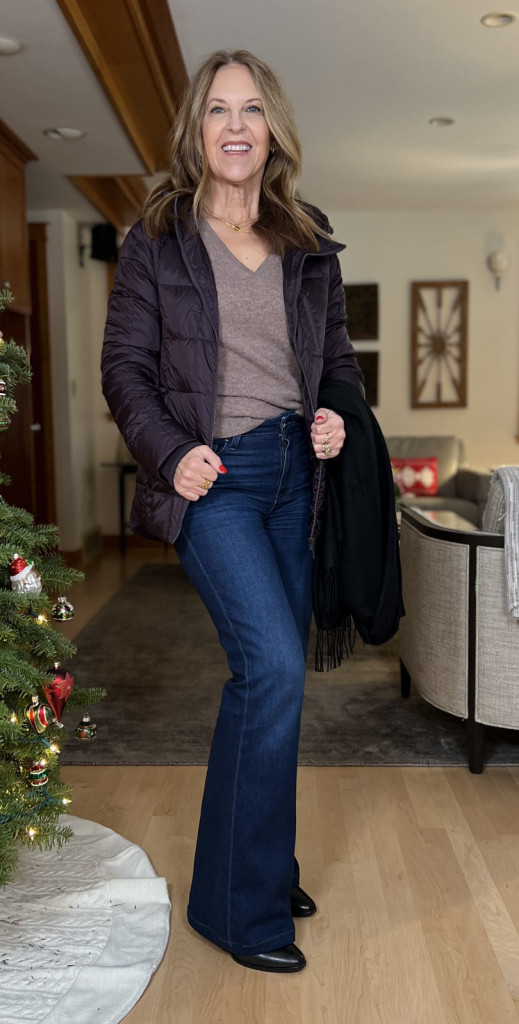 Zella Down Hooded Jacket, Nordstrom V-neck Sweater, Paige Genevieve, Rag & Bone Rover, Monica Vinader Jewelry, Nordstrom Cashmere Scarf

I often wear this cashmere scarf and the cozy v-neck sweater to keep me warm and looking chic. These items make lovely gifts for you and your friends and family.
Stylist note: For reference, I'm wearing an XS in the Zella responsible down jacket. Plus, my finger nail polish is OPI, red apple. 🙂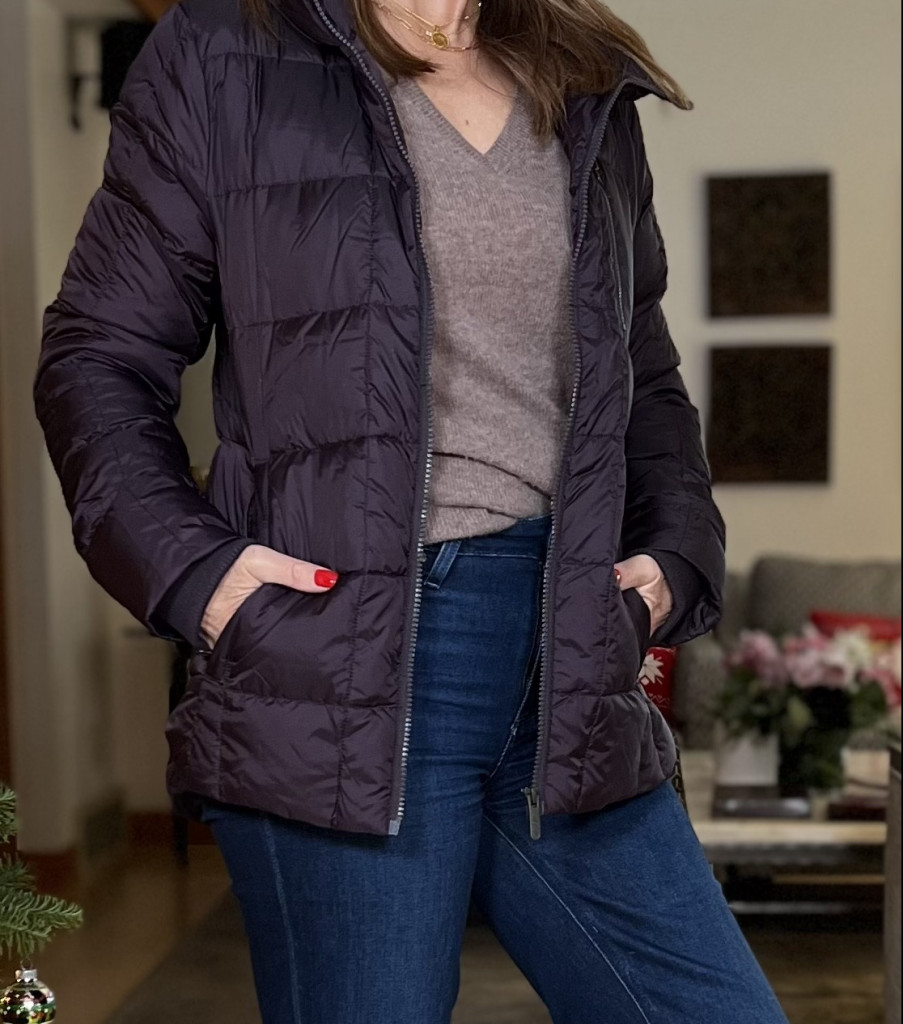 Thank you for reading. Happy Holidays!
xo Sandy
Thank you, Nordstrom, for sponsoring this post!