In the morning, when I enter the store, it's exciting to see new merchandise freshly steamed,  hung, and ready for customers to preview. Even better than seeing the latest merchandise is the opportunity to have a try-on session!  Below are a few of the looks I tried on this past week.
I can't get enough of this summer dress by Veronica Beard.  A cotton and linen blend, the dress is relaxed and comfortable, and the ruffle hemline is fun and flirty. Elevate the look by wearing a metallic shoe.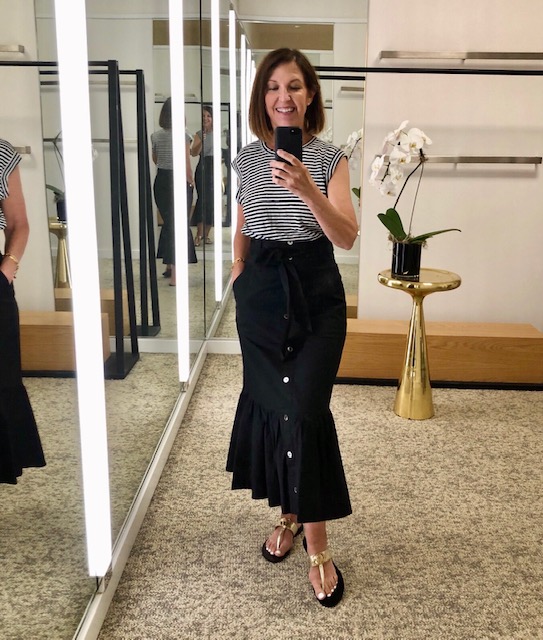 Veronica Beard and Gucci

Shop The Post
Another Veronica Beard dress, this one is short and sassy and oh so cute. Not only will it be perfect to wear now with sandals, but throw on some booties, and you'll be ready for fall.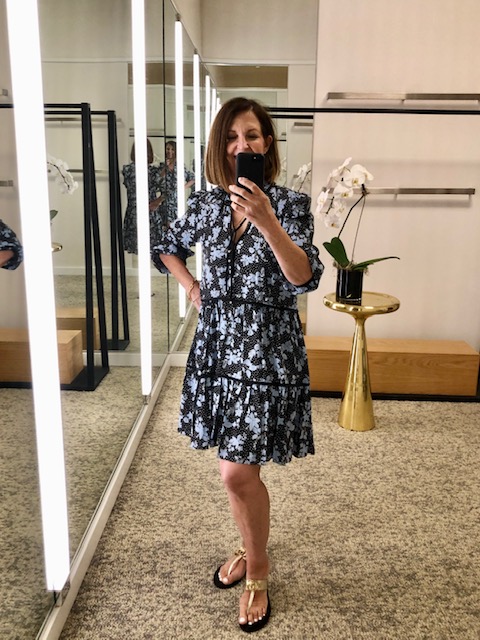 Veronica Beard and Gucci
I am always looking for versatile blouses for my customers, and this one fits the bill. It stood out as a great wardrobe addition because of its pleasant robin's egg blue flowers and on-trend polka-dots. This fun print (which matches the dress pictured above) pairs well with white, faded blue and black denim. If you prefer a denim skirt, Veronica Beard offers an excellent white option too.
I added a splurge item for this look,  a fantastic pouch bag by Bottega Veneta. Soft and squishy, this beautiful bag is a luxe item on my wishlist.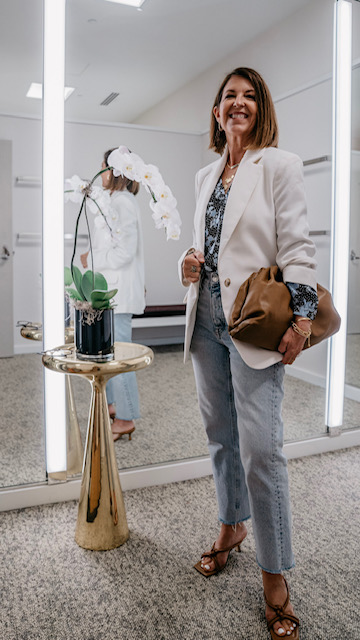 Veronica Beard, Topshop,  Marc Fisher, and Bottega Veneta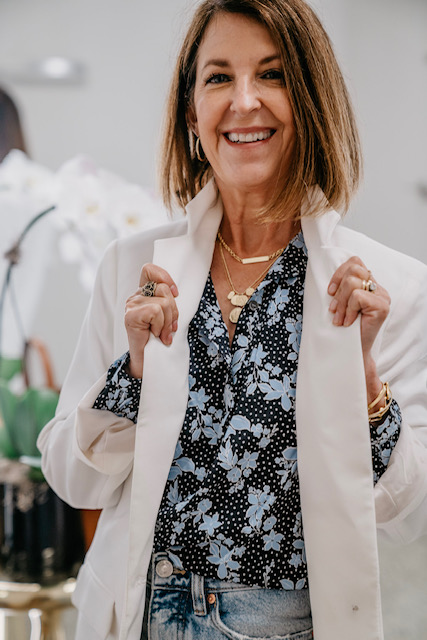 I've fully embraced the athleisure trend, and this includes wearing sneakers with denim, skirts, and dresses. This blush Golden Goose sneaker works as a neutral color and is an excellent alternative to wearing white sneakers. I'd style them with the Veronica Beard dress pictured above for a fun twist.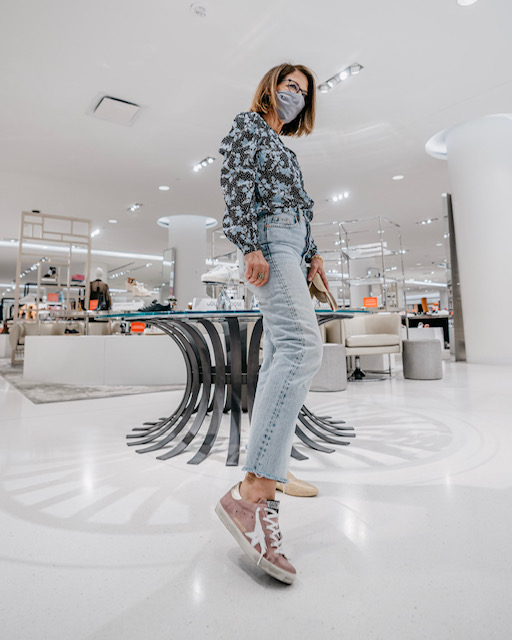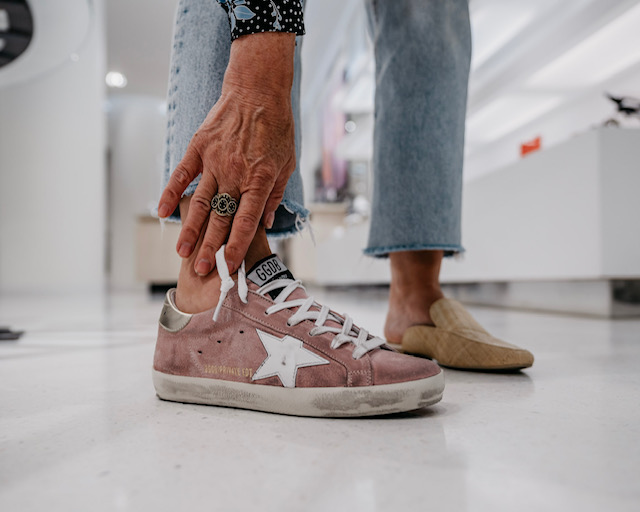 Golden Goose
All white and neutral-colored outfits are classic and on-trend. I included this soft Treasure & Bond white sweater with the Veronica Beard pleated front short as one of my try-on picks. Monochromatic looks are always chic!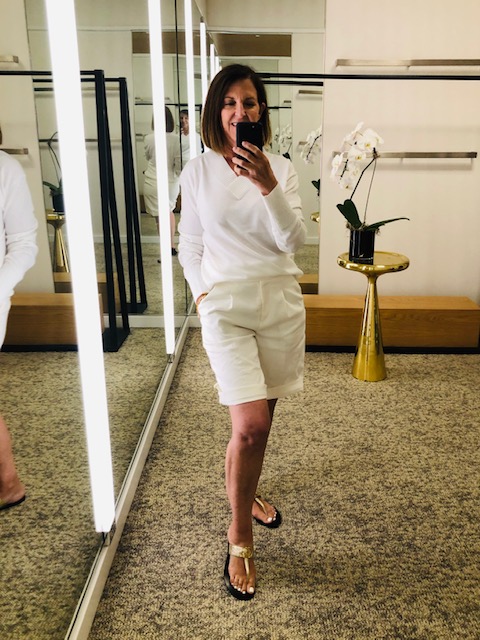 Treasure & Bond, Veronica Beard, and Gucci
Lastly, I was on the hunt for additional "Zoom" tops for a customer and stumbled onto this Treasure & Bond floral shirred sleeveless blouse.  I tried it under the white Topshop blazer pictured above, and it elevated the look for my customer's calls, even if only seen from the waist up. Plus, it will work as a casual summer top too.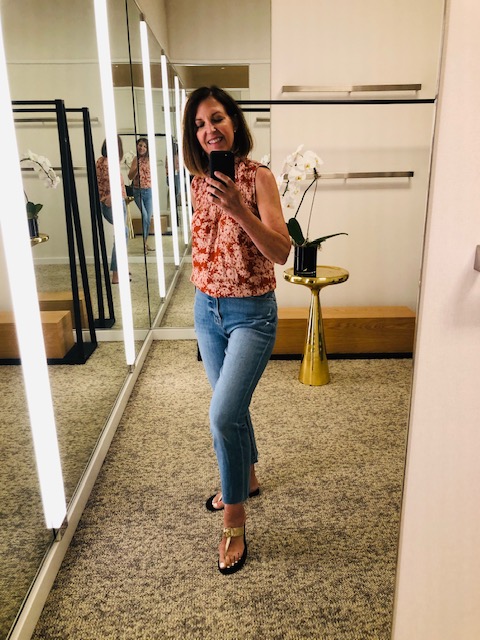 Treasure & Bond, Levi, and  Gucci
Check in next time for my favorite Anniversary Sale products.
Thank you for reading.
Hugs, Sandy