As a former Nordstrom personal stylist with 13 years of experience, I helped hundreds of women build their wardrobes. And I found that having essential basics in your closet is a must for a chic and effortless wardrobe. With basics, you can create many outfit combinations! 
A few weeks ago, I wrote about the different styles of jeans to include in your wardrobe. If you missed it, you can catch up by reading it here. Today, I want to add to the list of basics that every wardrobe should have to create chic and effortless looks. So take a look below to see a few more essential items I suggest including in your closet.
Button Up Shirt & Cardigan Coat
A classic button-up shirt is a timeless piece you can count on to create put-together looks and one I'd recommend to my customers. I particularly love this top's floral tone-on-tone style by Rag & Bone. Pair with jeans and a cardigan or with trousers and a blazer. Oversized button-up shirts, like the Citizen of Humanity, Kayla are trending and fun to wear and style.
A Cardigan Coat is a nice addition for your wardrobe and a great way to elevate an outfit. It's versatile, comfortable, and a popular layering piece. Here are a few additional cardigans too.
Additional Cardigans

Look 1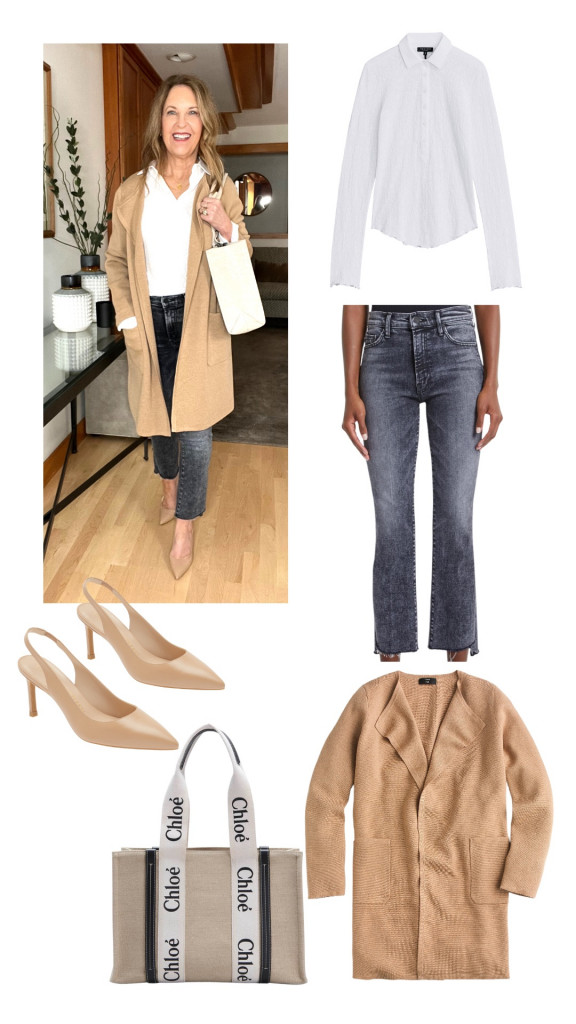 Rag & Bone Floral Jacquard Polo Shirt, Mother Insier Jeans, StuartWeitzman Pointed Slingback, Medium Chloe Tote, J.Crew Juliette Sweater

Stripe Tops and Modern Jeans
A classic stripe top is always nice to wear and adds interest to any outfit. It's a style I liked to suggest to all of my customers.  Wear it with your favorite jeans or trousers!
Additional Sweaters

Jeans are a staple item that most of us reach for often. So, I recommend having a few different styles to have options to wear. The straight, flare, and crop kick flare are popular choices. Plus, wider-leg jeans are trending, like this one.
Look 2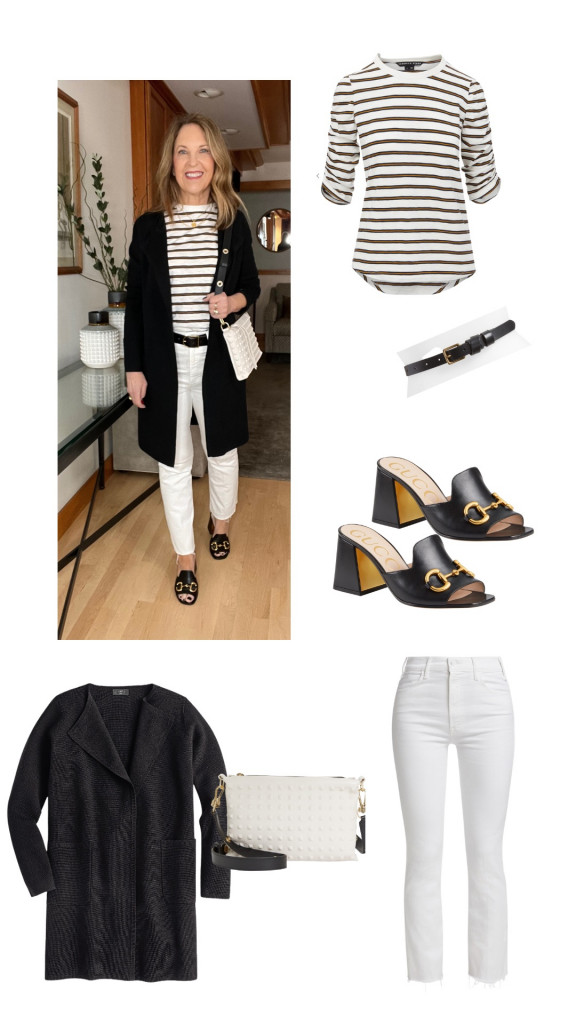 J.Crew Cardigan, Stripe Top, Belt, Gucci Horsebit Slide, Allsaints Crossbody, Mother Hustler Jeans

Stripe shirt, Denim Jacket & Gold Jewelry
A striped button-up is a great way to add color and interest to an outfit. I like to wear it with a classic denim jacket, a timeless piece you'll find yourself reaching for often. Stylist note: Size up on the Lagence denim jacket.
Accessories like jewelry and handbags are the finishing touches that can make a big difference in your outfits. I carry a lot of "stuff" with me, so I like to carry a tote like the Chloe. It is a splurge item, but I think of it in terms of the price per wear. When buying a designer piece, like a bag or shoes, consider how often you will wear it. This way, you can justify the investment and ensure you will get your money's worth. Many other great totes are available, too, like this here .
Classic Jewelry

Moderate Price Tote Bags

Other Handbags

Look 3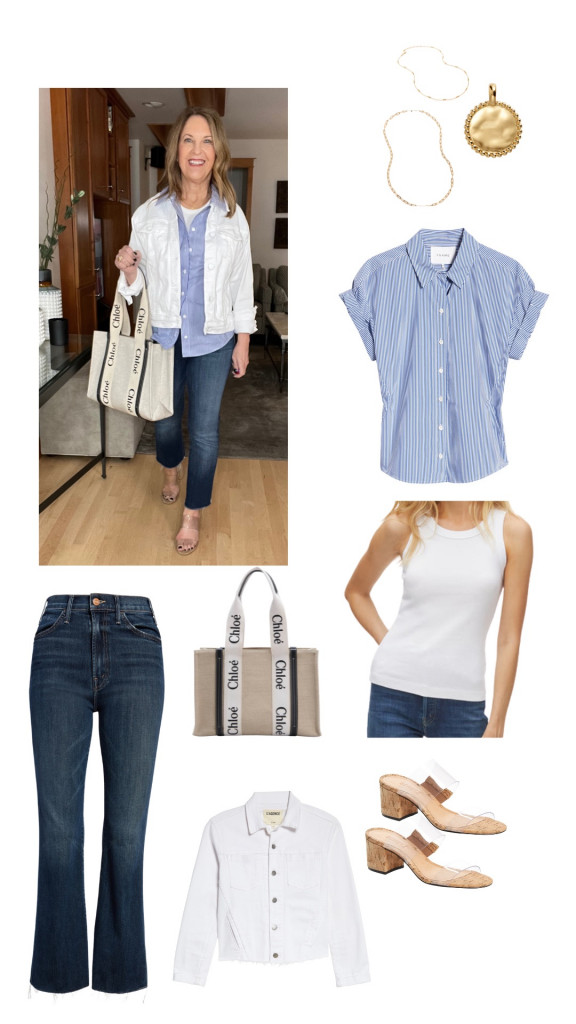 Thank you for reading.
xo Sandy