It's a beautiful day in Seattle and I know warmer weather is here to stay. With that in mind, I recently cleaned out my closet, kept the summer items I enjoy wearing, and now I'm adding additional pieces to create a versatile yet cohesive wardrobe. 
I always fall back on the same clothing categories to create a working wardrobe regardless of the season. Whether it's cloudy or sunny where you live, below are seven wardrobe stables everyone needs in their closet.
Summer Dress
Now that many of us are out and about, socializing and attending graduation parties or meeting friends for dinner, it's nice to have a carefree summer dress you can wear on multiple occasions. Below is my favorite slip dress by Vince. It's a versatile dress that you can wear with sandals or sneakers. After a year of wearing sweatpants and joggers, day dresses are trending too. Add one to your wardrobe. It might become a summer favorite. Here are a couple I recommend.


T-shirt 
This time of year it's a good idea to refresh your t-shirts. I might sound like a broken record, but my favorite white t-shirt is the schoolboy t-shirt by ATM. You will wear it under a slip dress, with denim, or a skirt. I frequently wear mine under a blazer with denim for a business casual look.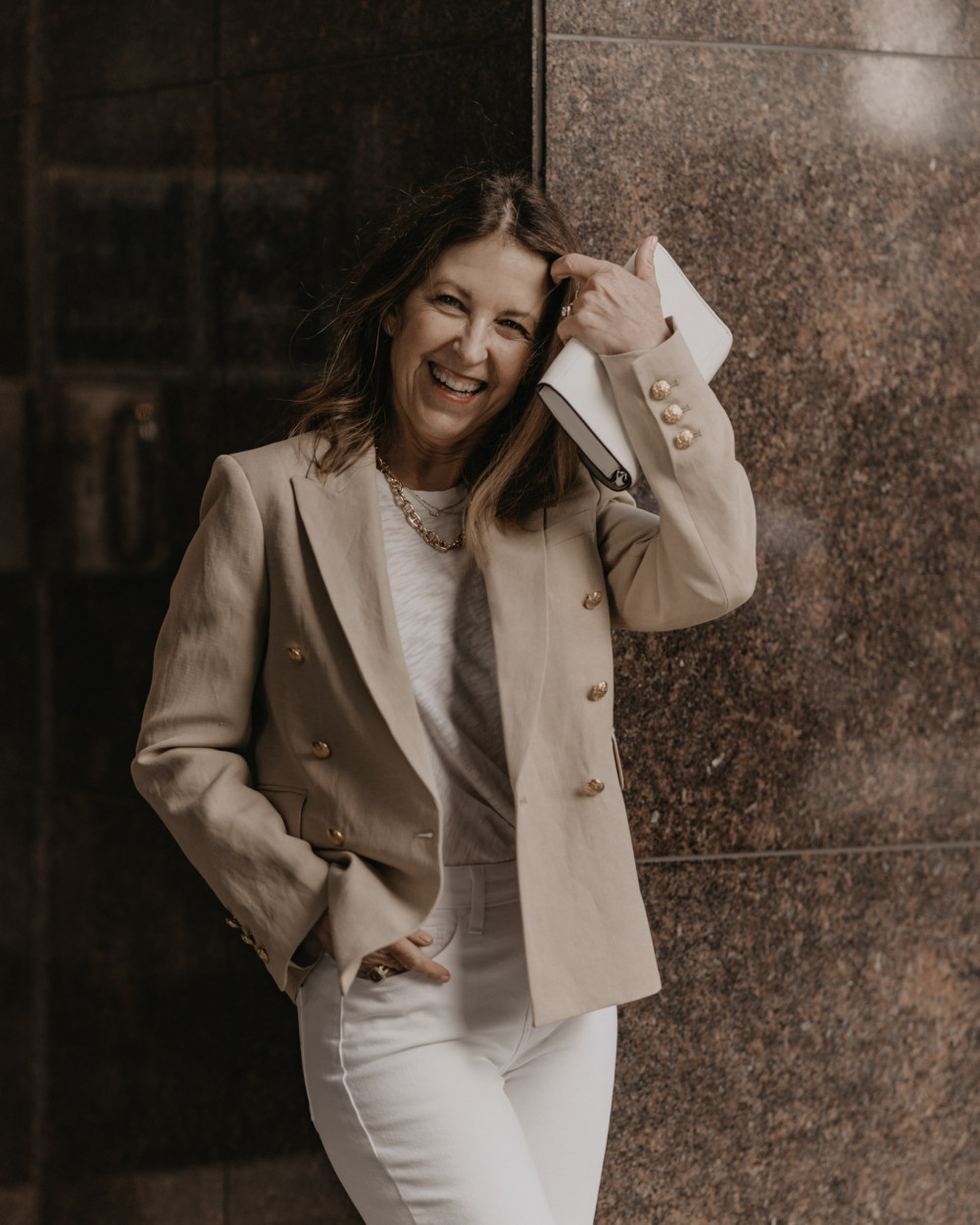 1 |2 | 3 | 4 | 5 | 6 | 7 

Current Denim
This season high-waisted, straight-leg denim is trending. Don't discard your skinny jeans, but add straight-leg denim into your weekly rotation. I recommend the styles below.
1 | 2 | 3 | 4 | 5 | 6 | 7 | 8 | 9

Sandals
A staple for every summer wardrobe is a sandal. The square toe sandal is trending this season; look for padded slides or strappy sandals too. Below are a few of my favorites.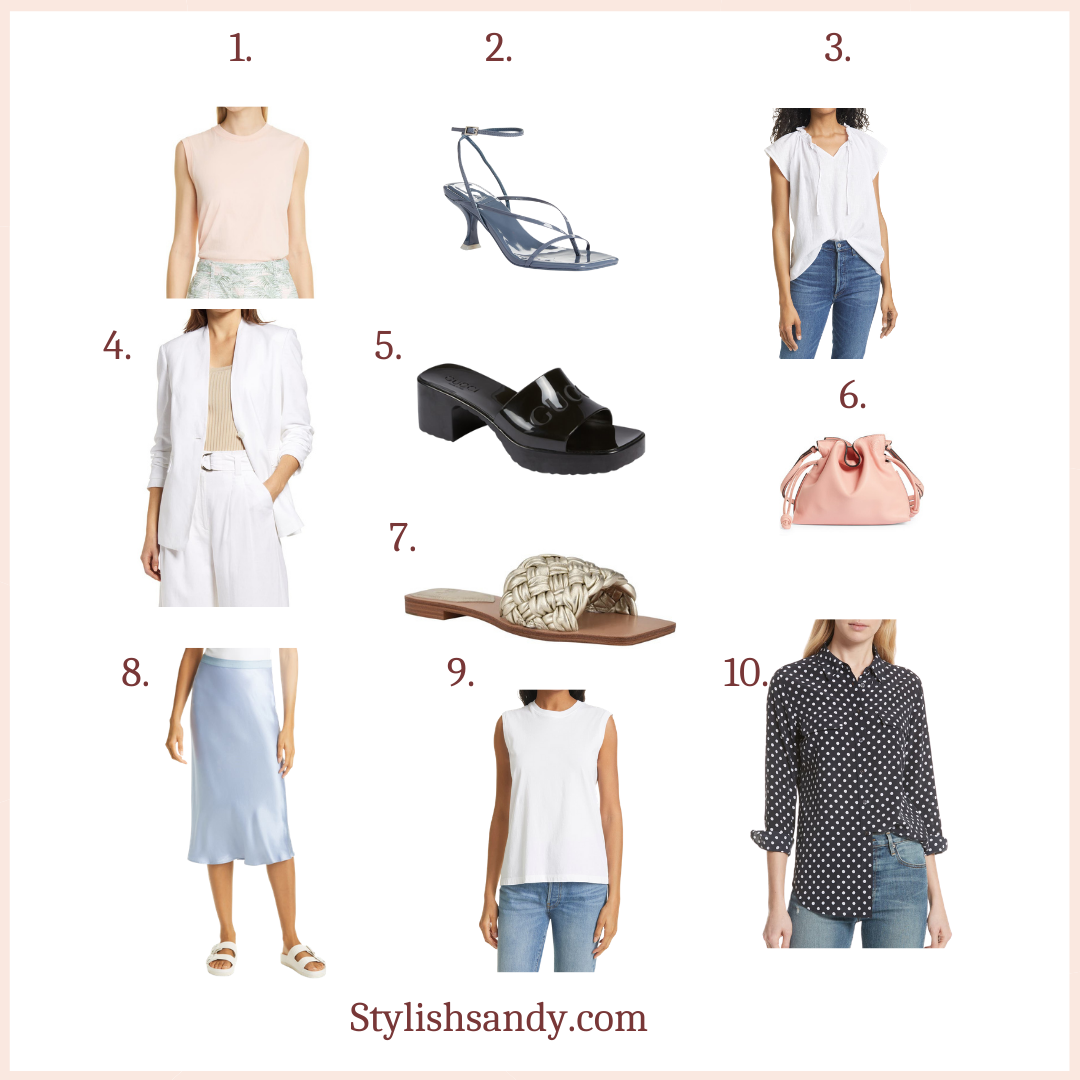 1 | 2 | 3 | 4 | 5 | 6 | 7 | 8 | 9 | 10 

The "Third Piece"
A third piece is a necessary item to have all year long. The denim jacket is perfect to wear this time of year. Wear it with denim, skirts, or dresses. I like to include a blazer in this category too. Blazers immediately dress up your look any time of the year. Attending a wedding and it's too warm for a coat? Wear a shawl as your third piece!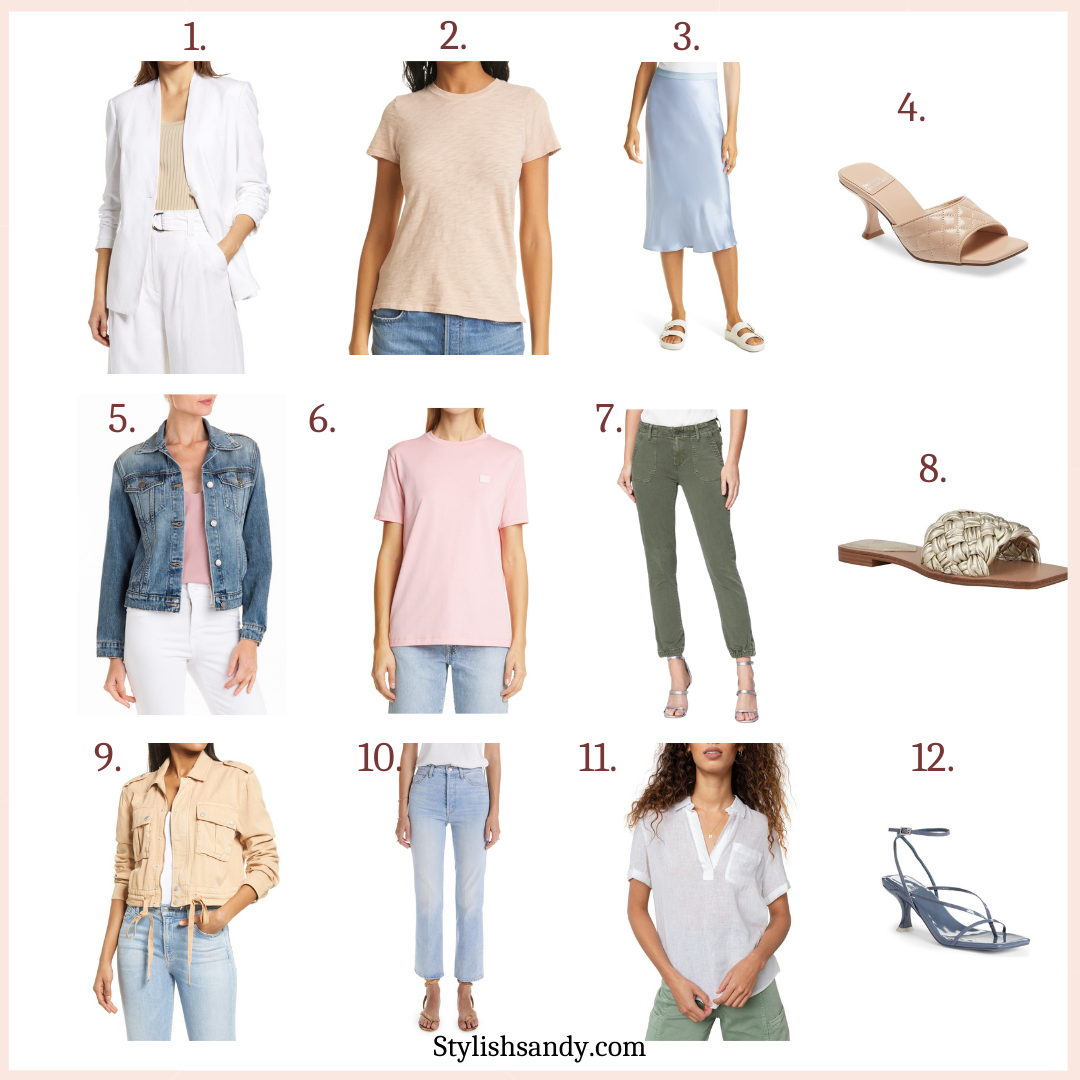 1 | 2 | 3 | 4 | 5 | 6 | 7 | 8 | 9 | 10 | 11 | 12 

Sneaker
It must be the kid in me, but I love wearing sneakers. White sneakers are trending; wear them with dresses, denim, and your favorite joggers. Here a couple of my favorites. 
1 | 2 | 3 | 4 | 5 | 6 | 7 | 8 | 9

Gold Necklace
I'm a big fan of jewelry. I like showing my customers how they can wear a white t-shirt, add a beautiful gold chain and create a simple elevated look. This delicate chain by Monica Vinader has been a favorite. It has a modern look and is a favorite among my customers. I suggest wearing it every day, regardless of the other jewelry you might have on. 
1 | 2 | 3 | 4 | 5 | 6 | 7

Happy Summer. Thank you for reading.
-Sandy