Today, I want to answer a couple of questions I've received from the Stylish Sandy community. If you have any questions you'd like answered, leave them in the comment section or email me. Also, I'm sharing some new items I've been wearing lately and your favorite items from last week.
Please recommend fall wedding guest dresses.
I love dressing up for weddings. Check out these wedding guest outfit ideas for your next celebration.

Question: Please recommend outfits for family photos. 
Fall is a perfect  for taking family photos and preparing holiday cards and gifts. We're gearing up for our family photo session, so I thought I'd share an outfit combination I'm considering. When planning your family's outfits, consider the color scheme and the mood you want to convey in the photos. We're aiming for a relaxed, casual outdoor look, so I've picked a neutral color palette—navy, ivory, cognac, and brown, with just a touch of burgundy to add a little pop. You might also like black, white, grey, and camel combinations. Also, another member of the Stylish Sandy community is planning a family photo session where everyone will be wearing white. I can't wait to see her photos!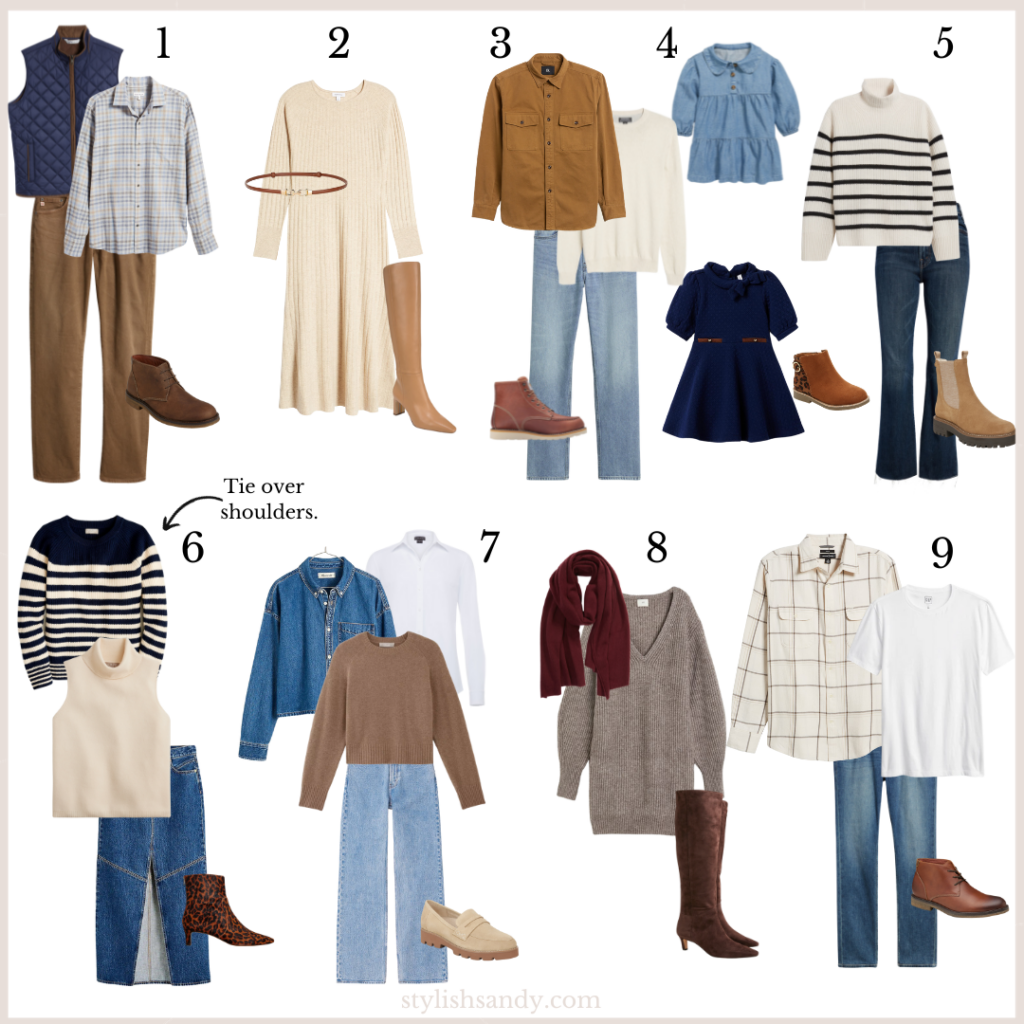 Shop The Post Left To Right
1. Men's outfit:

2. Dress Outfit:

3. Men's Outfit:

4 & 5. Little Girl and Mom:

6. Lower left Women's Outfit:

7. Women's Outfit:

8. Sweater Dress Outfit:

9. Men's Outfit:

New Finds
I've been enjoying this new Sezane cardigan, and I can't seem to take it off! 🙂 I picked this pretty pink shade, but other colors are also available. I'm working from home today, keeping it casual in a t-shirt, joggers, and white sneakers. I plan to wear the sweater with my J.Crew pleated skirt, slingback heels, or boots.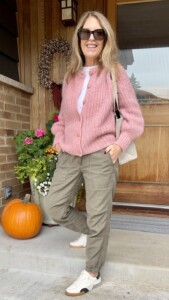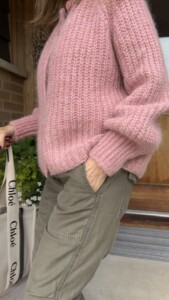 Sezane Cardigan | ATM T-Shirt | Citizen of Humanity Joggers | Dolce Vita Sneakers | Chloe tote

I'm excited about this new button-up shirt from Ameliora. The fabric is incredibly soft and stretchy, And the best part? I don't think you'll need to iron it. There were a few wrinkles when I first unpacked it, but a quick steam took care of them. This blouse is also breathable, so it will keep you cool—something we can all appreciate. It also has SPF 50 sun protection, making it perfect for those living in sunny weather. It's a good choice.
I also love wearing these slim, wide-leg pants in faux leather from J.Crew. They have a little stretch and are incredibly comfortable. Even better, they come in petite, regular, and tall sizes. Faux leather and coated jeans are fall and winter staples that can be dressed up or down, and I can already tell that these pants will be a regular go-to in my wardrobe.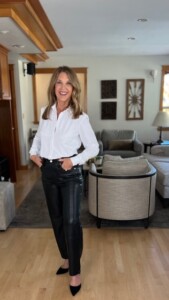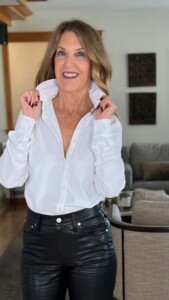 Ameliora Sullivan Button Up | J.Crew Faux Leather Pants | Sam Edelman Pumps

Your favorite items of the week
In case you missed it on Instagram, here are the top 10 favorite items from last week.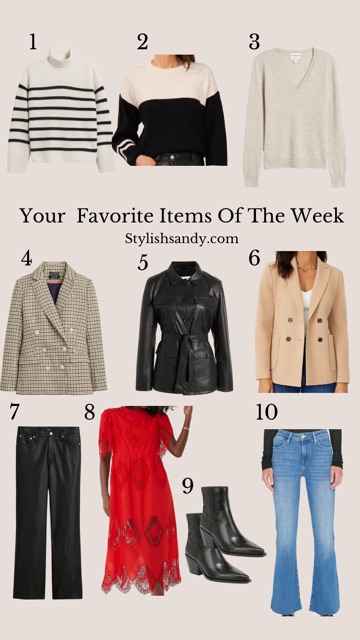 Thank you for reading. Let me know if you have any questions or comments!
xo Sandy