Spring is when I refresh my basics like white t-shirts, denim, and jean jackets. In doing so, I created a capsule wardrobe. So, what is a capsule wardrobe? It's a collection of classic neutral clothing and shoes that mix and match to create many outfits. Add a few unique pieces to show your personal style, and you've created your capsule wardrobe. With a bit of planning, you always have the right items on hand to create easy and chic outfits. In fact, with these 16 pieces, if I did the math correctly, you should be able to create 76 outfits. Ha! I created a sample outfit below to help you get started and will post more outfits this week.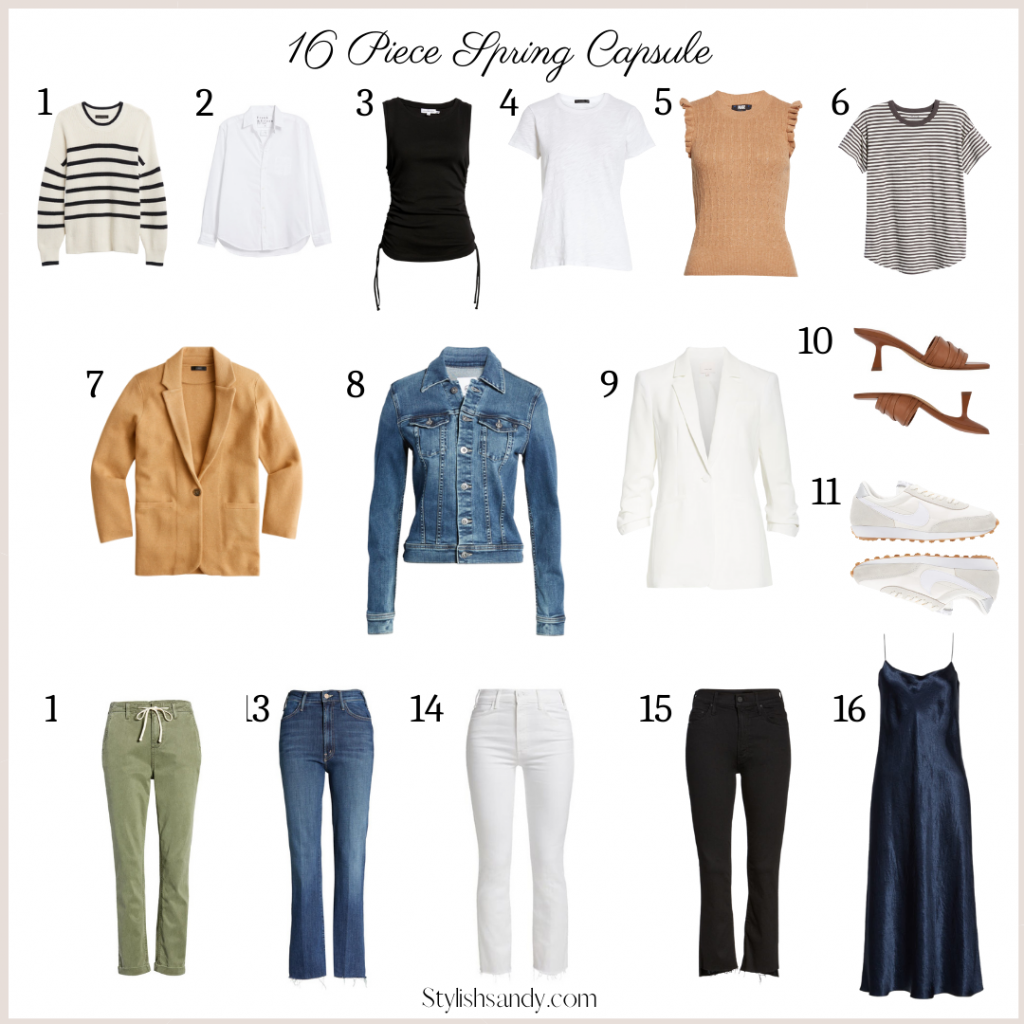 1 | 2 | 3 | 4 | 5 | 6 | 7 | 8 | 9 | 10| 11| 12| 13 | 14  15 |16

Look 1
Here is the first look from the capsule. I will post more combinations this week. Don't forget to add your accessories to to complete your look.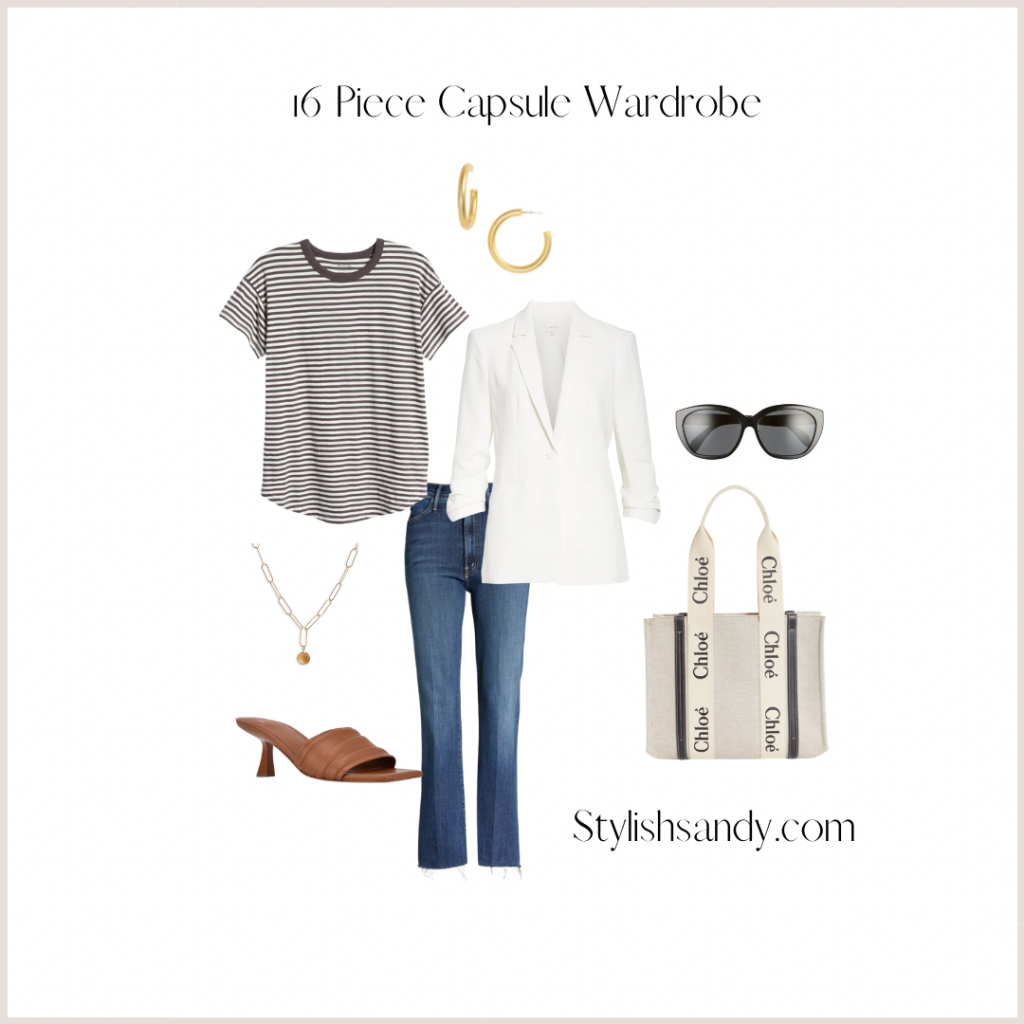 Tops
Mix and match the tops in the capsule (styleboard above) with all the pants and jackets. Plus, remember to layer pieces to create different looks. For example, try layering a blouse under the striped sweater or wear the blouse as a light covering. Alternate tops that work with the capsule are pictured below.
(Tap on the photo to view)

Jackets
A blazer instantly pulls every look together and is a classic year-round staple. I often wear the white Cinq a Sept blazer and always feel put together. Plus, Nordstrom is currently price matching the Cinq a Sept blazer(as of post date). A few other options are below.
(Tap the photo to view)

(Tap the photo to view)

Denim Alternative
Add either straight or wide-leg pants to the capsule for variety. The  Paige Carly is roomy, so size down.
(Tap the photo to view)

Blue Denim
With many jean styles trending this spring, I suggest you update your denim to include straight, flare, or wide-leg denim. I like the frayed Mother Hustler pictured on the styleboard above, and think you will also like the styles shown below. Some denim brands, like Paige and Mother are price-matched  at Nordstrom too.
(Tap the photo to view)

White Denim
I recommend updating your white denim to include a straight, flare, or wide-leg option. The Mother Hustler pictured above is a popular style, and other favorites are shown below.
(Tap the photo to view)

Black Denim
I've included black denim as a business casual or dressy option. But, you can always wear sneakers with black denim to create a casual look too.
(Tap the photo to view)

Slip Dress
A slip dress is a perfect addition to the capsule wardrobe. It's versatile, fits most, and you can dress it up or down. Want to know what bra I wear with this dress? I always wear a Wacoal Red Carpet Strapless Bra. It's comfortable and the favorite strapless bra among stylists. Take a look at the other dress colors available too.
(Tap the photo to view)

Sneakers
Retro and classic sneakers are trending, so I included both as options for the capsule wardrobe. The Nike Daybreak is very comfortable as well as the Golden Goose. Other classic options are here, here, and  here.
(Tap the photo to view)

Thank you for reading.
xo Sandy