The Transitional Jacket You Need In Your Wardrobe!

Denim jackets have been around for a long time, and I don't foresee the classic piece going out of style anytime soon. It's a transitional piece that you will wear multiple seasons, from a chilly summer evening to a crisp fall day. Wear with denim, dresses, dress slacks, or skirts for a casual and confident look. With various washes and styles to choose from, there is a denim jacket available for everyone.
Wear Over Your Favorite Dress
A denim jacket is a perfect piece to wear day to evening. I like wearing mine over a summer dress to create a casual appearance. Plus, it adds extra color to my look. I love the Skout Fidelity denim jacket pictured below. A sandy blue wash with a slight stretch to keep its shape. It's a little boxy yet still structured and has slash pockets on the sides for comfort and function.
1 | 2 | 3 | 4| 5 | 6 | 7 

Belt Your Denim Jacket
Styling tip – try belting your denim jacket to define your waist and add structure to your look. Also, I have a new reel on Instagram. "The Nordstrom 6 Style a denim jacket." Plus Fidelity Denim and the Nordstrom 6 are partnering to give one lucky follower a Fidelity Denim jacket. For more information and to watch my styling reel, watch it here. 

Wear With Faux Leather
Faux Leather is trending this fall. Try wearing a denim jacket with a chic yet comfortable wide pant with retro sneakers for the daytime and a heel for the evening. Don't forget to wear your lifestyle jewelry- it elevates every outfit.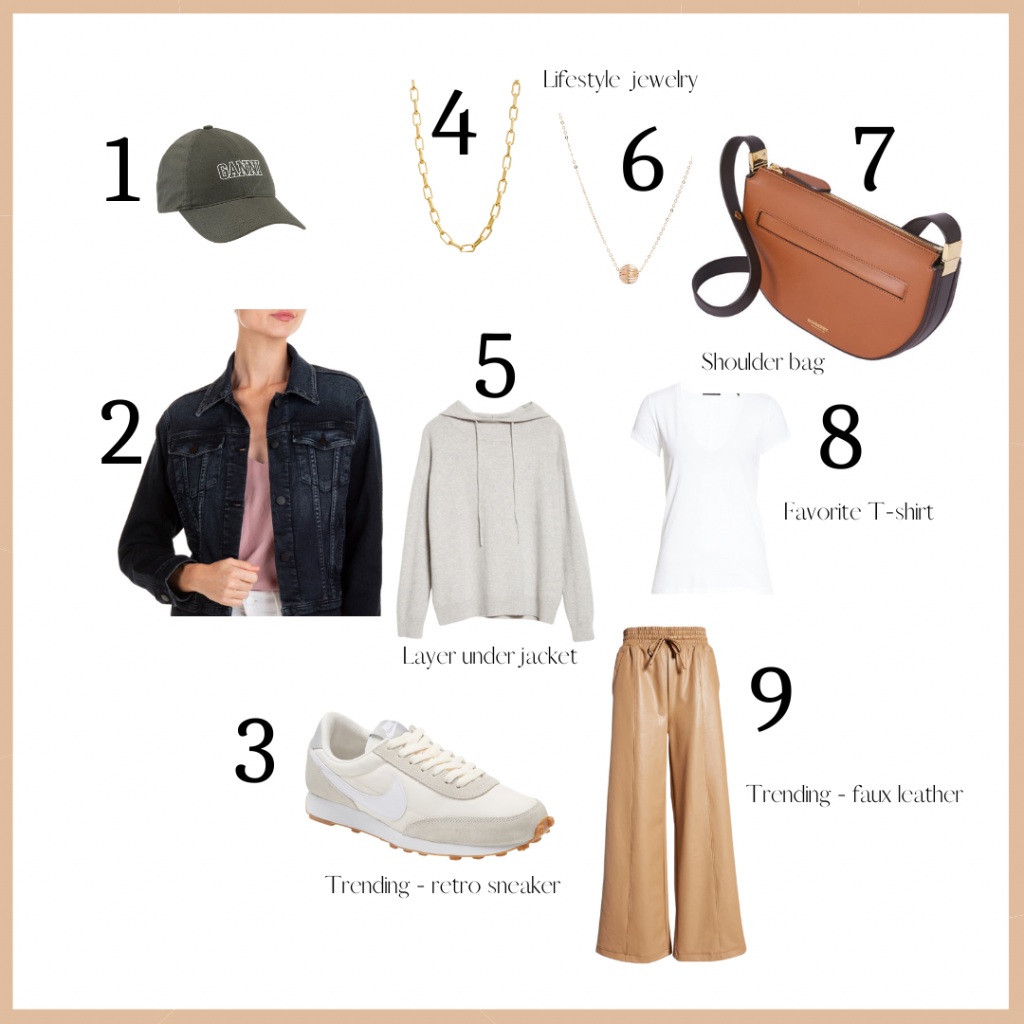 1 | 2 | 3 | 4 | 5 | 6 | 7 | 8 | 9 

Wear Over your Favorite Vest and Denim
If you like to stay current with your wardrobe and be on-trend, you will want to get a vest for fall. This houndstooth vest is darling styled under a denim jacket. Add a pop of color like a colorful clog.
1 | 2 | 3 | 4 |5 | 6 | 7 | 8

Thank you for reading.
xo Sandy