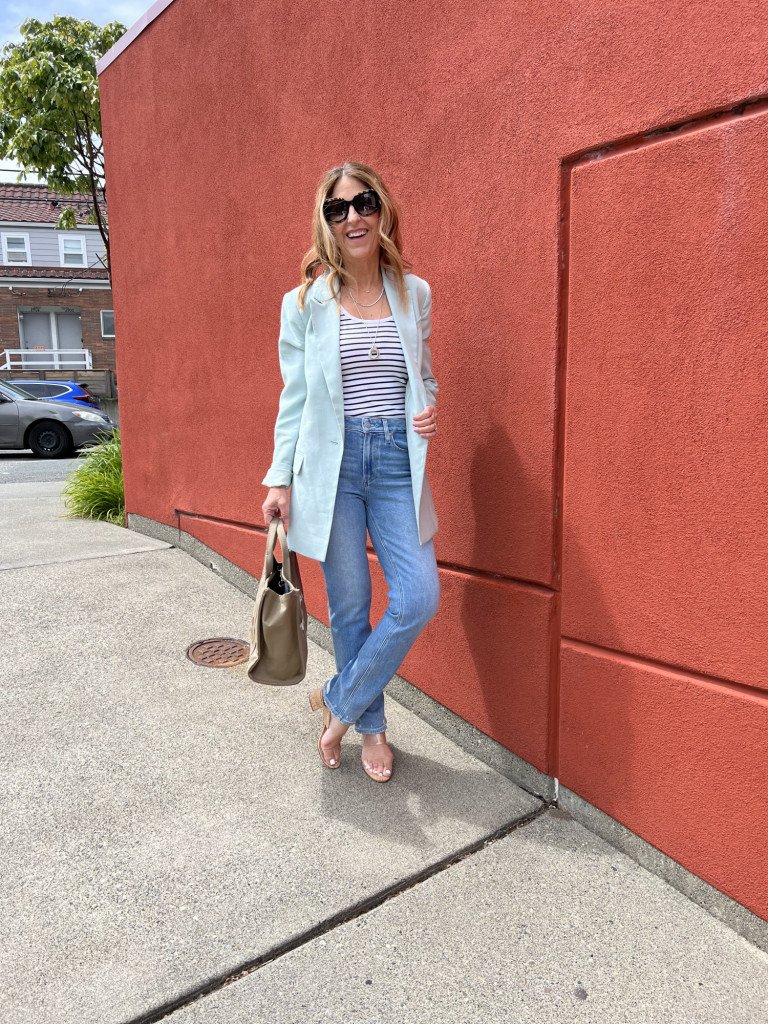 It's that time of year when I like to update my wardrobe for Fall, and I always start with updating my jeans. Various styles are available this season, and because most of us wear jeans often, it's nice to have different styles on hand to add variety and interest to our wardrobes. Below are 5 styles of jeans worth adding to your wardrobe and also how to style them.
1. Straight Leg Jeans
Straight-leg jeans are a classic style of denim that looks good on everyone, even when wearing a white t-shirt or a white button-down blouse. I like a mid-wash for every day, a light vintage wash for that relaxed, cool-girl vibe, and a dark wash or black for work and evening. Every shoe style works with straight jeans too, so try wearing a loafer, sneaker, heel, or boot.

Here's How To Style Them
1 | 2 | 3 | 4 | 5 | 6 | 7 | 8 | 9

2. Crop Flare
The crop flare has grown in popularity and is the style I wear most often. I recommend cropping to show your ankle and a great pair of shoes. Also, high-waisted denim is trending, so make sure you tuck your shirt in to show off your waist. If you don't like to tuck your shirt, wear a cropped or shorter top to give the illusion of a semi-tucked top.

Here's How To Style Them
1 | 2 | 3 | 4 | 5 | 6 | 7 | 8 

3. Bootcut 
A dark wash, long-leg bootcut jean is one of my favorite styles to wear to work and out in the evening. The Fidelity Lily is a flattering bootcut for your wardrobe.

Here's How To Style Them
1 | 2 | 3 | 4 | 5 | 6 | 7 | 8 

4. High Waisted Wide Leg Flares
I remember wearing this style back in high school. I loved wide flares then, and I still love wearing them now. Why? The long leg, high-waisted flare adds length to my legs! I recommend wearing them with a pointy-toe shoe, boot, or platform heel.

Here's How To Style Them
1 | 2 | 3 | 4 | 5 | 6

5. Cigarette Leg
It's not a pair of skinny jeans, but I feel it's pretty close. I like cigarette jeans and feel they have a place in the fall wardrobe. Cigarette jeans are slim cut but looser from the knee to the ankle. If you miss wearing skinny jeans, try wearing the AG Prima Cigarette jean.
Here's How To Style Them
1 | 2 | 3 | 4 | 5 | 6 | 7 | 8 

Thank you for reading.
xo Sandy