Last week, I flew to Dallas, Texas, for the LTK conference. Dallas is know for warm hospitality, and I found everyone to be so friendly! I left Seattle wearing a cozy cashmere hoodie and blazer, only to find myself in Dallas, where the weather was sunny enough for a summer dress! 🙂 Thankfully, I had a couple of summer dresses packed just in case.
Travel and Shopping Outfits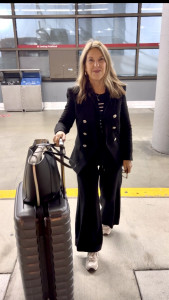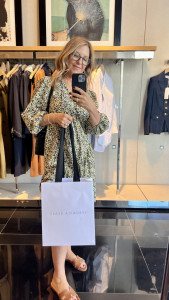 J.Crew Stripe Tee | J.Crew Cashmere Zip Up Sweater | Veronica Beard Miller Blazer | Spanx Air-Essential Pants | New Balance Sneakers | Similar Tote | YSL Small Loulou | Similar Rails Dress Style| French Sole Sandals

Shopping & Lunch
I love looking at fashions in other cities. I noticed a feminine, dressy style and many Western boots, especially when shopping in Highland Park Village. It was a great opportunity for people-watching and getting inspiration to share with you. There's something special about strolling through stores like Dior, Jimmy Choo, Fendi, and Celine – it's not just shopping; it's an inspiration hunt! We couldn't resist popping into Veronica Beard, Simkhai, and Frame. Here are some stand out pieces from some of the stores.
Veronica Beard
I'm a big fan of Veronica Beard, and I loved looking at their fall fashions. A sales associate shared these 5 best-selling items from the store over the weekend.

For size reference, I wear an XS in the Coralee top and t-shirt and a size 0 in the Veronica Beard Miller Dickey Jacket. I altered the sleeves on the Miller blazer by shortening it from the shoulder to keep all the buttons on the cuff intact. The sales associate also mentioned that you can roll the sleeve cuff back and button it if you prefer not to alter the sleeves. Plus, she showed me an alternate way to button the front of the jacket.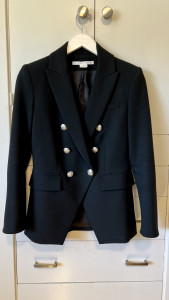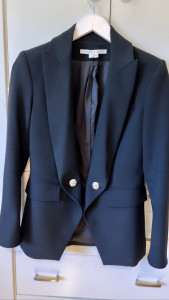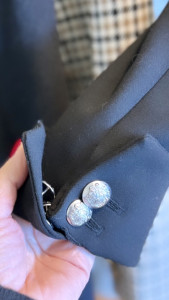 Frame
Frame is a favorite brand, so seeing their entire line of fall merchandise in person was exciting. I bought a pair of Le Easy Flare jeans and had my name monogrammed on them.:)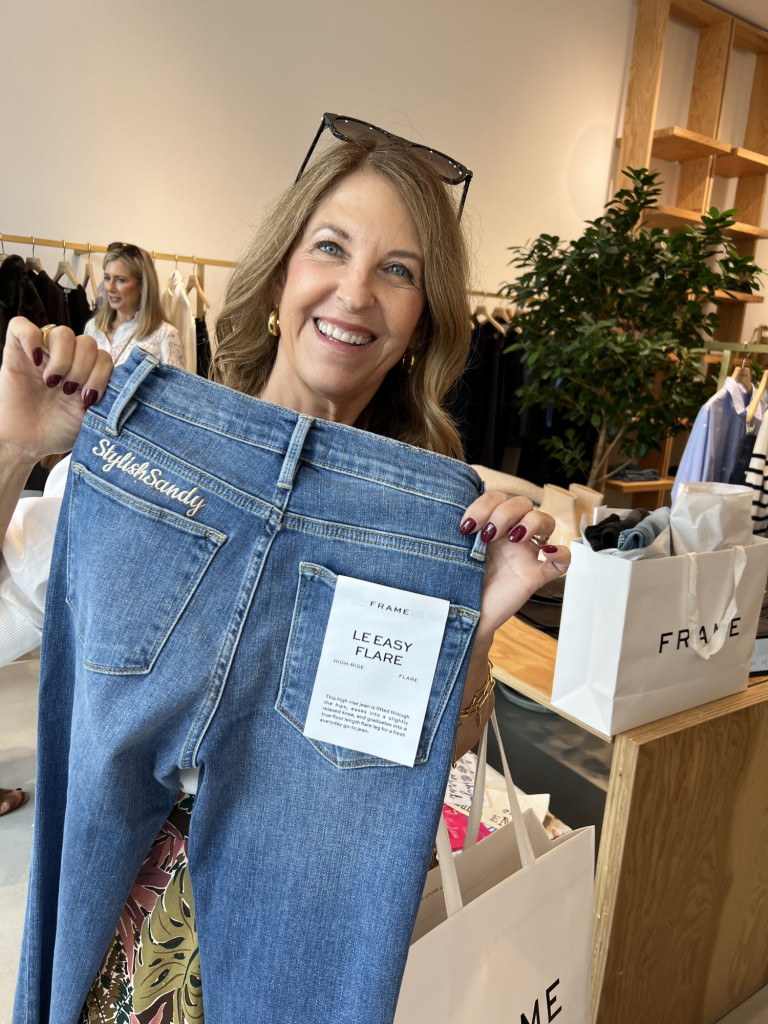 I've highlighted a few Frame best-sellers I know fit well and are easy to style. The Gillian blouse is a best-seller, and for good reason. It's beautiful and versatile, no matter what color or sleeve you choose. It is a splurge blouse, but it's timeless, and you can wear it in multiple seasons. Another Frame favorite is the Le Crop Mini Boot Trouser, a timeless style I've worn for several years. You might like a longer version, too. It's a nice-looking pant that doesn't wrinkle, making it excellent for travel. Make sure you size up as it runs small.

Frame's Le High mini Bootcut  and Le High Straight are classic best-sellers for a reason – they fit well, are timeless and available in multiple washes. I ran into an influencer friend wearing the Le Jane, a trending style and so cute on her. They are straight, fitted through the hips and relaxed through the leg.

I couldn't resist getting the fall shirt dress. I'm wearing it with tall western boots and I'll add tights when it gets colder.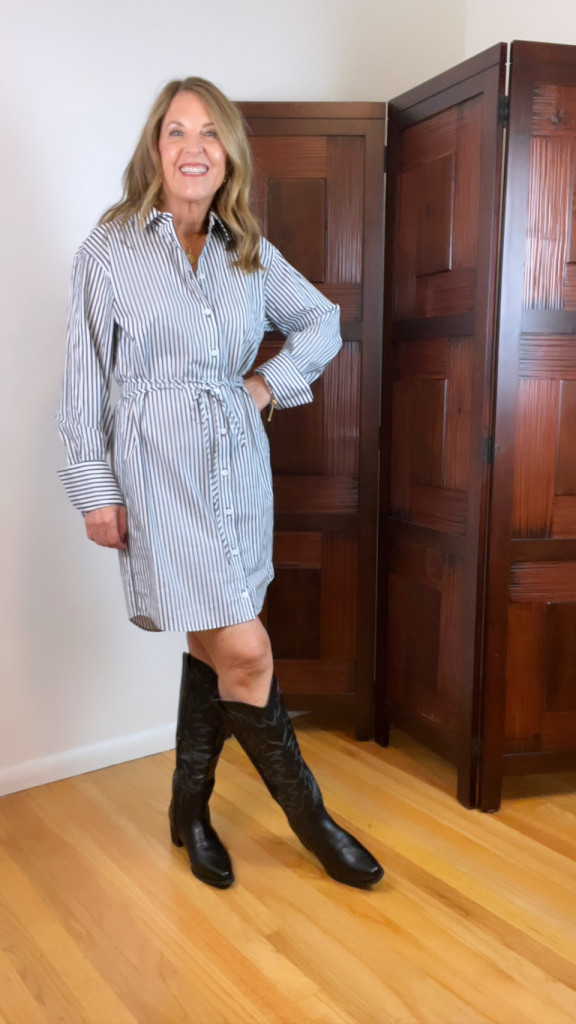 SIMKHAI
I found a lot of fashion inspiration at the SIMKHAI store. The styles are modern, edgy, and incredibly wearable. I purchased the signature Jazz dress, which comes in black and white. It's a little long, and I plan to shorten it a couple of inches. Plus, it's a versatile style I can see myself wearing across multiple seasons.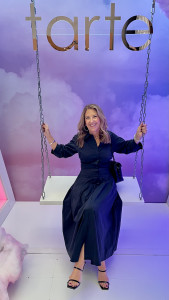 SIMKHAI Jazz Dress |Amazon Fashion Heels | YSL Small Loulou | Maracuja Lipstick

Below are fashions for day, evening and special occasion that caught my eye.

La Vie
One store that piqued my interest was La Vie, previously unfamiliar to me. Their mission is to empower individuals of all sizes. They have one size fits all caftan style dresses, skirts and jackets made with gorgeous fabrics. These are beautiful pieces for a special occasion, the Holidays, or vacation. They also offer slips to wear under the dresses, and, if needed, they can be altered for a  perfect fit. Here are a few that caught my eye.

LTK CON
I was grateful to be invited to the LTK conference. It's an event for influencers and content creators to learn about sharing content, connect with brands, and network with peers. It was an honor to attend. Plus, bringing 300 influencers together makes for great people-watching and fashion inspiration!
Amber Venz Box is the Co-founder and President of LTK, and I must say she's a delightful person with incredible style. I love her Celine Sweater! Baxter Box, the Co-founder and CEO of LTK, is also very approachable and friendly. Hayden Cohen, co-hosted and is pictured in the middle. He has a hilarious Instagram account @hayderz and is all about poking fun at influencers. He's so funny.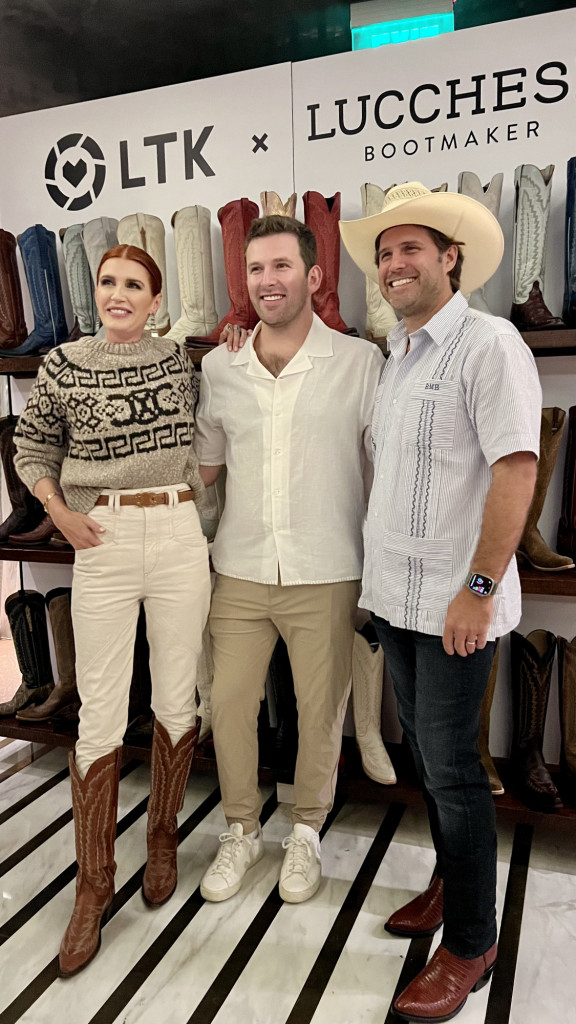 Amber Venz Box | Hayden Cohen | Baxter Box
Western Cocktail Party
Here are a few outfits I wore during the conference. The Tuckernuck dress pictured below is the hot color of the season. I belted the dress and paired it with Western boots for a Western-themed cocktail party. Also, you can wear it without the belt and opt for heels or a low boot. Layer a denim or leather jacket as a third piece.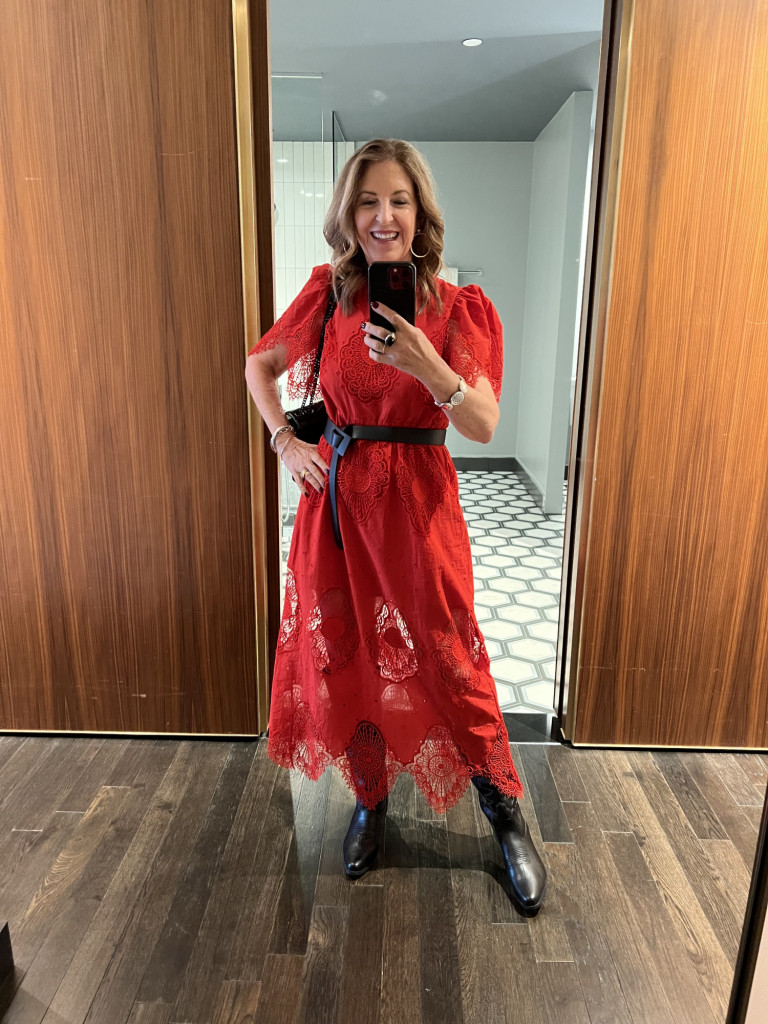 Tuckernuck Dress | Western Boots | Belt | YSL Small Loulou| David Yurman Bracelet

Day 2 – Outfit Of The Day
On Day 1 of meetings, I opted for the Simkhai Jazz dress pictured above. On Day 2, I went with a favorite Veronica Beard denim suit. It has a modern design and a perfect fit. While I like wearing the suit as a set, both the blazer and pants are versatile pieces that can be paired with other items as well. Also, Altering the sleeves was not an option so I turned and buttoned the cuffs.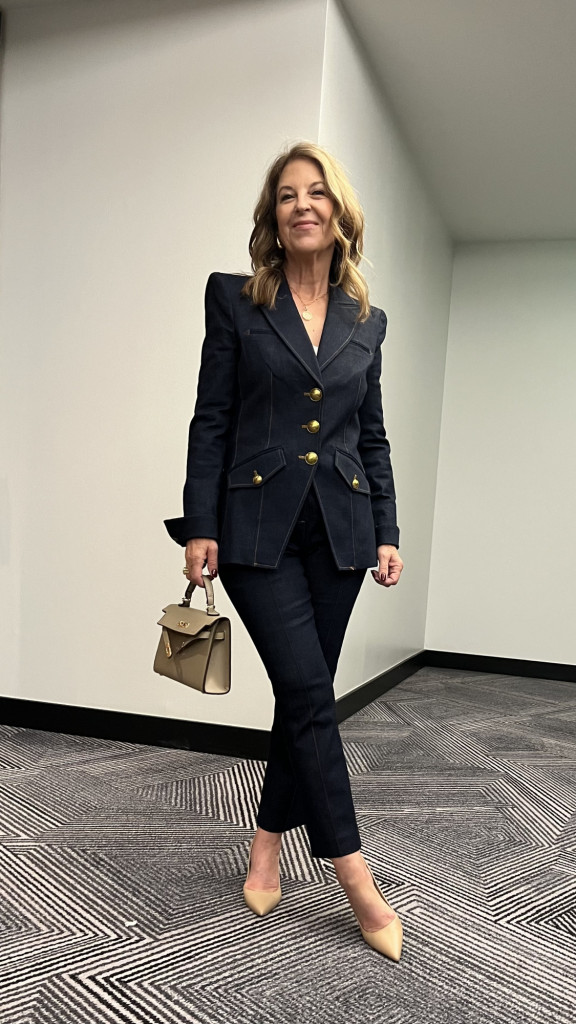 Veronica Beard Blazer | Pants | Stuart Weitzman Slingback | Amazon Fashion Bag and Earrings |Susan Saffron Charm

White Carpet & Party
This is always a fashionable evening where everyone wears a special outfit for the occasion. I wore a ruched dress by ALC. This is a special occasion dress that many women can wear because of the ruching in the front and back.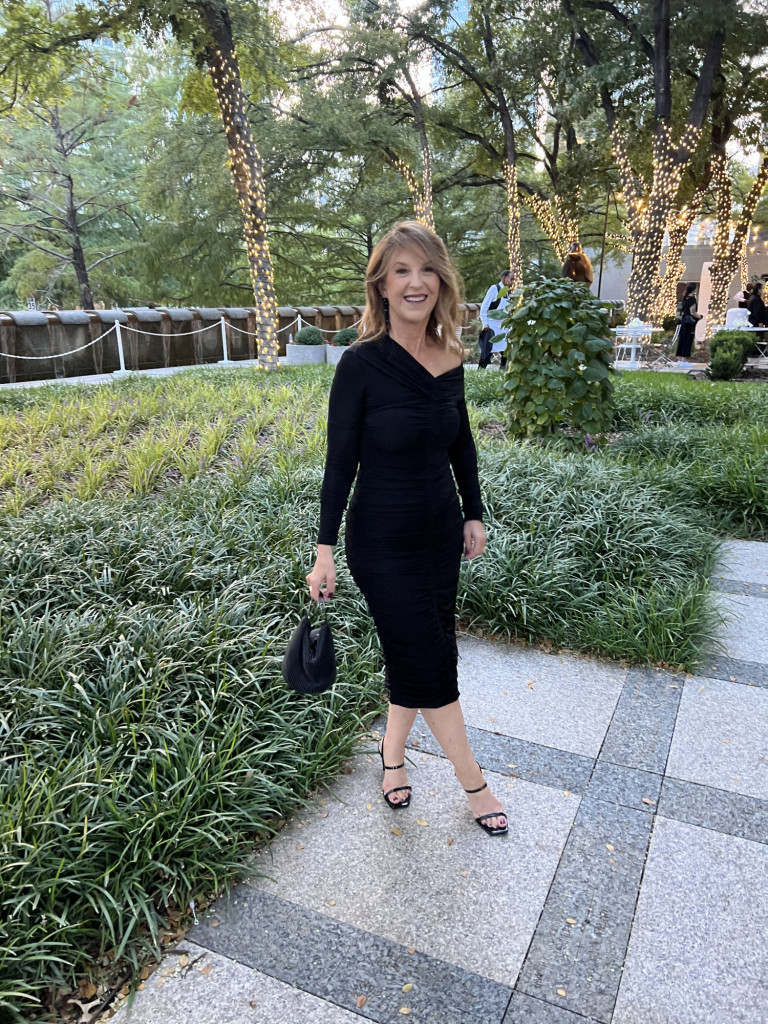 ALC Dress | Olga Berg Bag | Simone Rocha Earrings | Amazon Fashion Heels

LTK App
Do you follow me on LTK? You can download the LTK app and find me @stylishsandy if you haven't followed me. My blog and the LTK app are where I share my content and where to shop. I also post app-exclusive content on LTK. So, when you're looking for gift ideas, shopping for new shoes, or anything else, I recommend heading directly to the LTK app and checking out my favorites. I update it daily and will soon share my holiday suggestions there.
Additionally, I'm loving the new comment feature on the app. If you have any questions about the sizes or colors of the items, you can leave me a comment, and I'll be sure to get back to you.
Thank you for reading. Please let me know if you have any questions or comments.
Cover Photo Outfit (as seen on a speaker at LTK Con)

xo Sandy