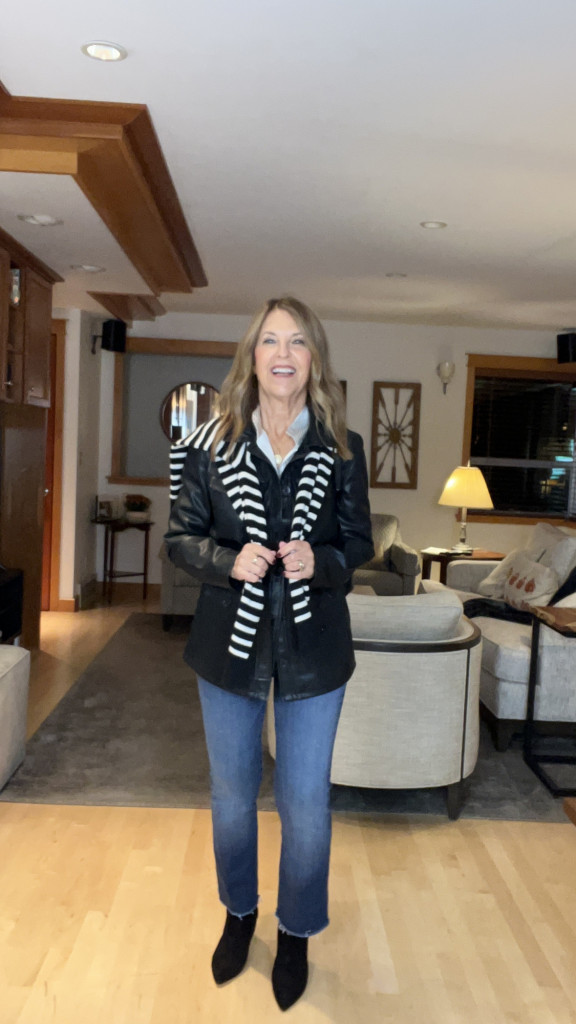 Every month, my styling friends and I pick six versatile items to create a mini-capsule we call the 'drop.' These items work together to make creating outfits easy and to give you reliable options. Below are the six items from the October drop and some other great picks in each category.
October N6 Drop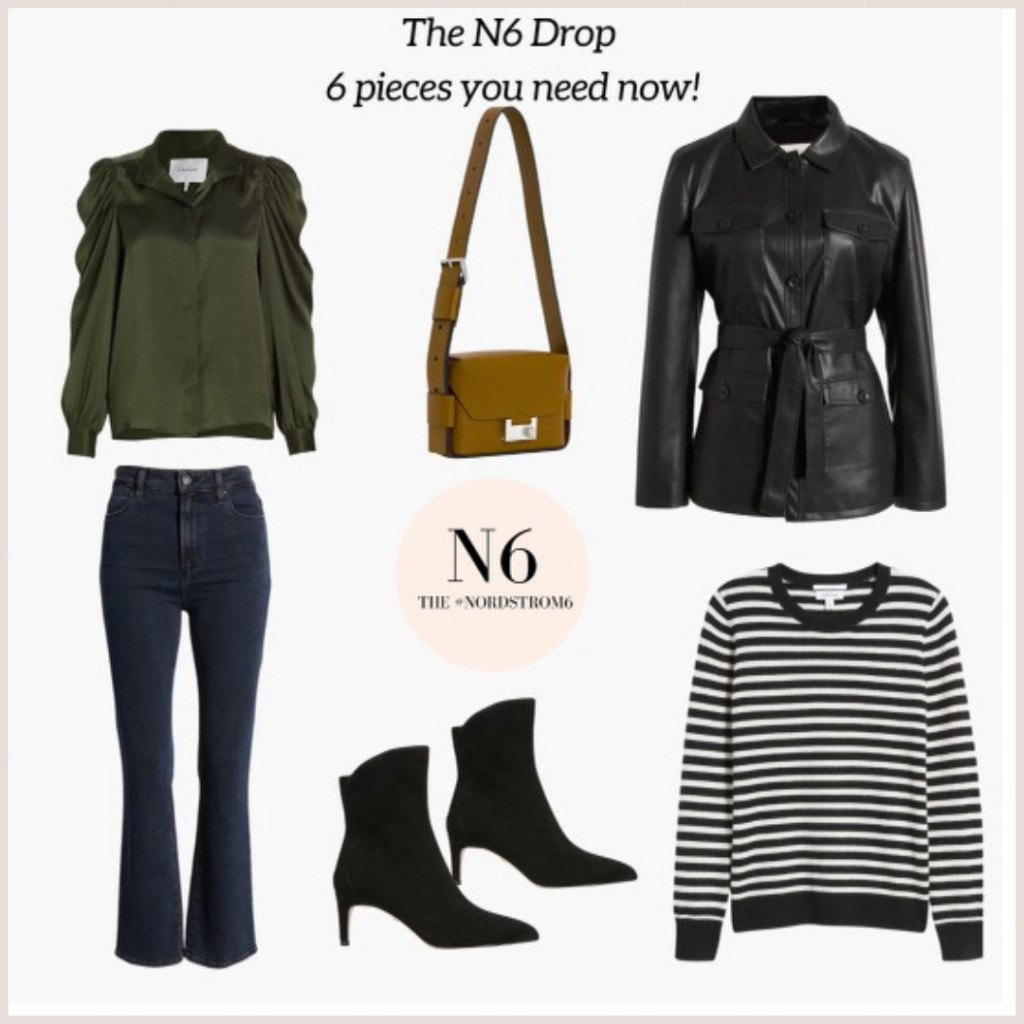 Frame Gillian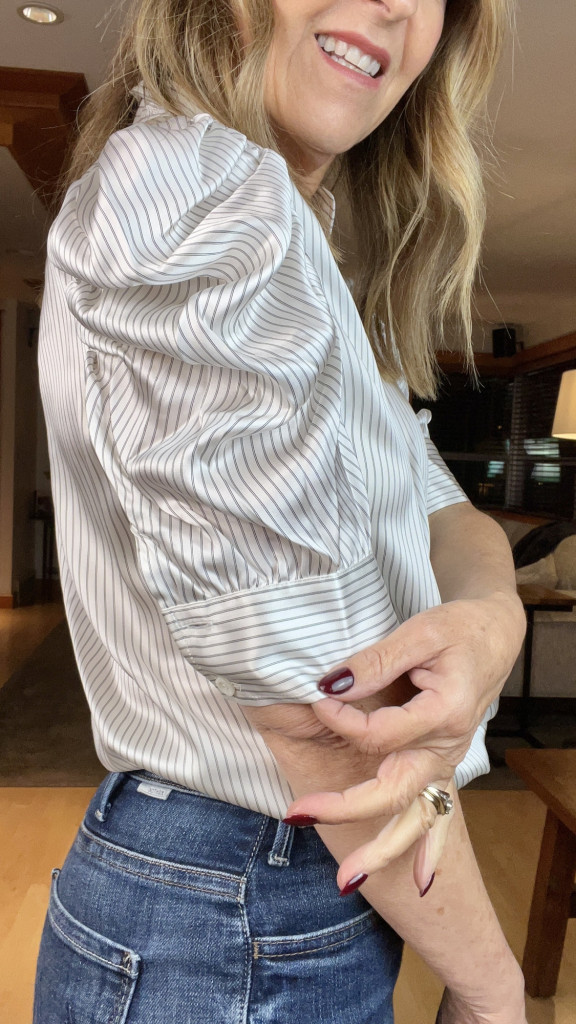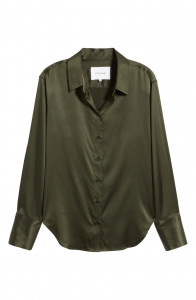 1. Frame Silk Blouse
An essential item to have in your wardrobe is a beautiful blouse you can rely on to wear day to evening, and Frame silk blouses offer gorgeous styles you'll find yourself reaching for often. The long-sleeve blouse pictured here is available in several colors. One of my personal favorites is the Frame Gillian blouse. You can see me wearing the striped version in my IG reel. It has a subtle striped print and a touch of shine, adding interest and elegance to your outfit. Also, the black Gillian is an absolute favorite of mine, and I wear it often throughout the year.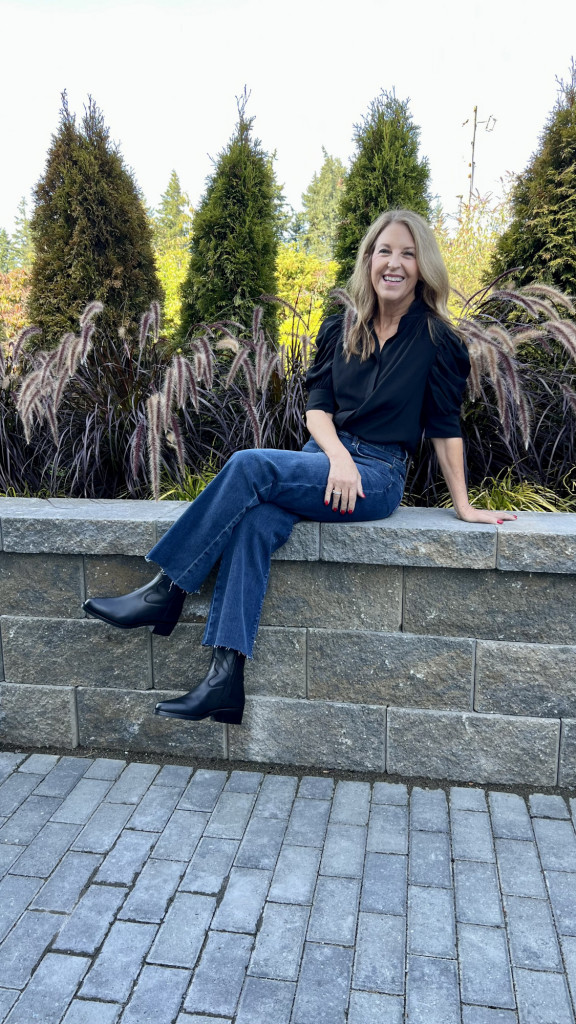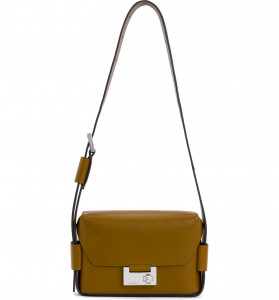 2. Allsaints Frankie Leather Crossbody Bag
Crossbody bags are a versatile addition to any wardrobe and perfect for everyday use. The Allsaints Frankie adds color and edginess to your overall look plus it doubles as a belt bag. I've also included a few designer and other moderately priced bags perfect for fall. When it comes to designer bags, consider the concept of "price per wear." Investing in a designer bag is not just a splurge; but an accessory you will wear for years. It can elevate any outfit, like a simple white T-shirt and jeans. So, consider the countless outfits it will dress up over the years when thinking about a designer bag.

Treasure & Bond Faux Leather Belted Coat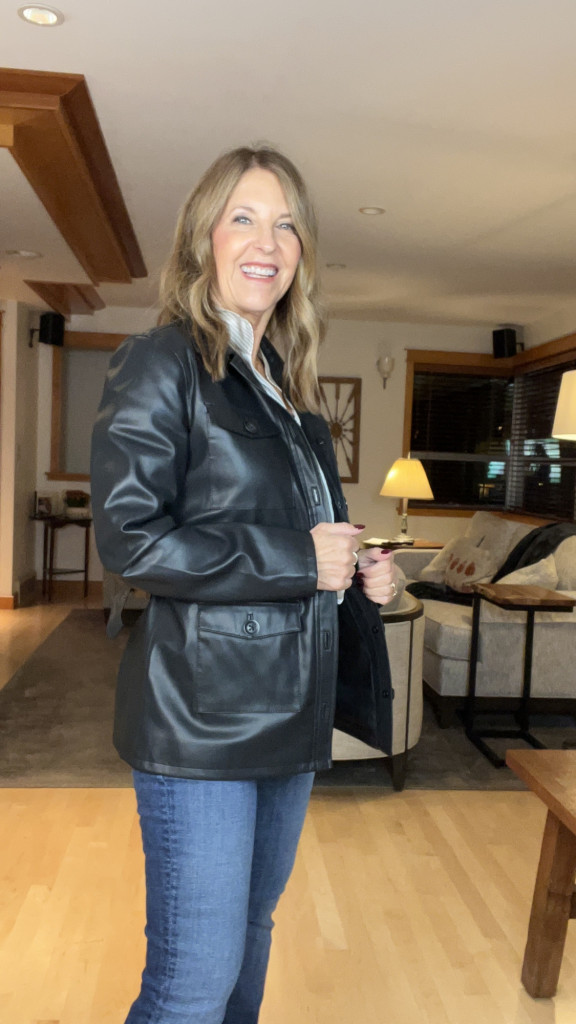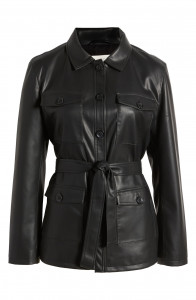 3. Treasure & Bond Faux Leather Belted Coat
For variety, consider adding a faux leather coat to your wardrobe. I Love this Treasure & Bond coat to dress up your trousers, skirt, or jeans. You can tie the jacket to get the cinched waist trend or wear it without a belt. Either way, it's a stylish and versatile 3rd piece to create an edgy and effortless look.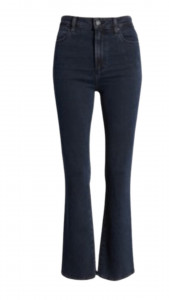 4. Mother Hustler
Denim is an item we wear often, and it's nice to have a variety of styles within this category to include in our wardrobes. One of my favorite styles of jeans, and part of the N6 Drop, is the Mother Hustler. You can rely on this premium denim to look good on the bum! 🙂 The wash is darker for fall, making it a versatile day-to-evening style. I love pairing this denim with the Treasure & Bond jacket or a blazer. Here are other denim styles that are currently trending and great options to keep your denim wardrobe interesting.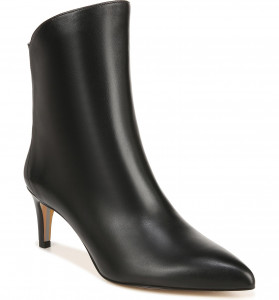 Sam Edelman Usha Pointed Toe Boot
A modern boot style can refresh your fall wardrobe and is an essential item to add to update your closet. I recommend sizing up half a size for these Sam Edelman boots for extra comfort. I also adore the Veronica Beard style, and for those looking for a lower heel, consider the Marc Fisher and Aquatalia waterproof boot options pictured below.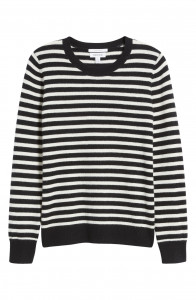 Nordstrom Cashmere Crewneck
I have a soft spot (no pun intended) for all things cashmere, and Nordstrom's cashmere crewneck and V-neck sweaters are cozy and make perfect additions to your fall wardrobe, selling out every year! Nordstrom also offers beautiful cashmere scarves and accessories, perfect gifts for getting a head start on your holiday shopping. Jenny Kayne is known for their gorgeous cashmere sweaters. Plus, I discovered Quince, a brand my friend Karen recommended to me last winter. I'm impressed by the quality and their affordable prices. Give them a try, and let me know your thoughts! Additionally, I can't get enough of J.Crew's cashmere hoodies and sweaters; they're incredibly soft and feel amazing.

Thank you for reading and enjoy the October Drop items. Please let me know if you have any questions or comments. Also, for size reference, I an 5'2 and wear an xs, 0-2 dress and a 25 or 26 jeans.
xo Sandy