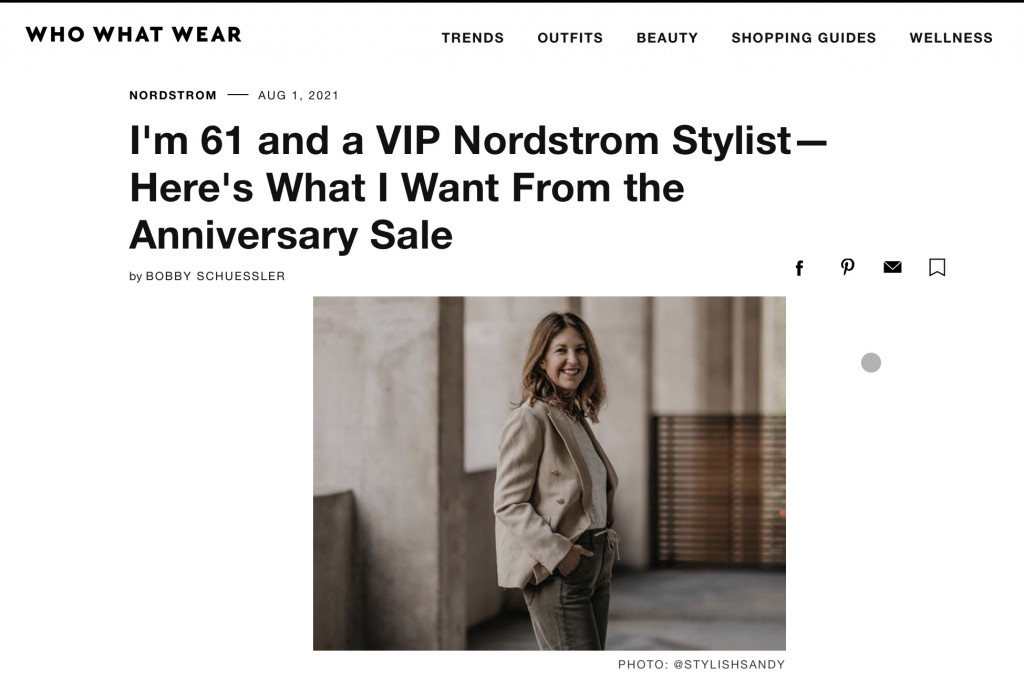 It has been an exciting week. First, I was featured in Who What Wear, an international online fashion publication. I  shared a few key pieces from the sale worth checking out. If you'd like to read the article by @bobbyschuessler, you may read it here.  Before the week slips away, let me highlight a few Anniversary Sale items featured in the article.
Chunky Sweaters
As we transition into fall, choose classic cable knits and chunky sweaters in neutral colors as part of your wardrobe staples. Then, have fun and choose sweaters with playful colors, fringe details, and bold stripes to add variety and interest.

Denim
This Anniversary Sale, update your current denim with high-waisted, straight denim. Look for light wash, raw hemline, and distressed details for a fresh, modern vibe. Try wearing them with Chelsea boots or your favorite sneakers.

Knit Dresses and Chelsea Boots
Dresses are easy to wear, so this Anniversary Sale, choose from various knit dresses in neutral colors as well as flirty florals and chic dresses for date night.
This season, I recommend getting a Chelsea boot. It's available in a lug-sole, flat, or high-heel version. With many options to choose from, try several heel heights, which will give you endless styling options. Wear the Chelsea boot with denim, skirts, or dresses.

Cardigans and Coats
It's time to refresh your cardigan. Look for longline cardigans to wear to the office or as outerwear. Also, look for relaxed, cropped cardigans. They are nice to layer over tank dresses and to wear with high-waisted denim.
Choose a classic wool coat to add to your fall wardrobe. Look for chic neutral shades and colors like rich toffee, Bordeaux, and green beryl. Add plaid coats too. They make great statement pieces and set a playful tone for your wardrobe.

Thanks for reading. Just a reminder, sale prices go back up on August 9th.
xo Sandy