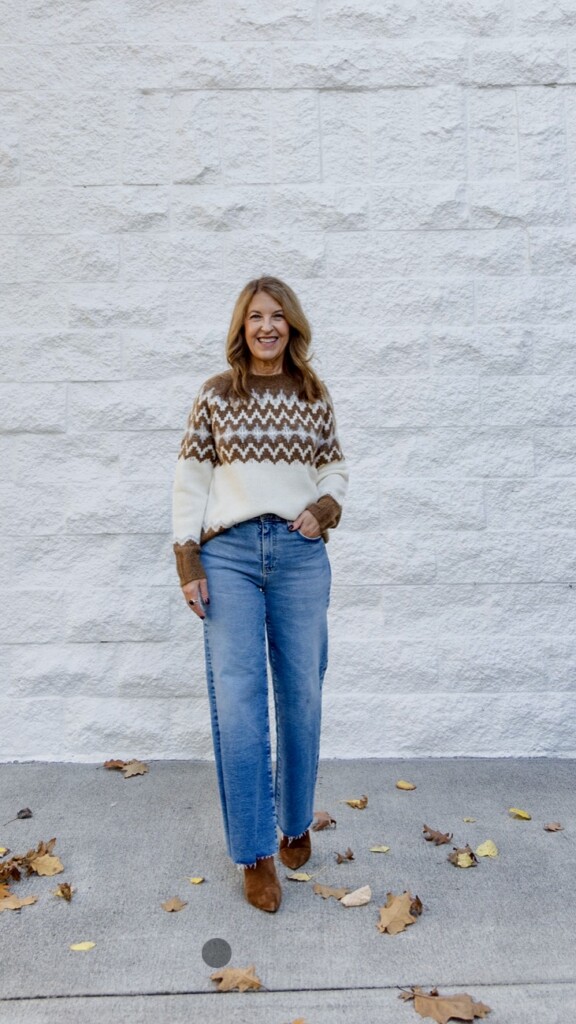 Do you want an easy way to look current, stylish, and chic? Update your denim to 5 must-have styles! I wear jeans almost daily, so I constantly evaluate their fit and style. Last week, I took inventory of all my denim, tried them on, kept a few favorites, and then went shopping to fill in the styles missing from my wardrobe. I shared these new jeans on my IG Live last Wednesday, which, if you like, you can watch here. All the items I shared and styled are on the boards below.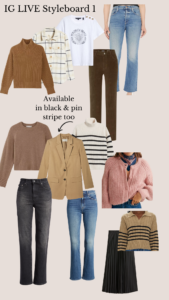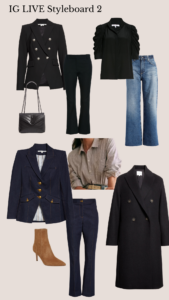 Left – Shop The Post 

Right – Shop The Post

I looked at the trends and picked 5 denim styles that always look current, are easy to style, and can be worn daily to work or dressed up for the evening.
Also, just a reminder, Nordstrom has a 10 point event going on thursday, Oct 19th- 22nd for Ambassador and Icon levels. This is a great time to pick up special finds, start holiday shopping while earning extra Nordstrom Notes.
1. BootCut Jeans



The first pair of jeans on my list is the Mother Outsider crop bootcut, Walking on Coals. You can wear these daily and feel confident that you look current and put-together. I love the fit of these jeans. They are high-waisted with a 10" rise and have the perfect stretch to be comfortable. I'm 5'2, and I usually hem all of my jeans. I wanted to keep the longer length, so I haven't hemmed them yet, but it will be right at the ankle when I do. My cardigan and striped blouse are both from Sezane and a perfect fit. I pretty much love everything from Sezane. 🙂 My boots are from Aqualtalia and are waterproof, perfect for the Pacific Northwest. They are so comfortable and a style that's easy to wear every day. Here's another waterproof style, too.
2. Wide Leg Jeans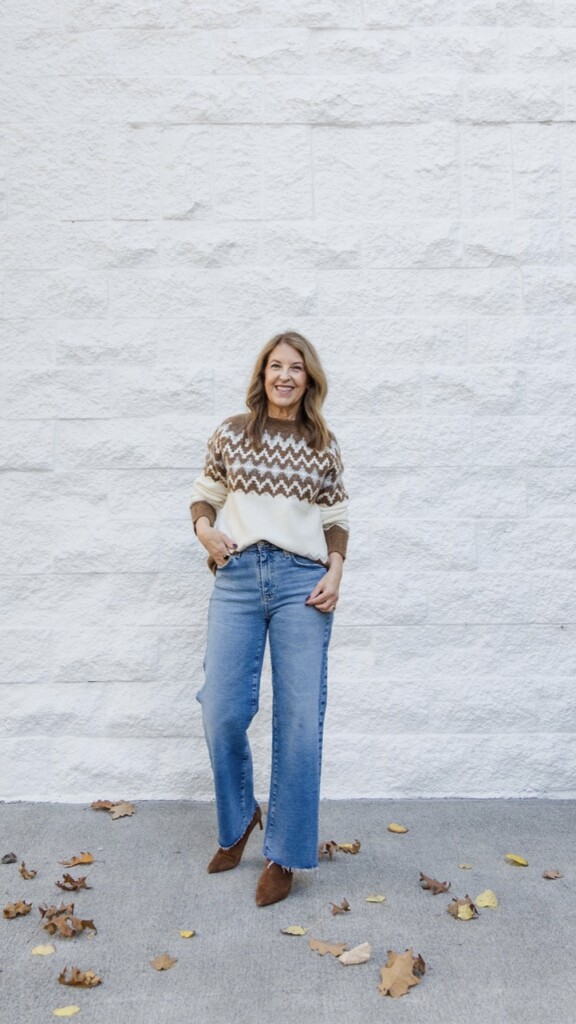 The wide-leg trend started last year and is a popular jean style. You can wear a cropped style like the AG Saige, like in the photo, or a longer length like this. It has an 11 1/2-inch rise but doesn't feel too high-waisted. It also has stretch in the hips and bum. I am a fan and love the way they fit! Again, I wanted longer jeans, so I haven't hemmed them yet. But if you want a shorter look, cut or hem them right at the ankle. These jeans are a great style to wear this fall with boots or like this one. Also, I'm a fan of sweaters so I picked this style from J.Crew. You might like a cardigan. 
3. Flared Jeans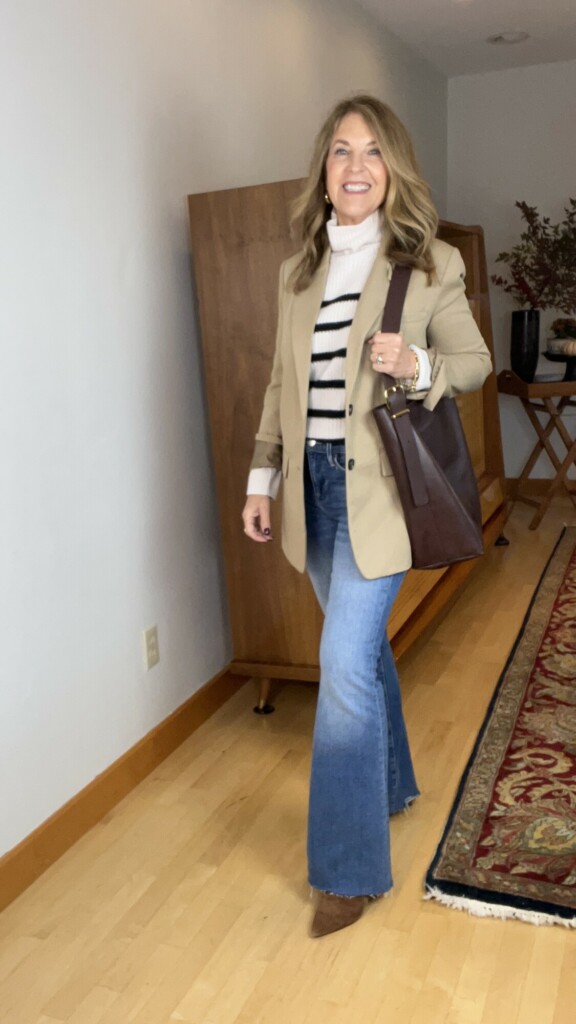 I love wearing flared jeans because they make my legs look long! 🙂 This is the Frame Le Easy Flare Jean in Drizzle. There are darker washes, too, like Dublin and Blackfinn. This style is comfortable with a 10-1/2 inch rise and has a nice stretch. It also runs true to size. I bought these in Dallas for the LTK conference, and I've been wearing them ever since. I'm also wearing a Nordstrom striped sweater, an Everlane blazer, Veronica Beard boots, and my new Madewell shoulder bag.
4. Straight Jeans
Straight jeans are a classic, timeless style everyone can wear. Pictured is the Mother Tipper ankle fray straight jean, Riding the Cliffside. This is a great style to have in your wardrobe plus you might like this straight jean too. It's comfortable with an 11 1/4-inch rise, stretchy and true-to-size. These are too long on me and I'll shorten them to the ankle. I'm also wearing a cozy Cashmere sweater from Quince, a Caslon shacket, a Madewell shoulder bag (linked above), and Veronica Beard boots (linked above).
5. Black or Grey Jeans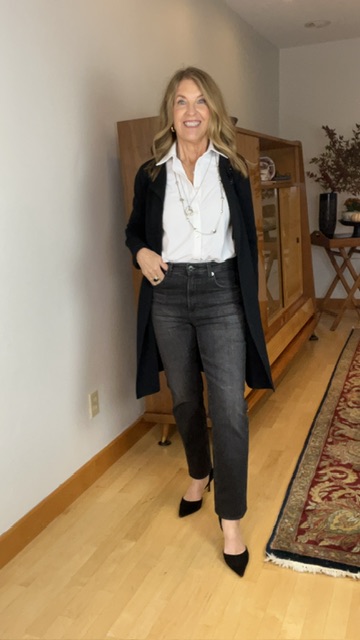 Black or grey jeans are excellent alternate-color jeans for your fall wardrobe. I like the fit of the AG Saige jeans, so I picked their straight style. They have an 11 inch rise which is a pretty high waist for some, but they are very comfortable. For a lower rise grey jean, you might like this one. The jeans in the photo are too long for me and I'll hem to the ankle. I'm also wearing a stretchy blouse from Ameliora. It's breathable, keeps you cool, and is a new favorite in my closet. My third piece is the J.Crew Jukiette cardigan, an essential item for your wardrobe. Plus, my heel is by Sam Edelman.
Thank you for reading. Let me know what you think about the denim styles!
xo Sandy