J.Crew is one of my go-to stores to get fantastic wardrobe essentials and other exciting pieces. Just last week, I popped in looking for a sweater for an upcoming family photo shoot and ended up leaving with a few new essential items I believe you won't want to miss.
I'm a big fan of the J.Crew best-selling cashmere sweaters, and this time around, I found crewnecks and V-necks that are lightweight and beautiful to wear either on their own or layered under a blazer. They are available in a variety of beautiful colors and feel luxuriously soft. They would also make excellent holiday gifts.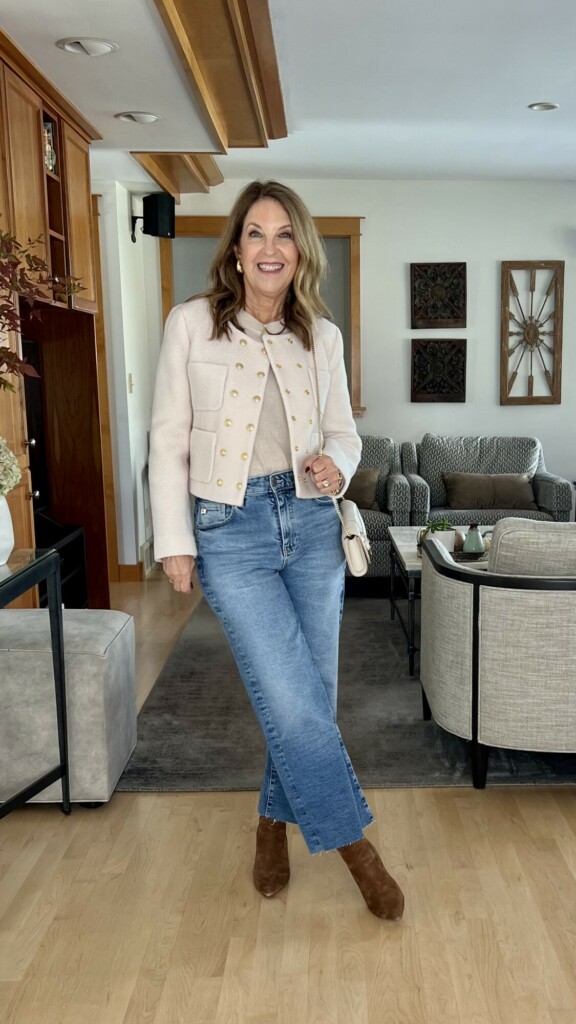 J.Crew Cashmere Crewneck Sweater | Double Breasted Lady Jacket | AG Saige Wide-Leg Jeans |Veronica Beard Boots |Child of Wild Earrings | See By Chloe Wallet

If you've been following my blog for a while, you know I like wearing a 'third piece,' especially blazers. But lately, I've embraced the 'lady jacket' trend. I was uncertain about the double-breasted jacket I'm wearing in the photo until I tried it on and then I was sold! I love the style and fit; you can dress it up or down. It pairs beautifully with the cashmere sweater and looks fantastic over this satin sleeveless shell.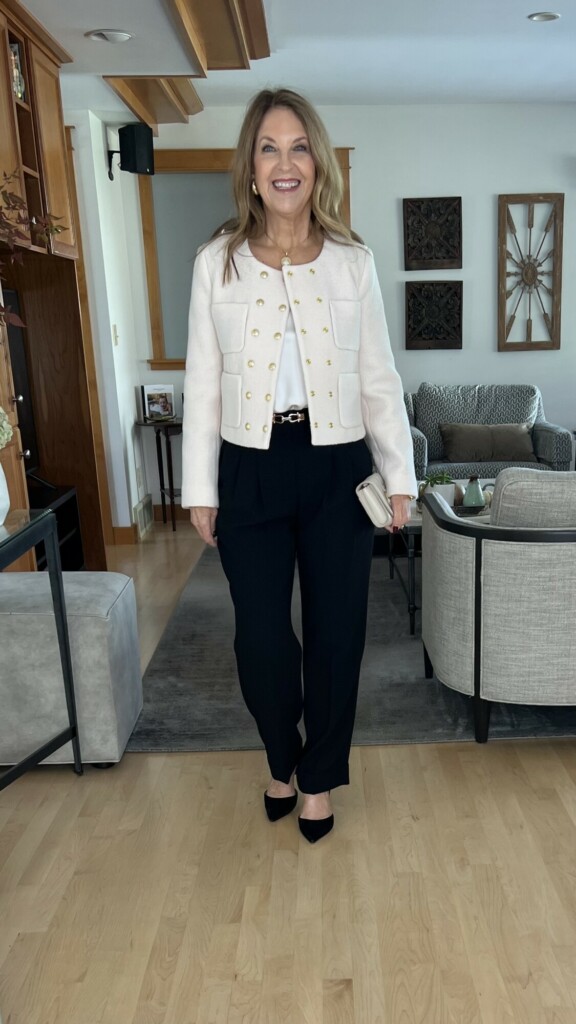 J. Crew Double-Breasted Jacket | Sleeveless Shell | Wide-Leg Trousers | Amazon Belt | See By Chloe Wallet | Sam Edelman Heels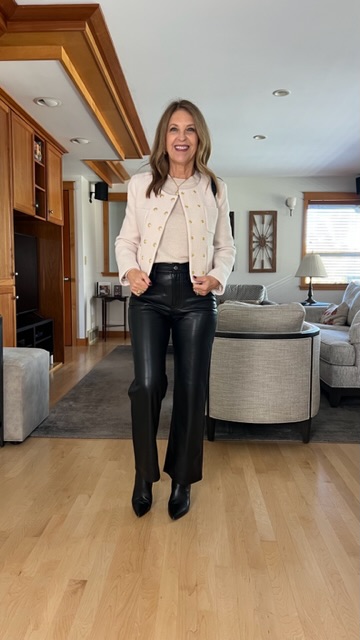 J.Crew Cashmere Crewneck Sweater | Double Breasted Lady Jacket | Faux Leather Pants | Sam Edelman Boots 
Here is another sweater jacket I tried on. The rhinestone buttons dress up the jacket, elevating any outfit you wear. Lately, I've been hunting for silver shoes to wear with trousers, and these Mary Janes are adorable and comfortable. For this sweater, I opted for an XS, and it has a roomy fit, which I particularly like when pairing it with jeans. Just a heads up, if you decide to order, it tends to run a bit on the larger side.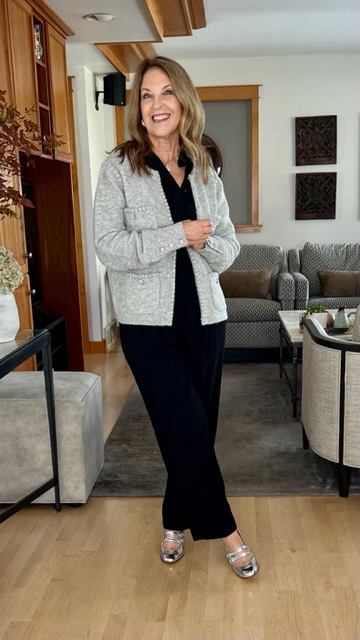 J.Crew Lady Jacket | Frame Gillian Top | J. Crew Trousers | Mary Jane Heels 

A few other J.Crew Lady Jackets I tried and liked. 

It's officially coat season, and I couldn't help but spot this timeless style at J.Crew. What's great is that it's available in various colors and petite, regular, and tall sizes. Plus, it fits well and is a medium weight. Having a longer coat like this in your wardrobe is a versatile choice, perfect for pairing with dresses, trousers, or Spanx leggings.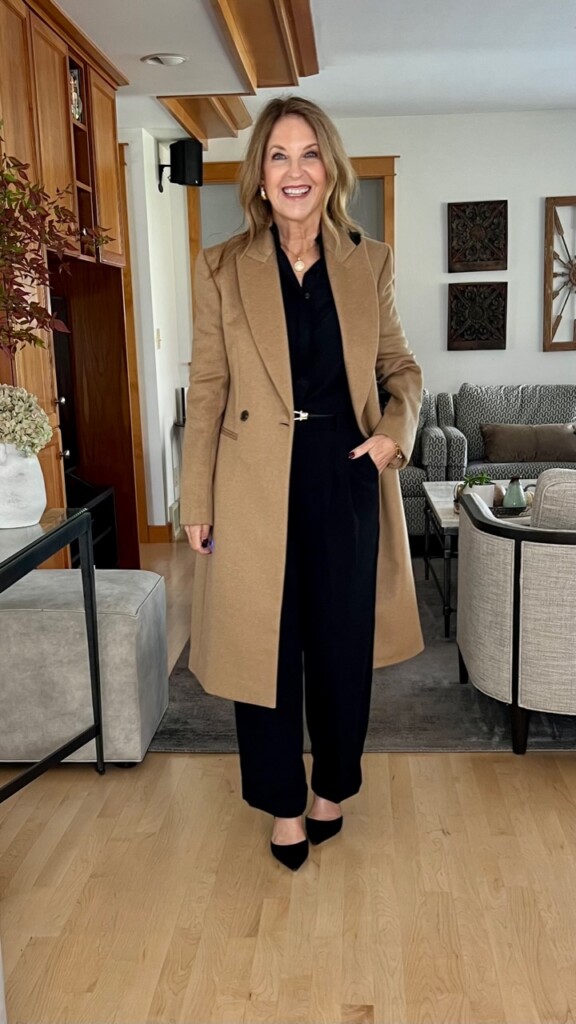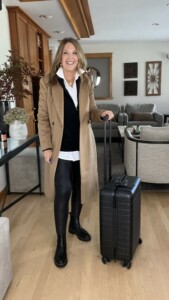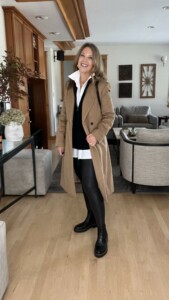 J.Crew Overcoat | Cashmere Zip-Up Sweater | Ameliora Button Up | Spanx Faux Leather Fleece-Lined leggings| Similar Boots | Away Carry-on

Lastly, I always enjoy sharing your favorite items of the week. Let's take a look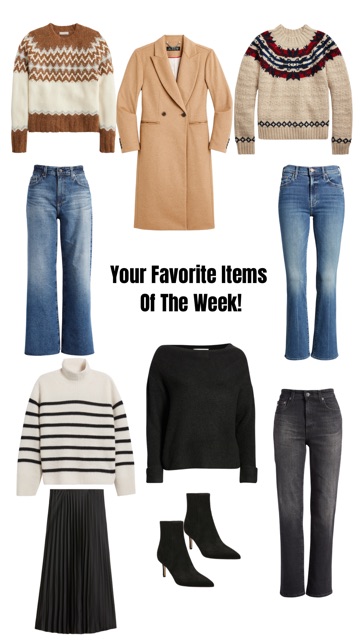 Shop The Post

Thank you for reading. If you enjoyed this post, don't forget to tap the subscribe button. Subscribing ensures you receive all the blog posts directly in your email, so you never miss a post. Also, feel free to share any questions or comments you have.
xo Sandy