I love Autumn and everything about it! I love the crisp weather, harvesting my fall garden, and more than anything, I like fall fashion!   I thoroughly enjoy pouring through fashion magazines and on-line posts to see what's trending and how designers are interpreting current trends to create collections that reflect their unique design aesthetic.  This week I look to Marie Claire magazine for inspiration on fashion trends for fall 2020. If you missed the article, you can view it here.
I appreciate the design aesthetic behind trends and love to see what designers create, but I like to take what they've designed and tailor it to fit my lifestyle, my followers, and my customers. This past week the Nordstrom6 and I posted our view of fall fashion inspired by Marie Claire. If you missed my video, you can watch it here.
There are many fall trends I like, and it was hard to edit my list, but here a couple of my favorites.
Victorian Romance
This fall, we are embracing high necks, cascading ruffles, ornate lace, and billowing and bishop sleeves. This Victorian romance trend is a favorite because of the soft and romantic pieces.  By incorporating a mix of separates from this trend with contrasting details, you can create a fresh and current look.
You can style these separates in many ways to get the most wear. Break up your matching Victorian top and skirt into different mix&match outfits that go from casual to glam. Styled with denim, I'd wear this top during a zoom call or out for a socially distanced dinner with friends or family.  I'd pair the skirt with a t-shirt and cool sneakers for a fun brunch look. Or combine the two pieces, and you are ready for a more festive event.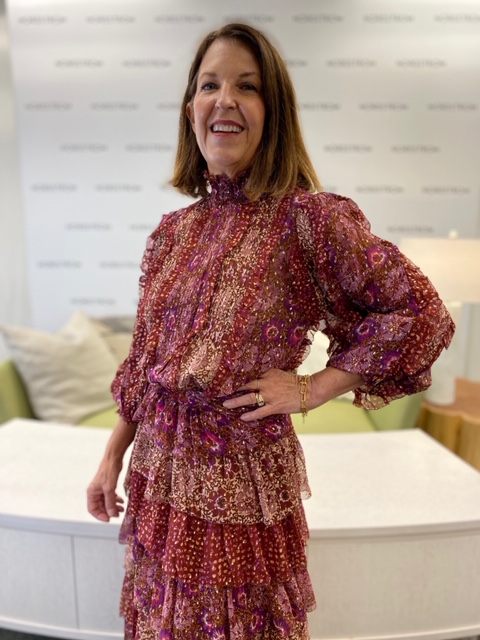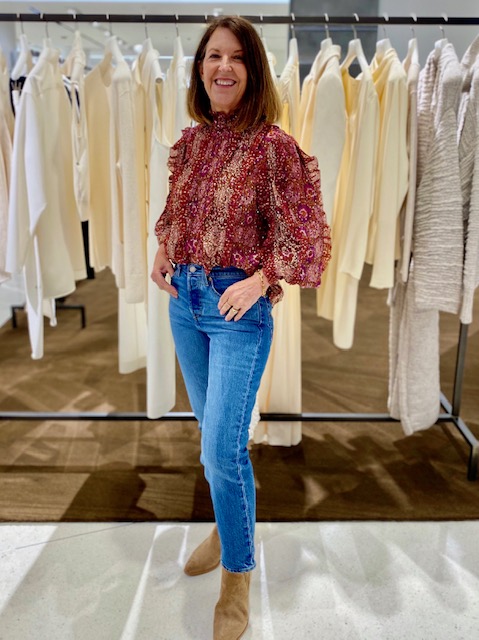 Ulla Johnson

Alternate Looks

Plaids and Checks
Who doesn't love a good plaid?  On the runway, designers created plaid rebellious and punk-like outfits, worn with combat boots. This fall, you will see plaid blazers with skirts or shorts, checked dresses, and pants. Try styling your looks wearing combat boots and sneakers!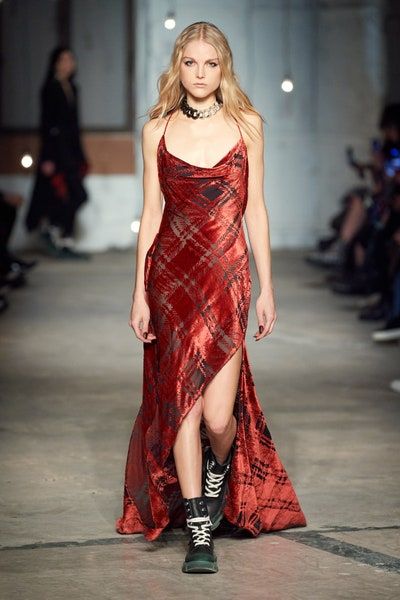 Runway Inspo via Pinterest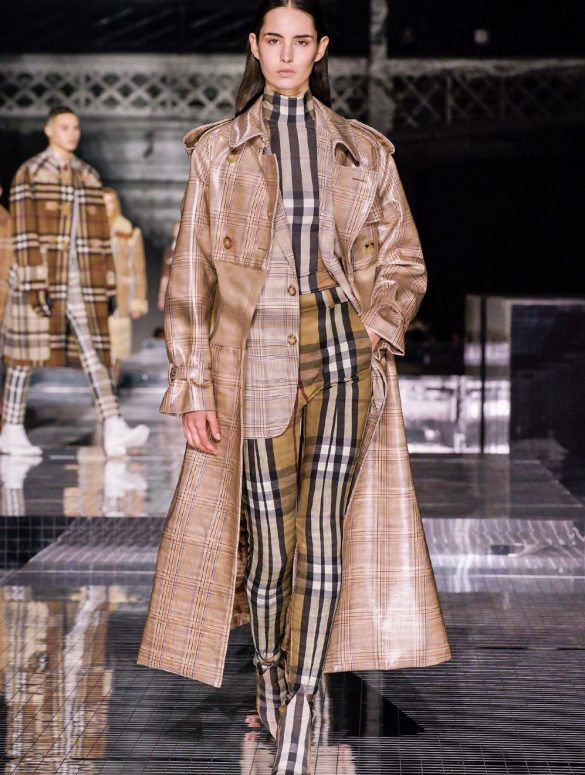 Runway Inspo via Pinterest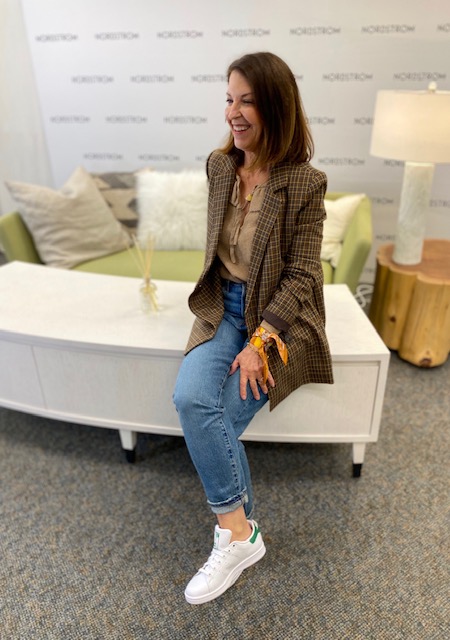 Madewell, Levi Denim, Addidas, Hermes
A plaid blazer is a good investment and will be part of your wardrobe for years.  This style from Madewell is a bit oversized but fits well and is versatile. I styled a casual look in the photo, but you may also dress up a look by wearing this blazer over a dress or skirt. A staple blazer like this can be accessorized for a cool casual look or styled with tailored pieces for a classic look.

Staud incorporates three fall trends in this blazer. They are plaid, patchwork, and a surprise faux leather pop of color under the collar. I like the belted waist and the gathers on the back of the blazer too. If you love a matching set, there is a wide-leg culotte in the same pattern as well. This blazer is available in-store only, but please contact me if you are interested in it.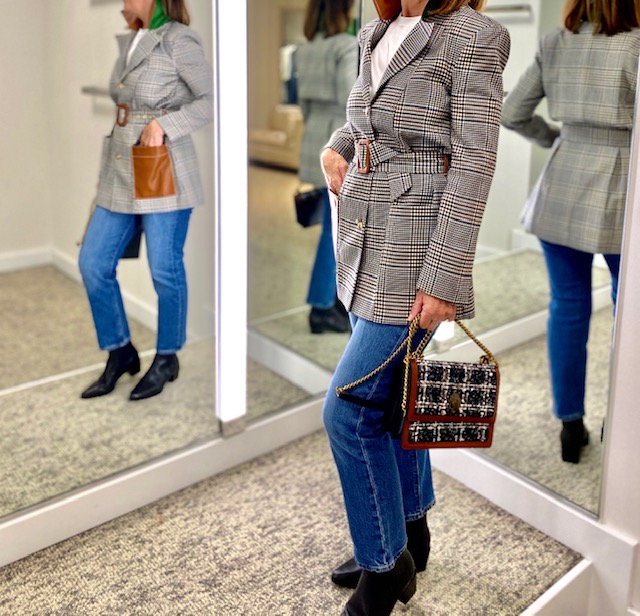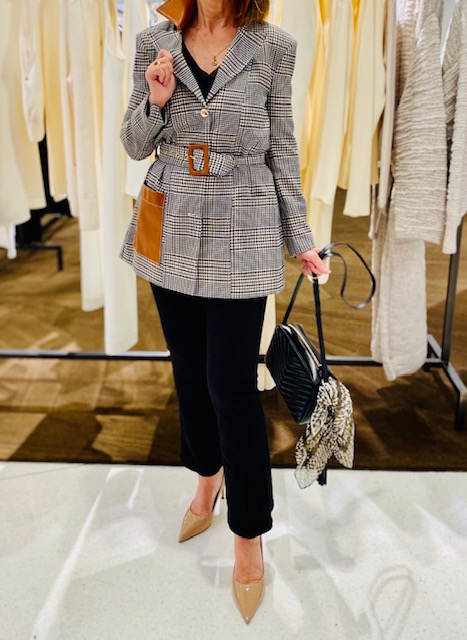 Stylist Tip-Tie a Scarf or Twilly around your wrist or handbag to add interest. Pop your collar too!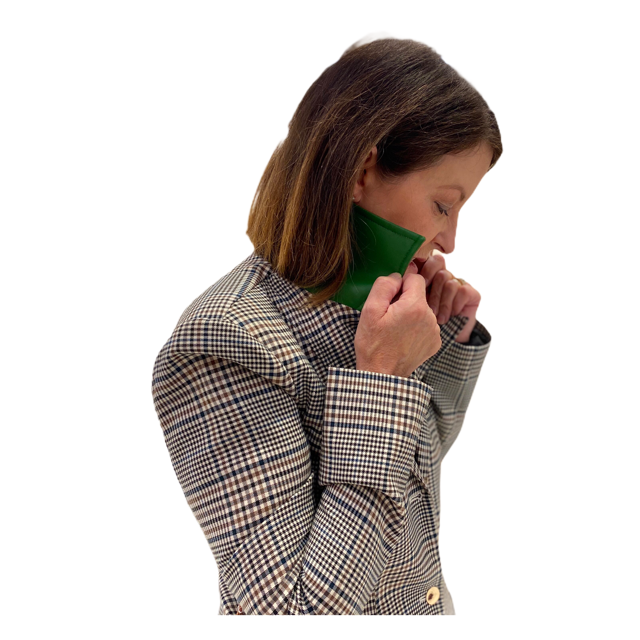 Other Plaid Options


Sanctuary Blouse
Lastly, this tonal plaid cotton blouse by Sanctuary is a classic style but provides a little more interest with the tone-on-tone appearance. Take a look here.
There are so many exciting trends for fall that I will share more of my favorites later this week! In the meantime, look through your closets for trending items and perhaps add a few new pieces too.  I always enjoy reading your comments, so please keep them coming my way.  Here is to fall fashion 2020!
Cheers, Sandy