I love sharing my latest finds with you. During a recent Instagram Live, I showcased some new spring items from my styling office. Today, I'm excited to give you a closer look at how these pieces look on. 
I've organized these items into three categories:
Dresses for a variety of occasions

The timeless Little Black Dress

Easy, breezy tops that can be paired with jeans or trousers
Dresses For Any Occasion
 I picked up this dress at Target while shopping for baby gifts for my granddaughter, like gift 1, gift 2 and gift 3. It's easy for me to get sidetracked while shopping. Ha! Getting back on track, I found this dress I thought was cute and would be nice for a baby shower, church, or any spring event. Wear it with a white blazer for a dressy look, and a denim jacket is always nice for a casual look. I'm wearing the Victorie Schutz shoe, but I also think this style here and here would be perfect to wear with the dress.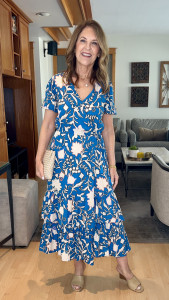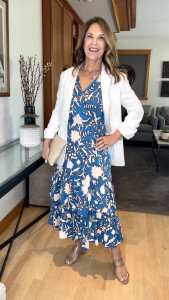 Midi-length dresses are both easy to wear and trending. The great thing about this style is that you can dress it up for a special occasion or a casual outing. For example, try wearing a slide and a blazer for a shower, or dress it down with your favorite sneakers and a denim jacket for a fun trip to the farmers market or brunch with friends.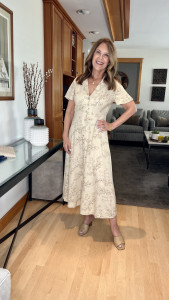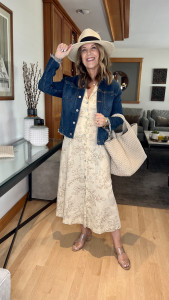 I'm always looking for wardrobe staples that combine comfort and style. That's why I'm such a big fan of stripes – they're a classic print that can add interest to any outfit. Combining stripes with a comfortable cotton knit dress is a winning combination in my book. This dress is a maxi style, but I would shorten it a few inches if you are petite like me (I'm 5′ 2). Also, add a belt, wear a short jacket, or tie a denim shirt around your waist to add structure to the outfit.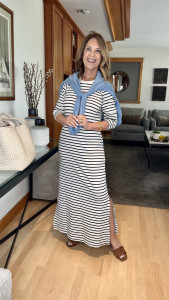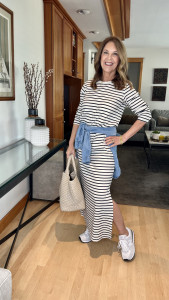 LBD
Every wardrobe should include at least one, if not a couple, of Little Black Dresses (LBDs). They're timeless pieces to dress up or down, depending on the occasion. The AllSaints slip dress below is an example of an LBD with some edgy style. This dress' versatility makes it a wardrobe essential. 
Need a strapless bra? I recommend wearing the Wacoal Red Carpet Strapless bra, a stylist's favorite. The perfect 3rd piece is a blazer, denim jacket, or cardigan. For a special occasion, a shawl could also be a great addition. 
But, again, as a petite person at 5'2, I would hem this dress a few inches.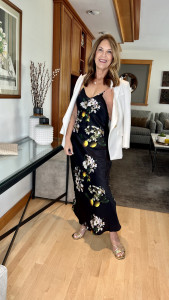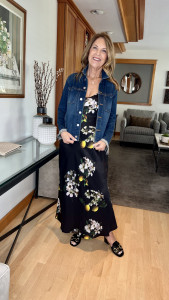 I'm always looking for fun and stylish pieces, and this one-shoulder dress is that. Not only is it super cute, but it also has the bonus of pockets. Who doesn't love that? This flirty dress would be a great wedding guest or party option.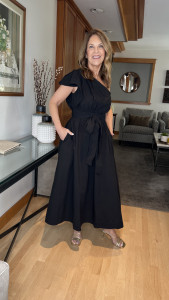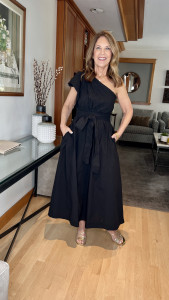 With these two dresses, you have the perfect combination of fun and classic styles. The dress on the right is a great choice for anyone who loves to dance at weddings. Ha! The skirt has great movement. It does run small, so size up for the best fit. I love finding pieces I can style in multiple ways. The classic dress on the left will quickly become a go-to in your wardrobe. This dress is perfect for layering. Add a jacket over the top, layer a top underneath, or unbutton it and wear it as a longline vest over a blouse and trousers.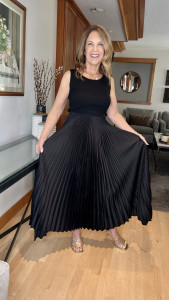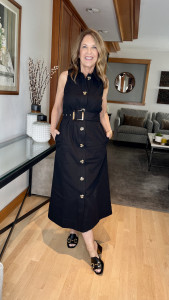 Spring Tops, Jeans and Trousers
I like blouses like this one that you can wear to work and are suitable for dinner with friends. The collar detail on this blouse and the fresh stripes make it a nice addition to your spring wardrobe.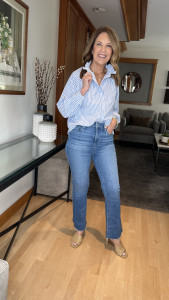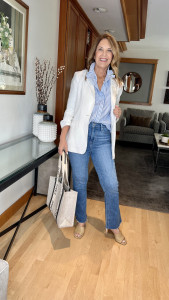 I recently found this beautiful rib v-neck cardigan in a neutral color that I think you'll love. It's a versatile piece that can be dressed up or down and is perfect for spring. And if you prefer other colors, there are different options. Lastly, I found this sheer, feminine blouse by Paige that's perfect to wear with white jeans. Layer a white blazer over the top for a chic and professional outfit.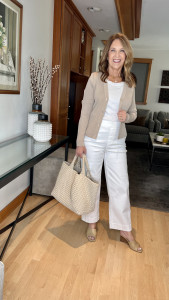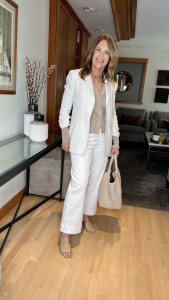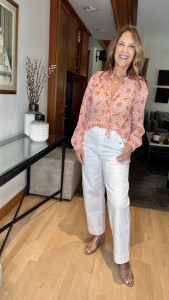 Feature Photo Items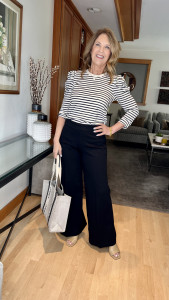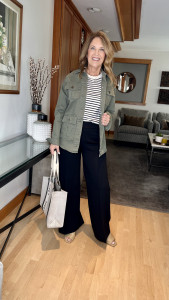 Thank you for reading! Please let me know if you have questions or comments.
xo Sandy