It's officially springtime, and I feel energized by the new season. My garden is bursting with color and fragrances, and I love it! I'm also excited about the trending spring fashion colors and prints. This season, from soft lavender to bold blues and stripes, it's a season to embrace color and bring some fun into your wardrobe. Here are some favorite items I  found for spring.
Trending Spring Color – Lavender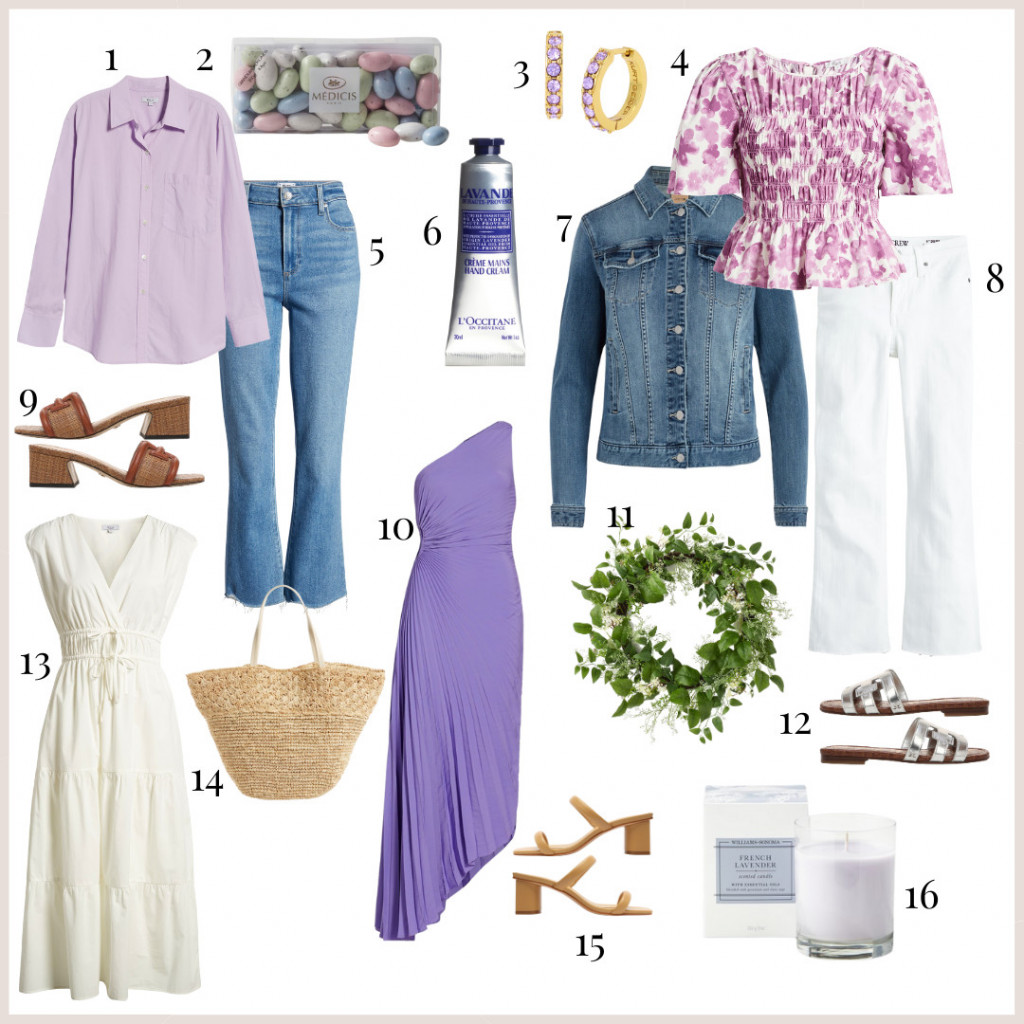 1. Although button-up shorts are a classic item in the wardrobe, the oversized style is having a moment. So why not add a color like a lavender Arlo Shirt by rails? Lavender is a spring color to have fun with. 
2. Do you like Jordan Almonds for Easter? These are from William-Sonoma.It's a family Easter basket tradition.
3. These Kurt Geiger Huggies are a nod to the trendy color for spring. Add a little color to your wardrobe to wear with your outfits. 
4. Wear this top by Rails with white or denim jeans—an easy and stylish look. 
5. The Claudine flare by Paige is a favorite denim for many. I own them and wear them often!
6. It's the little things in life that are so special. So treat yourself or give this hand cream away as a gift.
7.  This relaxed jacket has the best reviews!
8. J.Crew  Demi bootcut crop jeans fits well and is available in various washes.
9. The Sam Edelman Waylon is the perfect style to wear with jeans and dresses. Available in several colors too.
10. Weddings or special occasions call for a unique dress like this dress by ALC. Other colors are available too.
11. I love anything from McGee & Co, so one of the wreaths from the line at Target had to make it onto my board.
12. The Bay sandal is another excellent style from Sam Edelman. You can add interest to your wardrobe by adding a metallic shoe like silver. 
13. A white dress is a versatile and classic option for spring. I like the midi length of this one from Rails, which can be paired with a denim jacket, sandals, and a handbag or tote. It's available in blue too.
14. I love the size of this straw tote to carry all the essentials for vacation and shopping around town. 
15. Another cute shoe from Schutz. I'd wear this with a jeans and a dress.
16. I'm a lavender fan, so as I was looking for Easter decor at William-Sonoma, I ran across this pretty candle. Of course, it's in my cart. Ha.
Trending Spring Color – Blue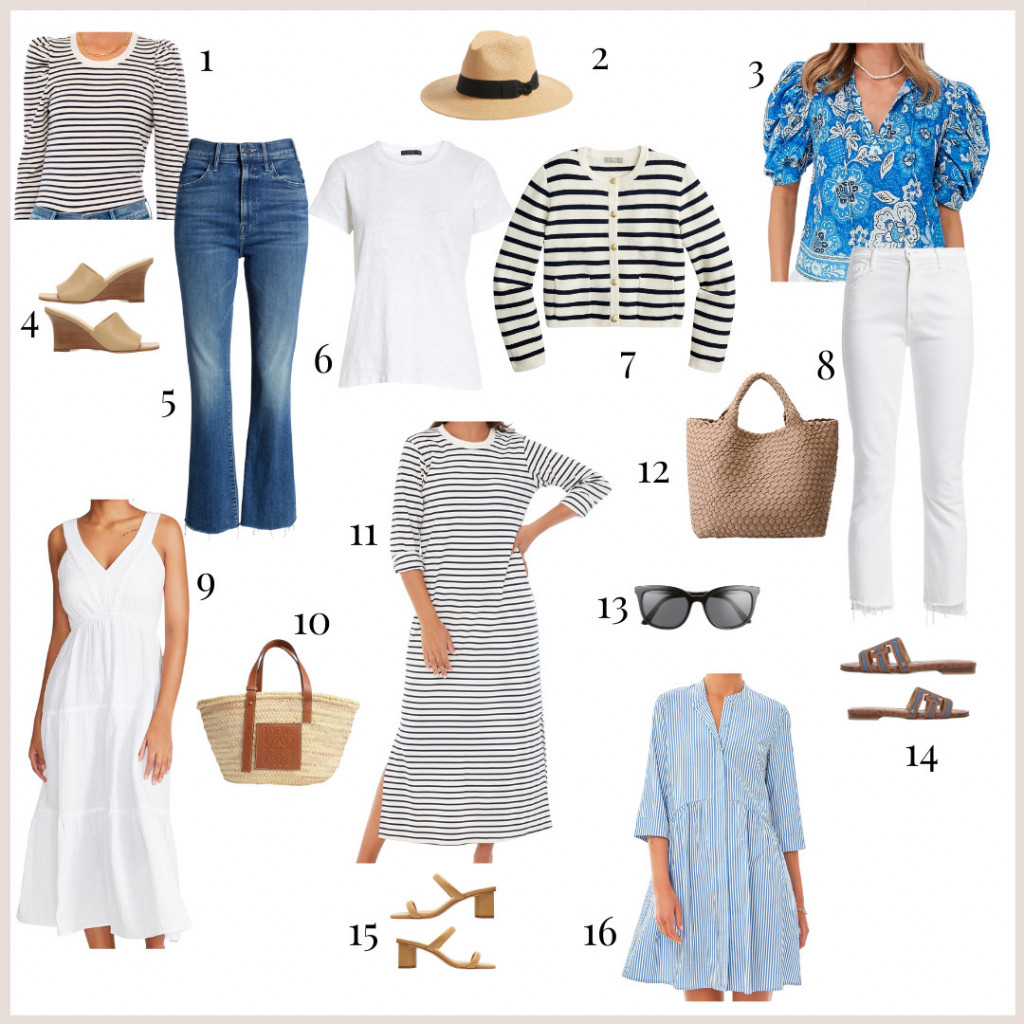 1. If you're anything like me, you love stripes! They're a pattern that takes a denim outfit to the next level. Plus, they look fantastic layered under a blazer or denim jacket. If you're not a fan of puff sleeves, check out these tops here or here, which are perfect for adding some stripe flair to your wardrobe. 
2.Want to take your spring outfit to the next level without putting in too much effort? Add a hat! Hats are a quick and easy accessory that will complete your look.
3. Here is a blue top from Farm Rio to help you stay on-trend this spring. It's the perfect addition to your spring wardrobe and looks amazing styled with white jeans or cropped wide-leg pants.
4. This a favorite wedge by Vince that looks great with every outfit.
5. This Mother Hustler is a favorite of mine because of its fantastic fit and versatility. Once you try them on, they'll quickly become a go-to in your closet. 
6.Spring is here, and it's time to refresh your white t-shirt. This ATM Schoolboy t-shirt is my personal favorite. Wear it under blazers, jean jackets, or cardigans for a chic look. Trust me; this tee will become your new go-to for many occasions!
7. This stripe "ladies" jacket from J.Crew will complete any work or casual look. Wear it with your favorite jeans, or throw it over a dress. It's a great addition to a spring wardrobe.
8. A great white denim from Mother to add to your sping wardrobe.
9. A perfect dress to take on vacation! It fits tts and is so comfortable.
10. Spring and straw totes are a perfect match!
11. This dress is hanging on my rolling rack. It fits tts, is versatile and is so comfortable. Style with a denim jacket or denim shirt tied around your waist.
12. In my last blog post I raved about the Naghedi tote bag. If you loved that style, check out this similar option on the board that's just as chic but at a lower price point.
13. Classic chic sunnies.
14. Denim is not just for jeans anymore – it's now a hot trend in  footwear. Take a look at these Bay sandals by Sam Edelman. So cute!
15. A nice block heel sandal to wear with jeans and a dress.
16. This spring, wear this dress at home and on your next vacation.
Thank you for reading. Please contact me with any questions or comments.
xo Sandy