With new Spring merchandise arriving in stores and online, I wanted to share a sneak peek of my favorite outfits I styled for my clients this week. Across the board, my clients are currently looking for vacation looks and pieces that are flattering on a variety of figures.
Styleboard Look One
This dress by Paige is perfect to wear on vacation. I would wear it sightseeing or shopping during the day, and it could also double as a beach cover-up. I love the trendy flutter sleeve, and the cinch tie defines the waist. This dress is pretty on both straight and curvy figures. Styling note: the Paige dress looks shorter on the model on the website than on my customers in the dressing room. I'm so excited about the blush color denim jacket by L'agence (also available in denim and white). The blush color is unique and versatile, plus compliments so many outfits.
No outfit is complete without accessories, even on vacation! Let's start by stacking some necklaces. I recommend wearing a 14K gold chain that you can wear daily, even when swimming, golfing, or playing tennis. Then add fun, trendier necklaces to complete your stack. The carnelian pendant by Madewell is a great color in person and is so versatile that I styled it on many different outfits.
1 | 2 | 3 | 4 | 5 | 6 | 7 | 8 | 9

I recommend white denim to all of my clients and encourage them to update it every year. With so many styles of denim available this season, I suggest trying a straight-leg, flare, or fuller leg denim. I love this new Mother denim and have recommended it to many customers. It fits TTS, has stretch, and feels fantastic. Try altering it to show your ankle. You can wear it with sneakers, sandals or heels. 
Who doesn't like a striped blouse? They are a true vacation staple. This version by Veronica Beard adds a little extra gathering at the wrists and ruffles at the neckline. Styling tip: Make sure you wear the blouse unbuttoned to show your jewelry, push up your sleeves and give a little front tuck, especially when wearing high-waisted denim. Dress and style your looks with confidence; you've got this!
Styleboard Look Two
1 | 2 | 3 | 4 | 5 | 6 | 7 | 8 | 9 

Style Board Look Three
I love skirts that can be worn with sneakers or heels. Below I've included a gorgeous wrap skirt by Mara Hoffman from the Nordstrom Via C department. Wear a white t-shirt and denim jacket, and you have a complete look. Animal print is a nice neutral like in the skirt from Theory. After your vacation is over, wear it to work or casually during the day; it is a skirt you will often wear.
1 | 2 | 3 | 4 | 5 | 6 | 7 | 8 | 9 | 10 | 11 | 12 | 13

Styleboard Look Four
Below is a beautiful blouse by L'agence that can be worn for many seasons. Try wearing it with high-waisted flare denim by Frame.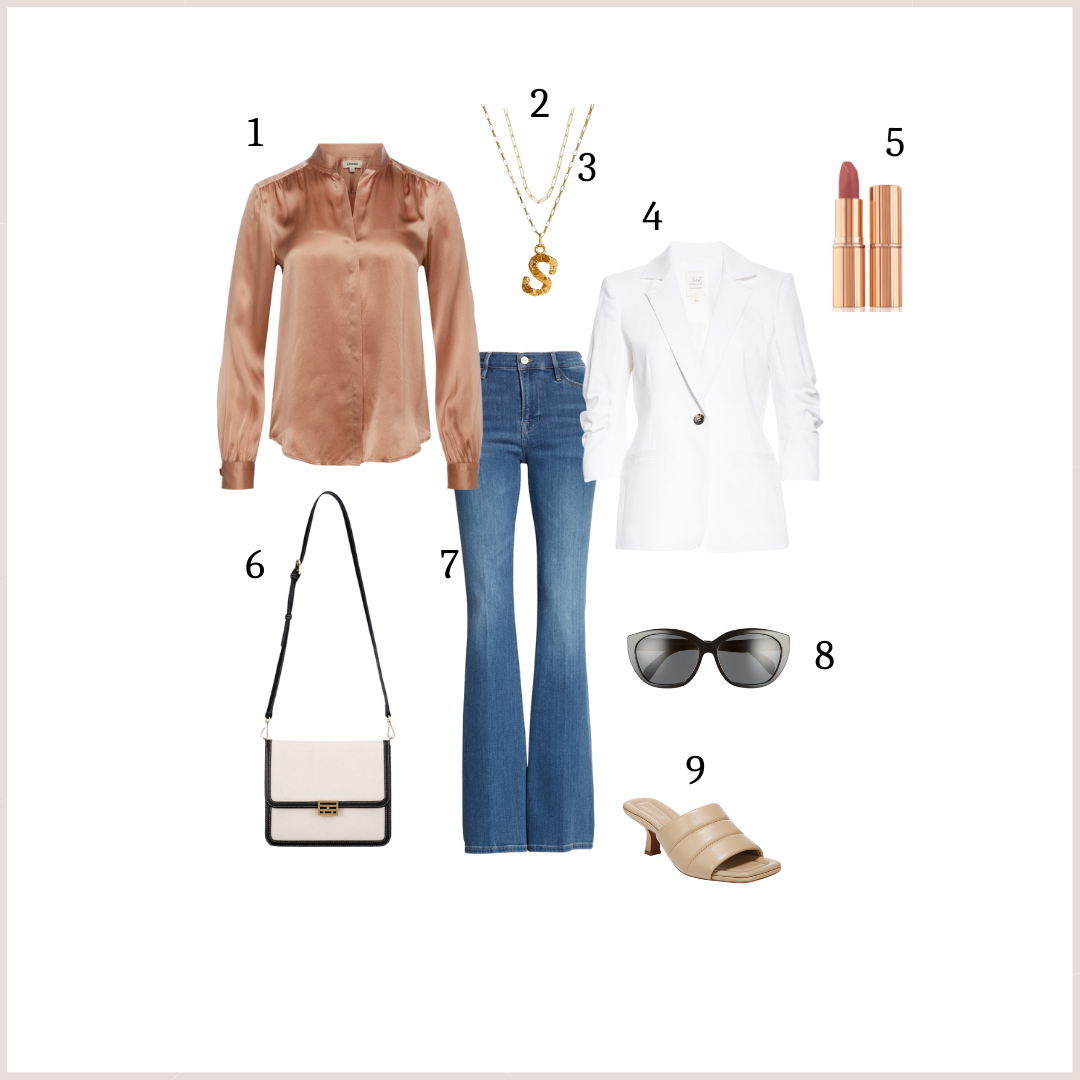 1 | 2 | 3 | 4 | 5 | 6 | 7 | 8 | 9

Styleboard Look five
A pretty dress for vacation or a spring event is this dress by Paige.  I've paired it with a  Stuart Weitzman sandal which looks stylish with this dress and flared denim.
1 | 2 | 3 | 4 | 5 | 6 | 7

Thank you.
xo Sandy