Jeans are one of the essential items of a wardrobe, plus it's the item I get the most requests for every day. But, with skinny jeans taking a backseat, I'm often asked, "what style of denim should I be wearing?" Classic denim, like straight-leg denim, is the style I recommend when you want to venture out to try something new from the denim department. However, a boot-cut is an easy denim to transition into as well. I'm wearing a Mother Hustler straight leg in the photo below. You can view other bootcut denim from Nordstrom here.

Flare Denim
If you are comfortable with straight or bootcut denim and want to step out and try a few other styles, flare denim is the first style that comes to mind. I recommend crop-flare denim with sneakers or loafers for a casual look or with a kitten heel slide. Also, I can speak from experience; the flare-leg denim will give the illusion of long legs. I'm 5'2," and I look like I have legs for days when I wear full-length flare denim. I suggest wearing them with a kitten heel slide, block heel, or wedge sandal. Want a casual, street-style look? Try wearing Nike Air Force 1 or Alexander Mcqueen sneakers to create a "puddled" hemline.

1 | 2 | 3 | 4 | 5 | 6 | 7 

Wide Flare Denim
Lastly, a wide-flare is another denim I like to recommend. It's trendy and fun to wear for  spring and summer. There are two ways to wear this denim.  One way is to cut or hem the denim to hit at or above the ankles. Then, wear with sneakers, a  block heel sandal or slide. The other way you might like is to wear full length and wear with a wedge or chunky sandal or a retro sneaker like this one here.
1 | 2 | 3 | 4 | 5 | 6 

Denim Jacket
StylishSandy. "A denim jacket is a must-have in creating casual spring and summer looks—layer over a dress, wear with trousers, or wear with denim for a Canadian-tuxedo look." Who What Wear, April 1, 2022. As an essential item to the capsule wardrobe I shared in a previous blog post (here), I want to show different looks you can create using the jacket.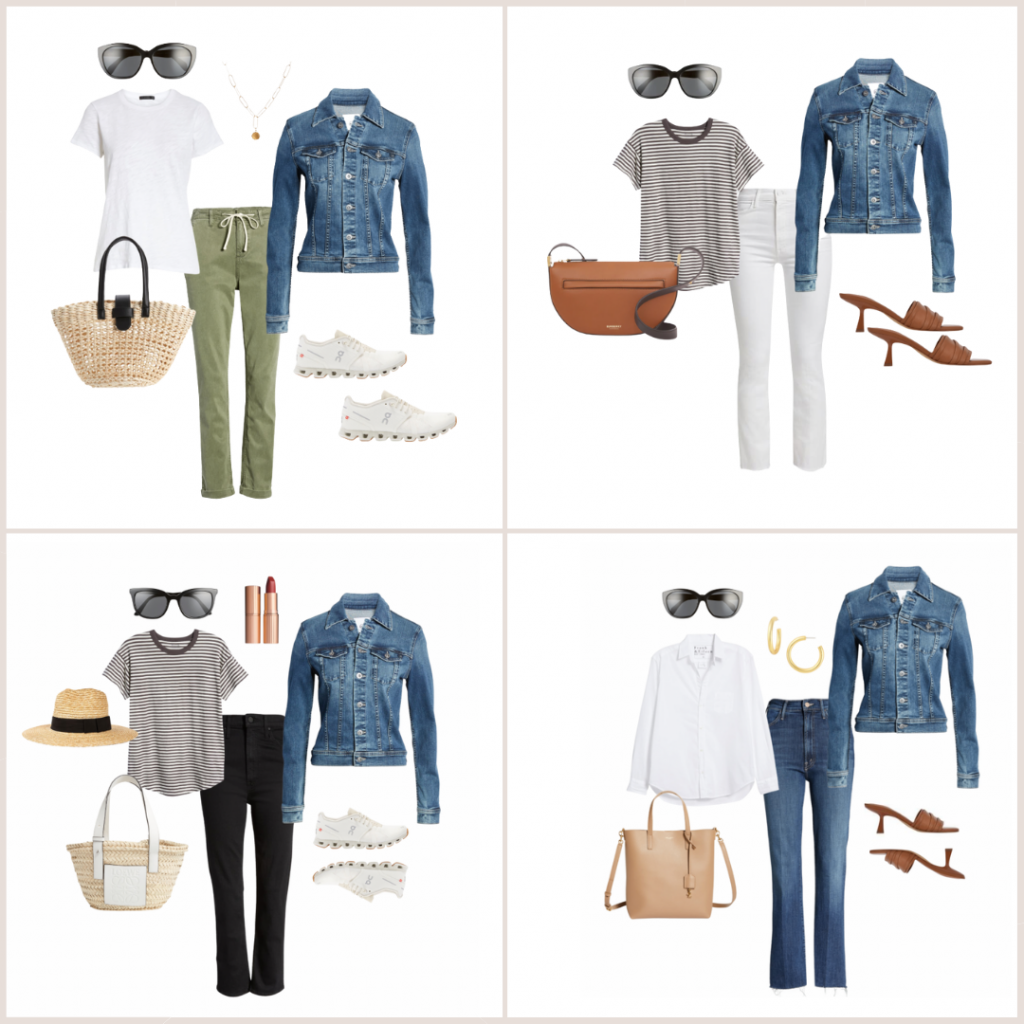 Shop the Post

Thank you for reading.
xo Sandy