If you wear jeans as often as I do, try switching it up this spring and wear white denim! Adding white denim to your wardrobe lets you quickly and effortlessly elevate your style and brighten up any outfit. So, with so many white jeans available, I decided to try on and share a few of my favorites with you. Take a look below; I'm sure you will find a style you like.
1. Mother Insider Step Hem Jeans
I'm a big fan of Mother Jeans! They come in various sizes and offer a stretchy fit that flatters many different body types. I recently tried the Insider frayed, step hem style, which is so cute. The frayed hemline has a relaxed, edgy vibe that's perfect for any casual occasion, while the step hem adds a playful touch for spring. I recommend pairing these jeans with shoes that show off your ankles, like here and here. Oh, and if you're in between sizes, I suggest going up a size to ensure a comfortable and flattering fit.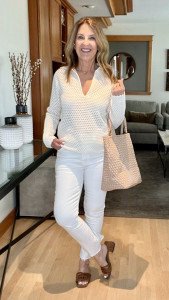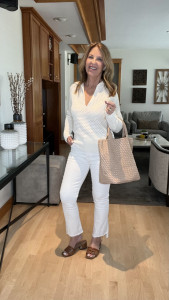 2. Fidelity Malibu Crop Wide-Leg Jeans
Wide-leg jeans are trending, and wearing a white crop version is a fun and chic way to update your spring denim. The style below is the Fidelity Malibu wide-leg crop jean. It's stretchy and has great pocket placement to create a flattering fit. These jeans run true to size but with a bit of ease for added comfort. To stay on-trend, I recommend hemming them to show off your ankles – that's on my to-do list too! The ecru color is another favorite of mine and is perfect for spring. Plus, you can dress these jeans up or down with sandals, slides or sneakers.

3.  Paige Claudine Flare
I'm happy the Paige Claudine is now available in white, perfect for spring! This versatile flared style looks flattering on many different body types, making it a great choice. When it comes to styling, the possibilities are endless! Wear these jeans with heels, or keep it casual with a cute pair of flat sandals.
 

4. Rag & Bone Harlow Straight Jean
This spring, classic straight-leg jeans are trending. And if you're looking for a pair that's both comfortable and stylish, try the Rag & Bone Harlow. These roomy straight-leg jeans are perfect to wear daily. Style them with flats or slides.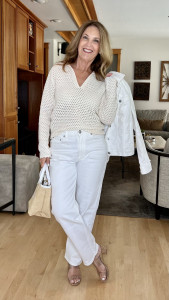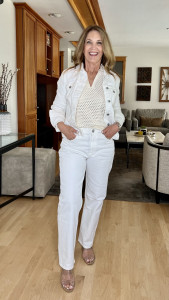 5. J.Crew Crop Bootcut
The J.Crew boot-cut jeans have a 9″ inseam and are an excellent fit for women of many different shapes and sizes (classic, petite, and tall). Plus, they are comfortable and stylish. These jeans are a wardrobe staple you won't want to take off. Style with sneaker, flats or slides.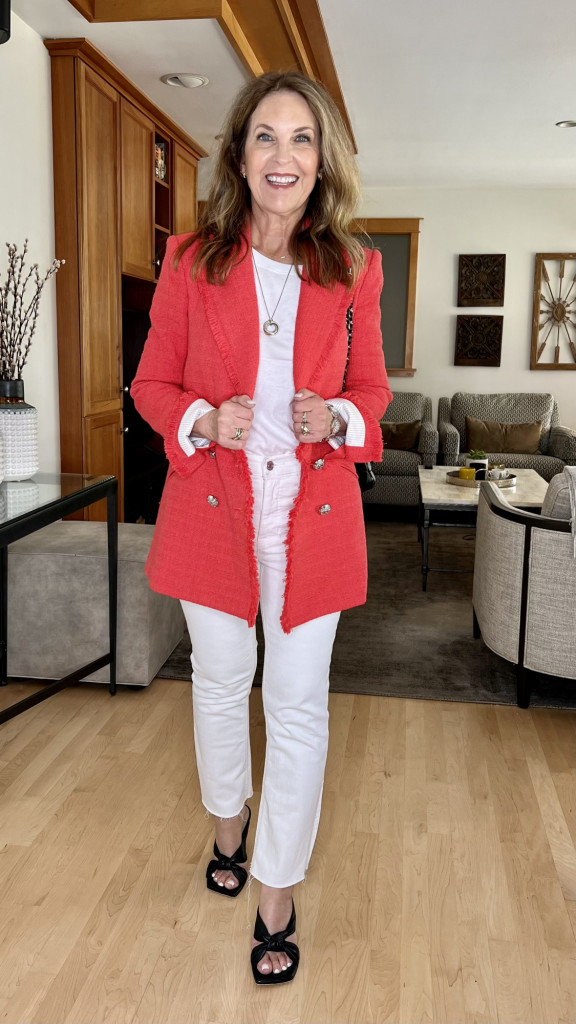 Feature Photo Outfit:

Thank you for reading. Please contact me with questions or comments. I love to hear from you!
xo Sandy