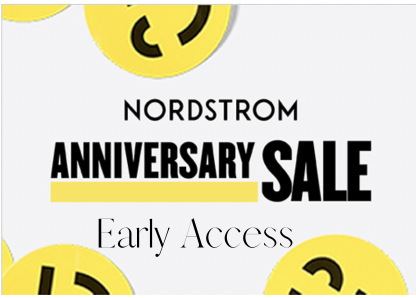 Nordstrom Sale Early Access is in full swing. You may have found some of the "hot items" are no longer available but be patient and continue to watch for them. As a longtime Nordstrom stylist, I have found that sold-out items resurface sooner or later. There are many items on the Anniversary Sale, so today, I want to highlight some hidden gems you might want to put in your shopping cart.  Also, if you missed my IGTV on Nordstrom Instagram you can watch it here.
Hidden Gems – Styleboard
When I look online at the Nordstrom.com Anniversary Sale website, I always find new things I like, and I want to share them with you. I love the casual tops below and think they look nice worn with a pop of color from the wrap coat. How fun is the slender heel and square toe boot by Calvin Klein? I think it's fresh, plus the elastic on the side makes it is easy to slip on and off. These boots will look great with a skirt or dress too.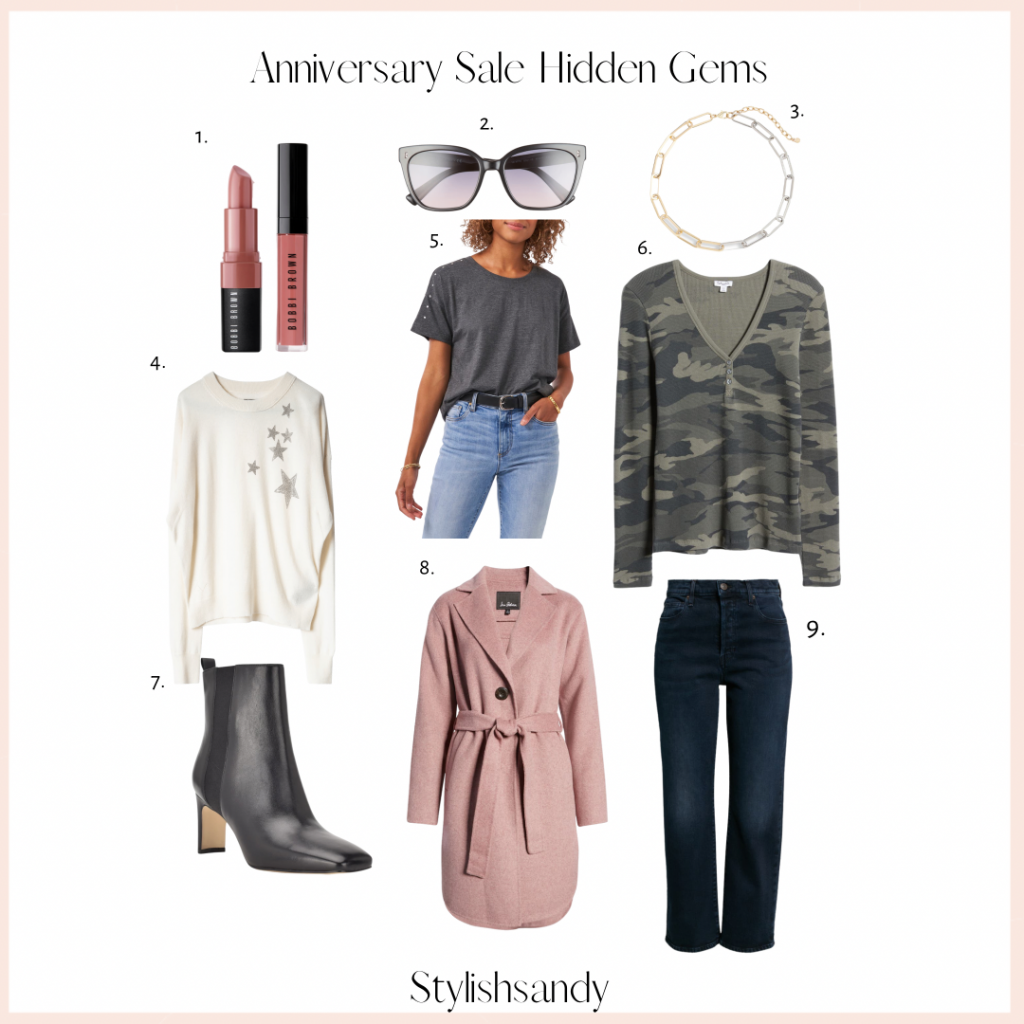 1 | 2 | 3 | 4 | 5 | 6 | 7 | 8 | 9 

Dress up or Dress Down Styleboard
I like versatile items in my wardrobe, and I'm sure you do too. Below I styled one skirt a couple of different ways to create a chic dressed up or casual dressed down look. I like the soft, warm tones and the effortless style that many of us want.
The Vince skirt is beautiful and versatile to wear with a tall boot like the Aquatalia pictured below. Also,  Aquatalia boots are waterproof and will last for years. I believe jewelry can dress up any outfit, and so I added a lariat necklace by BaubleBar to go with the beautiful cashmere sweater. An essential item for every wardrobe is the trench coat, and the Anniversary Sale is a great time to pick one up. Gold hoops are classic and go with every outfit. Here is a 14 karat gold option by Bony Levy. I also like this fashion jewelry earring by Argento Vivo.  Gucci Bloom is a fresh fragrance. I like the sheer lip color #25; that's part of the gift set too. The color is bright but not too bold when applied to the lips.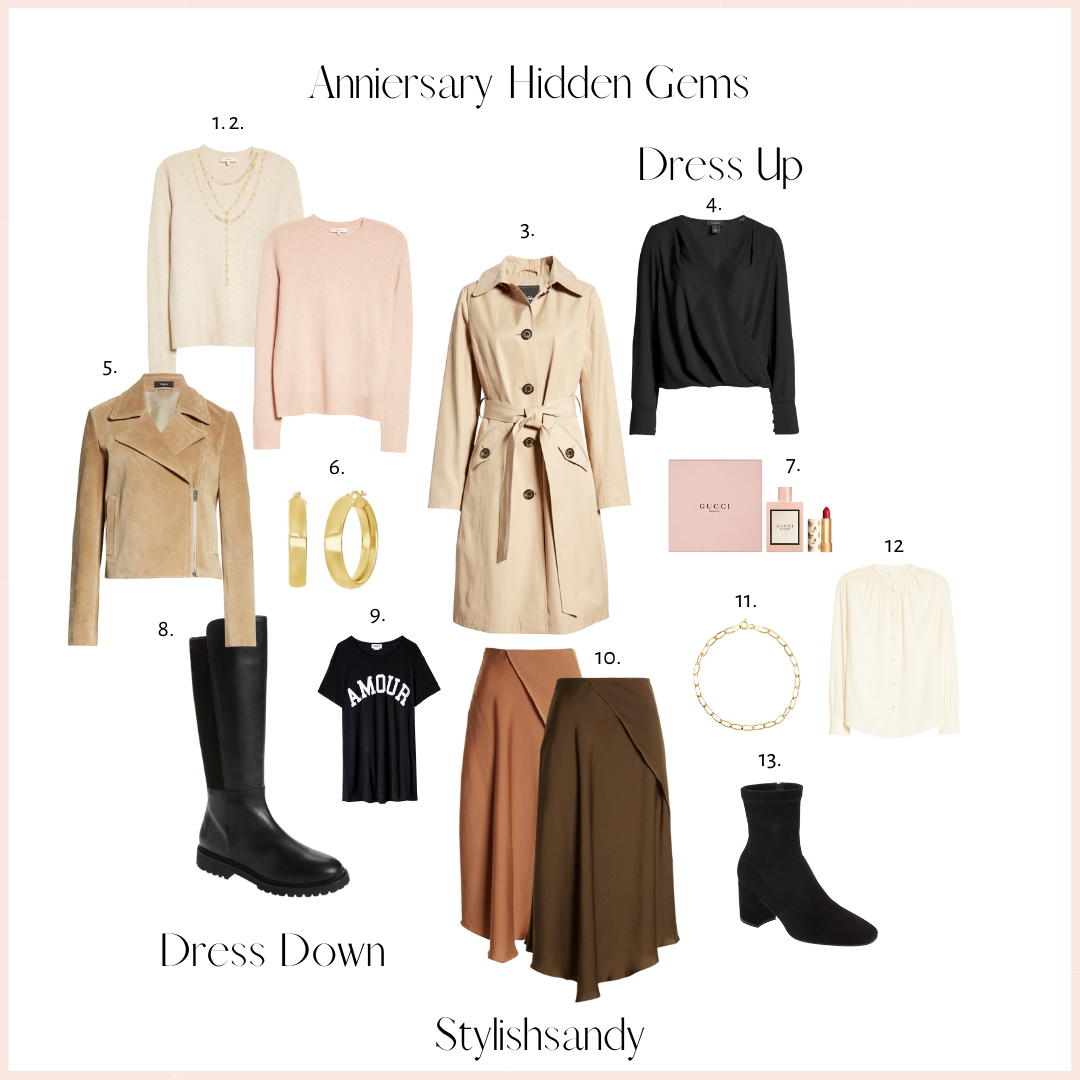 1 | 2 | 3 | 4 | 5 | 6 | 7 | 8 | 9 | 10 | 11 | 12 | 13

Cosmetics and Beauty Tools
It's a great time to stock up on your beauty products, save on beauty tools, and try a new fragrance—many of these products I currently use or have been recommended to me by the Nordstrom Flagship Beauty Stylists.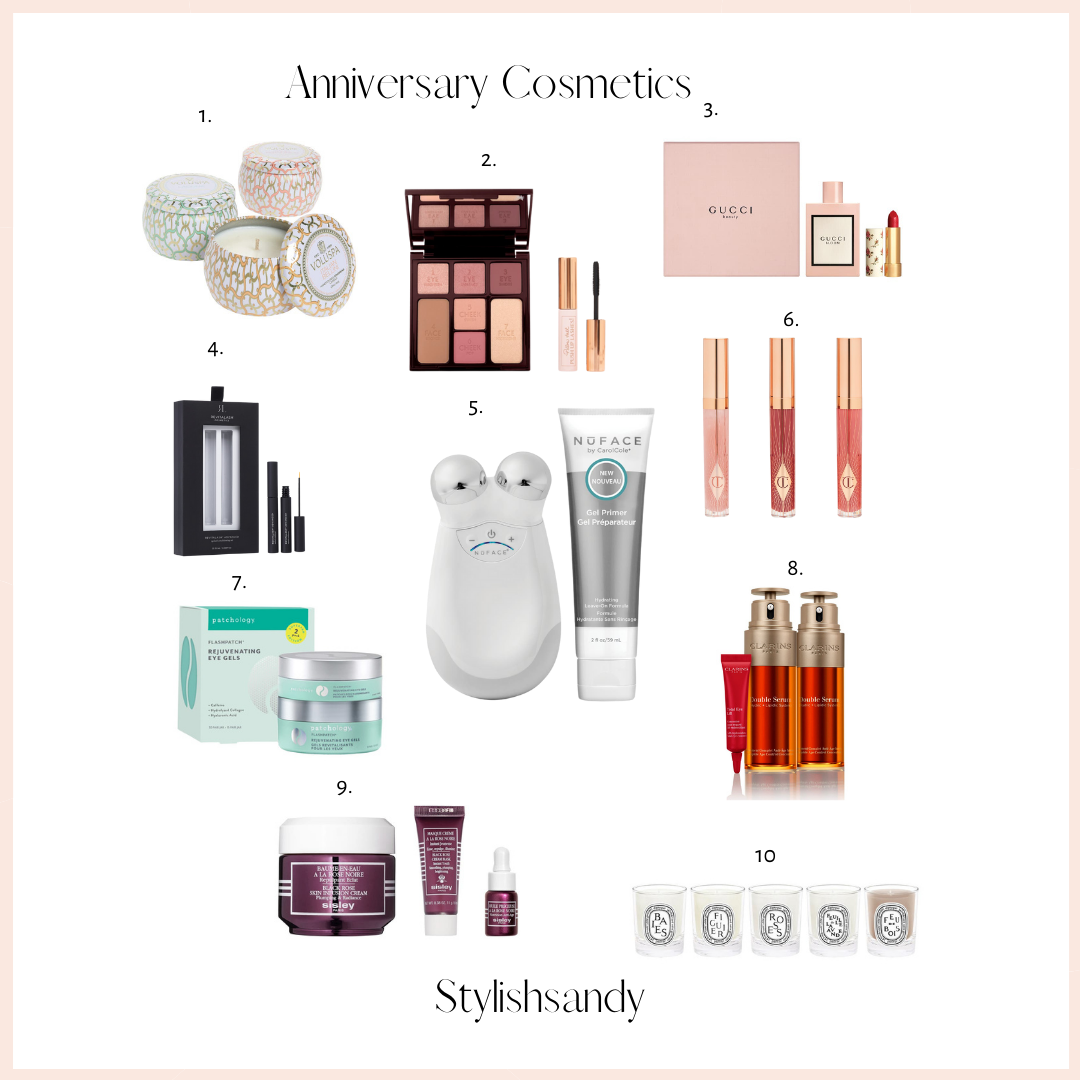 1 | 2 | 3 | 4 | 5 | 6 | 7 | 8 | 9 | 10

Active Wear
Now that gyms are opening up and we are using our activewear for just that, to be active, it is time to update our legging wardrobe. Thank goodness there are many options to choose from on the Anniversary Sale. So here is what I'll be wearing. Each piece is easy to wear on repeat.
I never thought I'd wear bike shorts other than when riding my bike, but they are comfortable for additional workouts and look nice on too. I'm wearing the Natori medium impact sports bra when exercising. I like wearing it during my run/walk along the beach or during weight training. The Asics Gel-Kayano is a favorite of mine, and I own a lot of sneakers. It's a stable yet flexible shoe for running or walking, and I like the color options. Try adding a soft pink sweatshirt to wear over a workout tank. I think I will live in this one on the weekends. Now, let's go work out!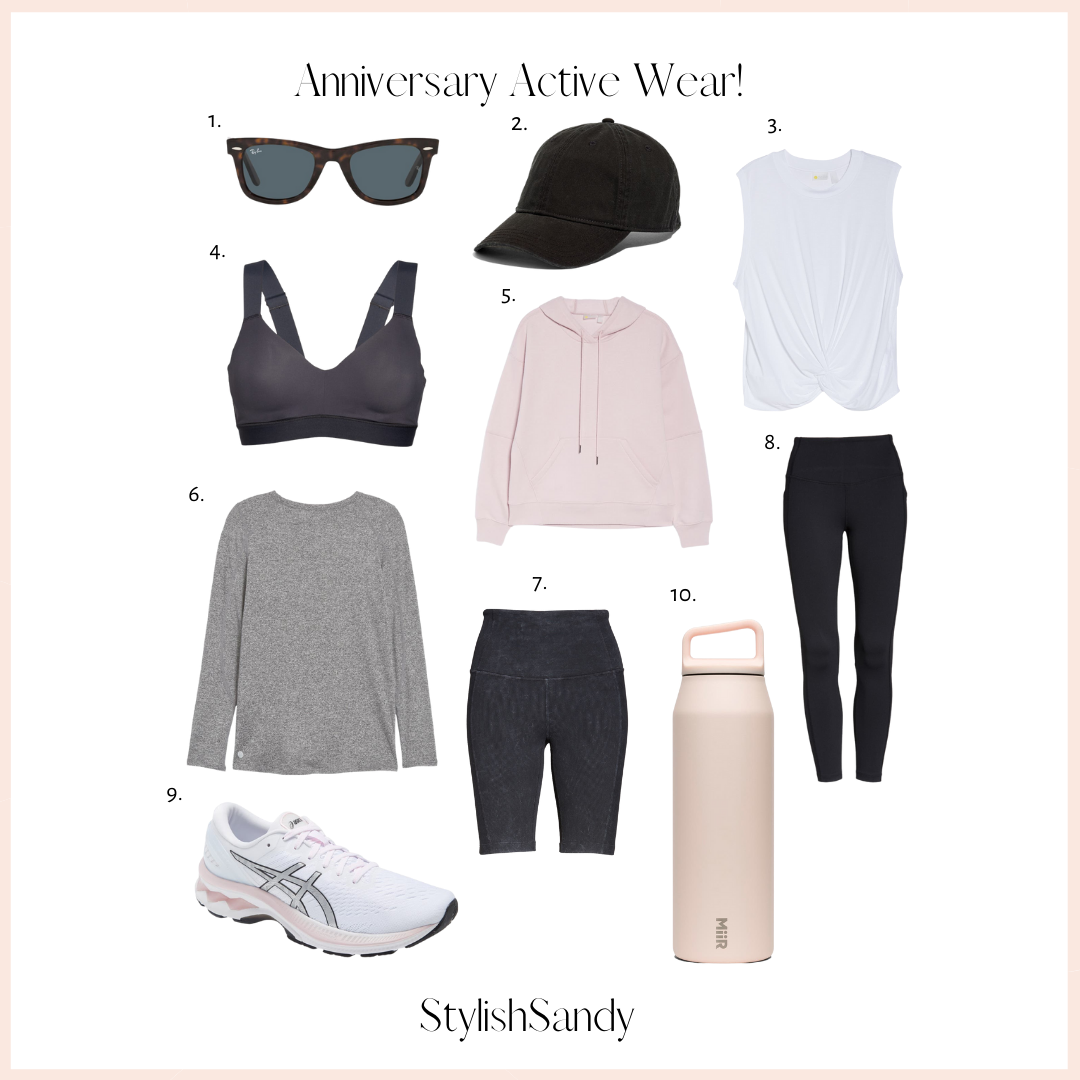 1 | 2 | 3 | 4 | 5 | 6 | 7 | 8 | 9 | 10

Fine Jewelry
Fine Jewelry is on my Anniversary wishlist, and I try to purchase a new piece every year. So here are some items that I like and make great gifts for you or a loved one.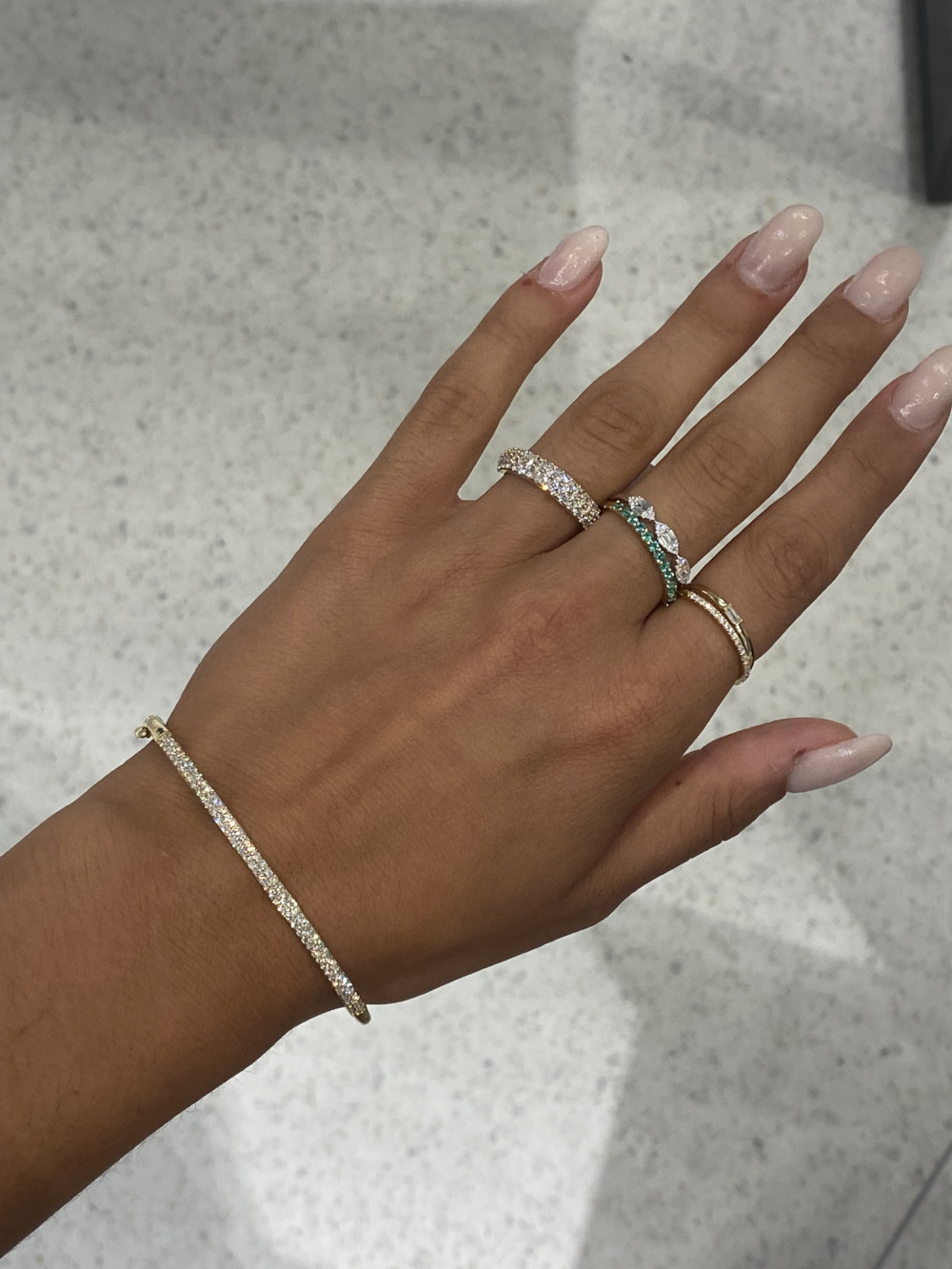 Bony Levy – Diamond Bracelet, Diamond Ring, Emerald Ring, Mika Diamond Ring, Diamond Stacking Ring, Baguette  Stacking Ring

Bony Levy Fine Jewelry
Bony Levy's fine Jewelry is exclusive to Nordstrom. I have first-hand experience working with them and find they stand behind their product and repairs. Want to see more Bony Levy Jewelry? Nordstrom Flagship in Seattle is hosting a Bony Levy trunk show on July 28th and 29th. Don't hesitate to contact me if you'd like to stop by, view the trunk show, and meet Bony. There will be a discount on trunk showpieces as well. Lastly, if you see Jewelry you like here or on nordstrom.com but would like the piece made in a different color gold,  contact me; most likely, Bony Levy will make it for you.

Thank you for reading.  Please contact me with any questions.
xo Sandy