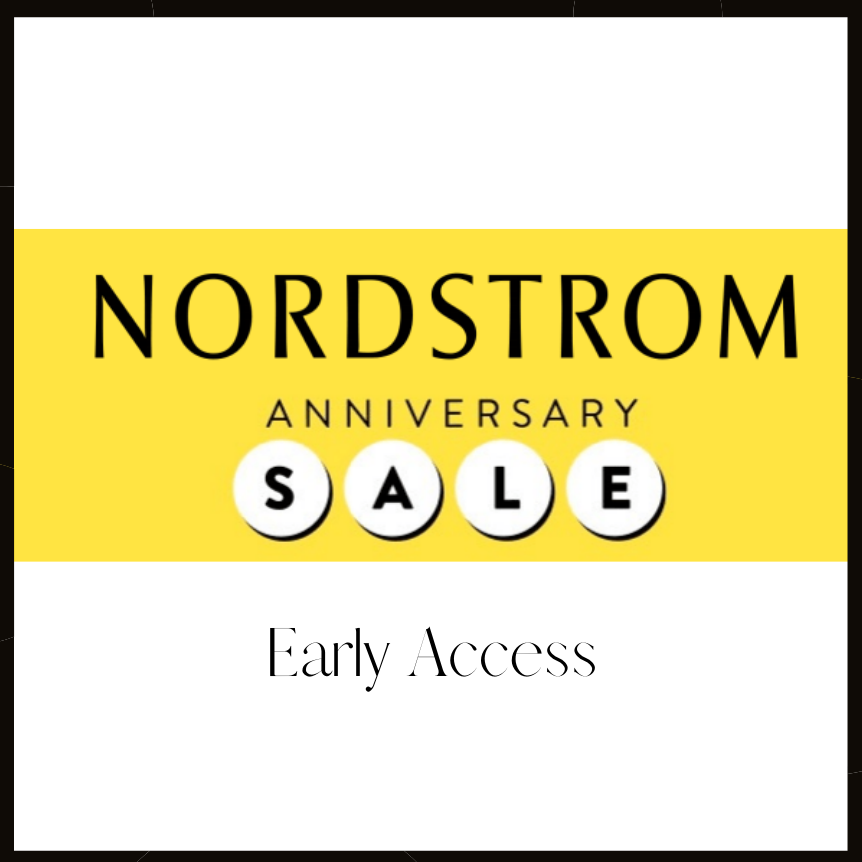 The most anticipated sale of the year has arrived, the Nordstrom Anniversary Sale. But, of course, it is more than a sale. It's an event that most of us look forward to each year. As a VIP stylist, I've helped customers for years shop in-store and, more recently, online for all the latest fall clothing, jewelry, cosmetics, and home goods.
With so many new and amazing products on sale, it can be overwhelming to shop, so I'm going to help you out by showing you, by category, some of my favorite items on the sale. In addition, I will be highlighting items on the blog and Instagram throughout the sale so stop by often to check out my latest posts.
By the way, everyone asks me how they can shop my website and make sure I get credit. To my loyal and amazing clients and friends, I'm so grateful to you for this. Ok, here's how: click on this Nordstrom link, shop, and check out while in my link. Thank you, I appreciate it! Please feel free to contact me if you have styling questions on items you purchase?
My Wishlist
As a Nordstrom employee I get excited to shop the Anniversary Sale like all of you. I shop on the first day of the sale on July 28th and here is what I have on my list. It's long but includes so many great items from throughout the store.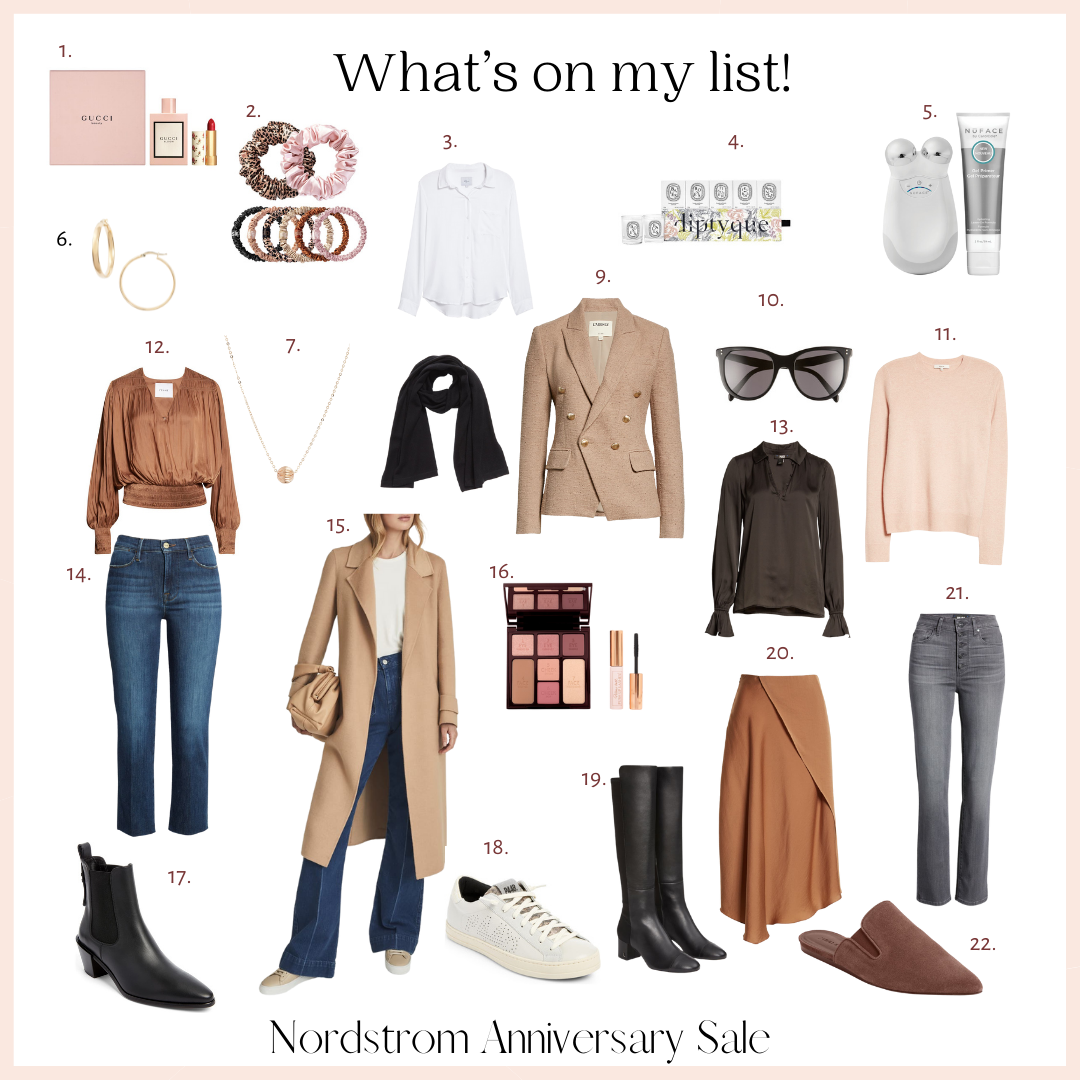 1 | 2 | 3 | 4 | 5 | 6 | 7 | 8 | 9 |10 | 11 | 12 | 13 | 14 | 15 | 16 | 17 | 18 | 19 | 20 | 21 | 22

Some of the items on my wishlist I want to highlight. There are many excellent cosmetic options on the sale. We recently started carrying Gucci cosmetics and am excited that the Gucci Bloom plus the sheer Gucci lipstick #25 is packaged together for Anniversary. I have this lipstick, and I like wearing it when I want a bolder lip. Like many of you, I like Charlotte Tilbury cosmetics and was excited to see this set, including eyeshadow and blusher. Great product and value. 
Now that I have long hair, I need hair bands, and I've included Slip hair bands to my list. Diptique candles are lovely to keep for yourself as well as give as gifts. I love the packaging too. 
We all need a little self-care, and that's why I included the Nuface Trinity Kit on my wishlist. It's a skincare device that lifts and contours your skin and dismisses fine lines and wrinkles. Take 5 minutes a few times a week to give your face some love. I've been eyeing this tool for a long time, and now it's in my cart!
Many of you know that I love the Celine brand, and so I was delighted to see Celine sunglasses on the sale. A chic accessory that everyone looks at, choose one that you feel confident wearing. I found mine!
One hazard of my job is that I try on clothing to check for fit and style. This time everything I tried on fit me! Some of my favorites, pictured above, are on my wishlist and will be an essential part of my fall wardrobe.
In the past I owned a Jenny Kayne mule and loved them so much I wore them out.  I'm so happy to see them on the sale. Try wearing a mule with cropped denim or dresses. I'm intrigued by the lady like feel of the Lafayette148 tall boot and the Vince Lug Sole tall Boot (not pictured).  Different boots to create different looks and I like them both.
Denim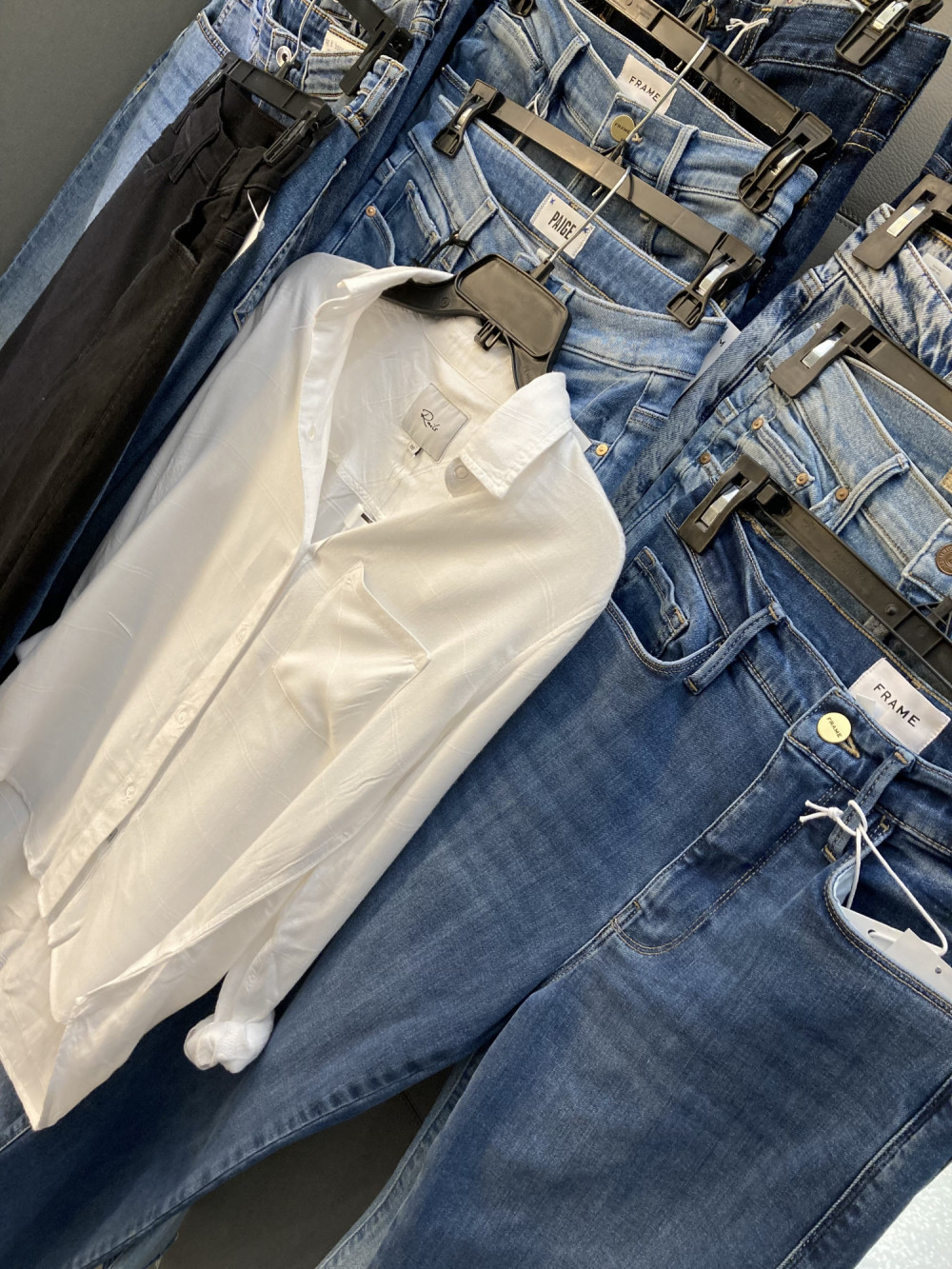 Denim is tending, and I think we are lucky to have so many options that fit true to size on the sale. I recommend you stock up and get three styles of Denim. If you missed my Instagram reel featuring denim you can watch it here.
1. Straight: Below, I'm wearing the Frame Le High Straight leg Denim. It's a nice everyday wash that will take you from day to evening.  Styling tip: I'd alter this Denim to hit at or slightly above my ankle. 
2. Grey: Nice grey denim is hard to find, so I was very excited to see the Paige Cindy with the exposed button fly available on sale. This grey color is perfect, fits true to size, and in general, the Cindy denim fits most body types. I highly recommend it.  
3. Distressed: I like the Paige Cindy ripped straight leg jeans or the Mother Insider High Waist Crop Flare denim. Pair these with your ATM schoolboy t-shirt, a leather jacket like the one from All Saintsor a blazer by Veronica Beard, and Chelsea boots by Frame for a complete look.
I tried on almost all of the denim pictured below.  These are the styles I feel worth mentioning, they fit true to size, except for the Frame le Garçon which runs big.
Frame Denim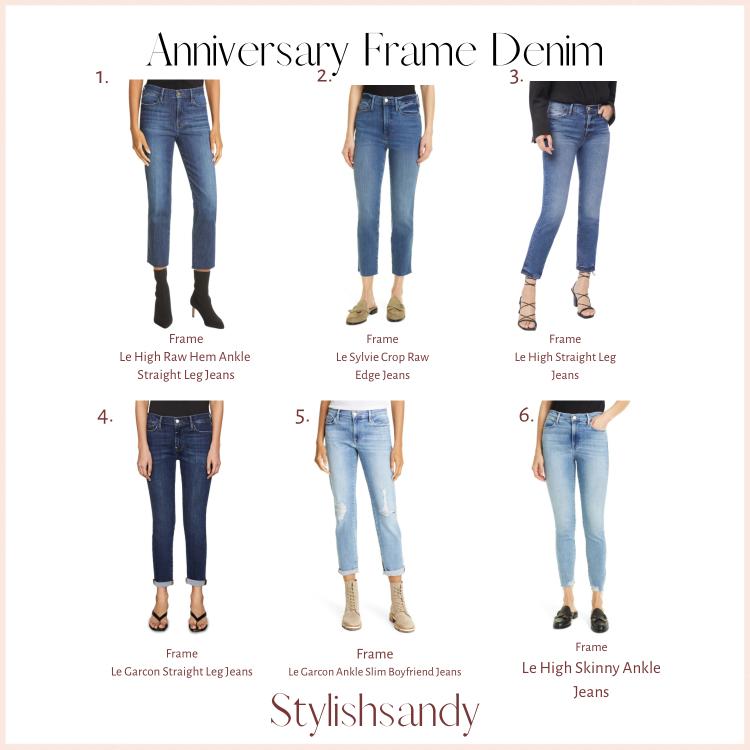 Paige Denim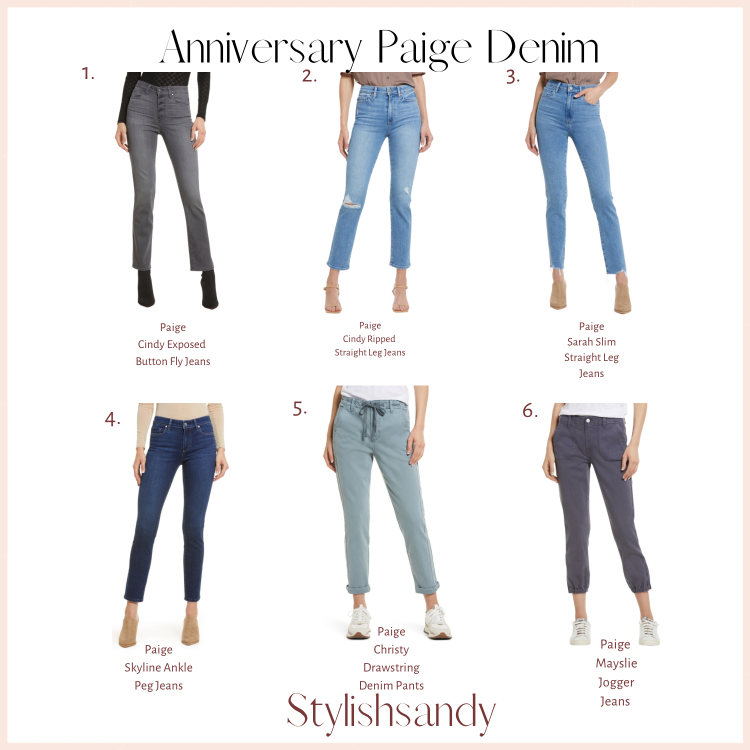 Mother Denim

Blazers
An essential item in every wardrobe is the blazer. You can take any outfit, add a blazer and elevate it to a "wow" outfit. Wear with dresses, skirts, denim, and shorts. Here are some on the sale that caught my attention. The Veronica Beard and Lagence blazers are beautiful and fit well but keep in mind some of the others, too, as they add a little fun and interest to your wardrobe at a reasonable price. Looks with these blazers will be posted on my Instagram during the sale.
1 | 2 | 3 | 4 | 5 | 6 | 7 | 8

Coats
Many followers told me they want to see Anniversary coats for fall. I love a good coat or jacket, and I must say we have some attractive options on the sale. Please take a look below; this year, we are focusing on solids and plaids. If you missed my Instagram edit on coats, you might watch it here.
1 | 2 | 3 | 4 | 5 | 6 | 7 | 8 | 9

Shacket and Moto Jacket
The Shacket (short for shirt jacket) continues to trend, and there are some fun options during the sale. Wear this jacket when the weather is changing and you need a light layer, or wear it over a sweater to add style and extra warmth to your look. Picture yourself wearing this on a crisp fall day. Wear it with denim or over a dress with sneakers or boots. The Moto Jacket is a classic essential item for every wardrobe.  Everyone's favorite,  an All Saints moto jacket.  Get it  while it's on sale.  The colors are rich and will go with all of your favorite looks.  Available in Green, Burgundy, Black and white.

Boots and Shoes
Boots and shoes are a big part of the Anniversary Sale. I love to see the new shoe offerings, and this year, I found a few options I like. The Jenny Kayne mule is a favorite of mine. As I mentioned earlier, I wore out my first pair of these mules, so I'm excited to get another pair—Available in espresso and black and white print. The Chelsea Frame bootie is comfortable and the perfect heel height for running around town. Available in 3 colors for variety. Lug sole boots are trending, and this tall boot by Vince will look stylish with the midi dresses. Please take a look and let me know what you think!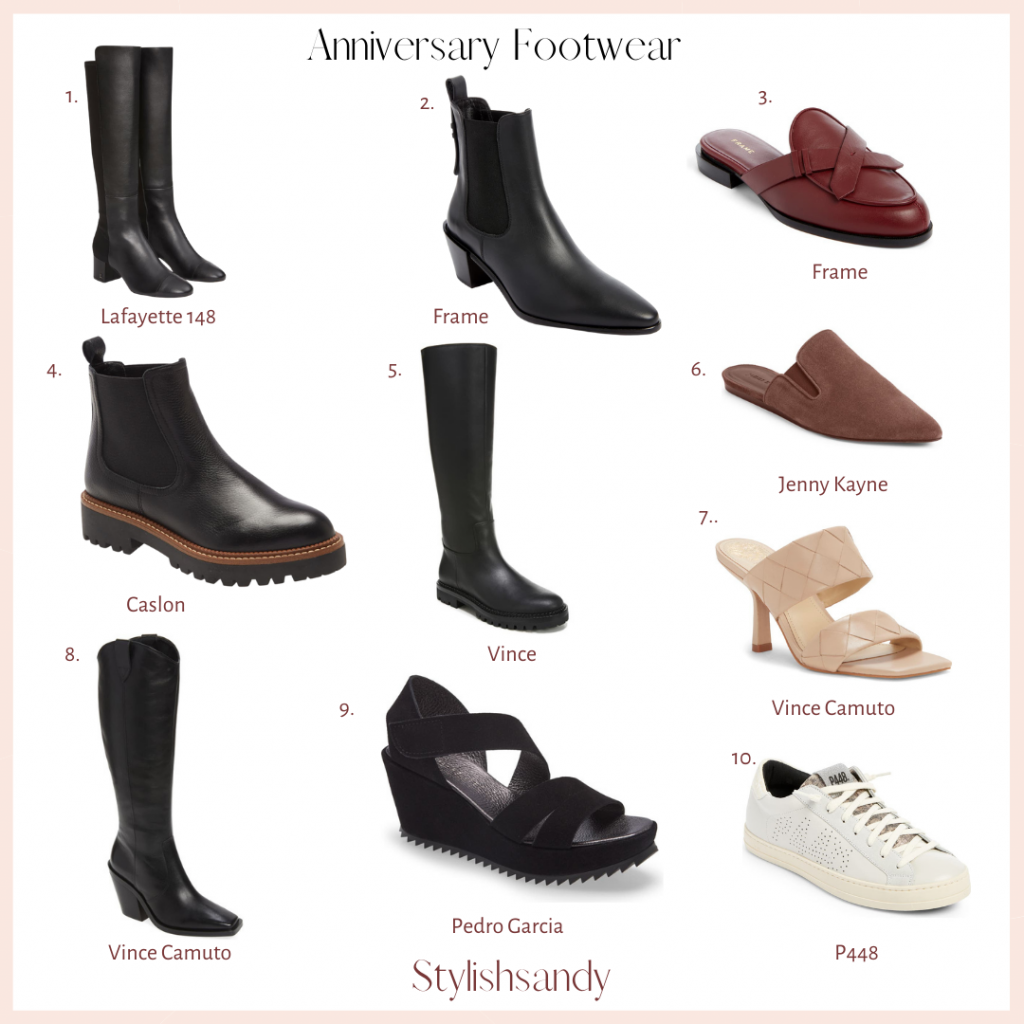 1 | 2 | 3 | 4 | 5 | 6 | 7 | 8 | 9 | 10

Thanks for reading.  Part 2 will be out shortly.   Happy Anniversary!
xo Sandy