I love finding new brands and recently tried some modern dresses from S-DEER. The brand has been around for almost three decades, creating easy, trendy, comfortable clothing in shades of black, grey, white, and occasionally blue and green.  S-Deer likes to add artistic and modern touches to all their styles, making them unique, contemporary, and fun to wear. S-DEER hopes you wear these outfits and let your personality shine through!
I enjoyed trying several dresses from S-Deer and want to highlight a few favorites. Each dress has feminine, modern and edgy details, making each unique and fun. If you'd like to order any of these dresses or other items from S-DEER, make sure you use these discount codes. 
Sandy35 35% off entire order · Minimum purchase of $299.00
Sandy25 25% off entire order · Minimum purchase of $199.00
Sandy 20 20% off entire order · Minimum purchase of $99.00
Plaid Mesh A-Line Dress
This dress is one of my favorite styles from S-DEER. Its modern and feminine design is perfect for holiday parties. You can wear the dress as is or add the plaid crop top. If you want more versatility, pair the plaid top with leggings or high-waisted jeans for a stylish street-style outfit. The netting overlay adds a lovely feminine touch, too.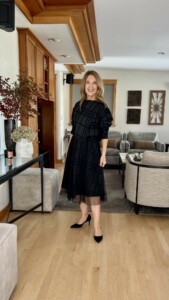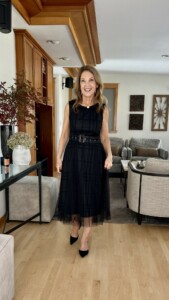 Shop the Post

Round Neck A-line Mesh Short-sleeved Dress
Here's another modern dress from S-DEER  that's unique and fun. I appreciate the clean lines and how effortless it is to wear. The sheer chiffon on the shoulders is a nice added touch to the design. Plus, the tie in the front is adjustable, adding to the dress's charm. I suggest wearing a strapless bra so your bra straps don't show through the chiffon on the shoulders.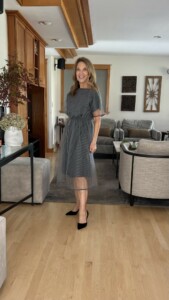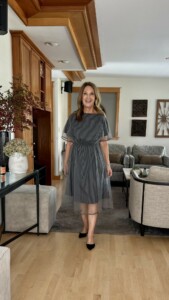 Shop the Post

Gradient Pleated Skirt With Turtleneck Sweater
I like this modern style pleated skirt and turtleneck sweater outfit. It's versatile enough to wear to a holiday party or other events. You can easily transition it into a daytime look by wearing a leather jacket, tights, booties, or tall boots.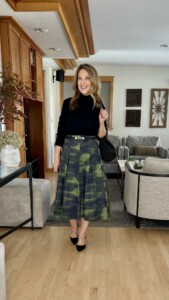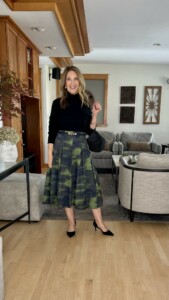 Shop the Post

Ruffle Detailed A-Line Dress
Ruffles and a belted waistline are the highlights of this easy-to-wear Modern style. Try pushing up the sleeves to show your wrists, and add a leather or cropped jacket and boots.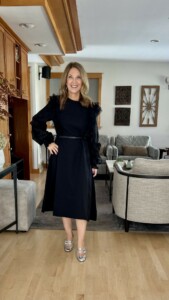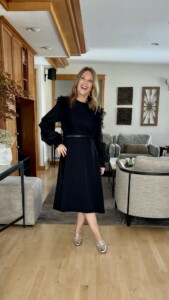 Shop the Post

Trumpet Sleeve A-Line Dress
This last dress is all about comfort and effortless style. The tie belt is a nice detail that brings structure and shape to the dress. I appreciate the pleated sleeve detail, too. Wear with heels, a strappy sandal or boots.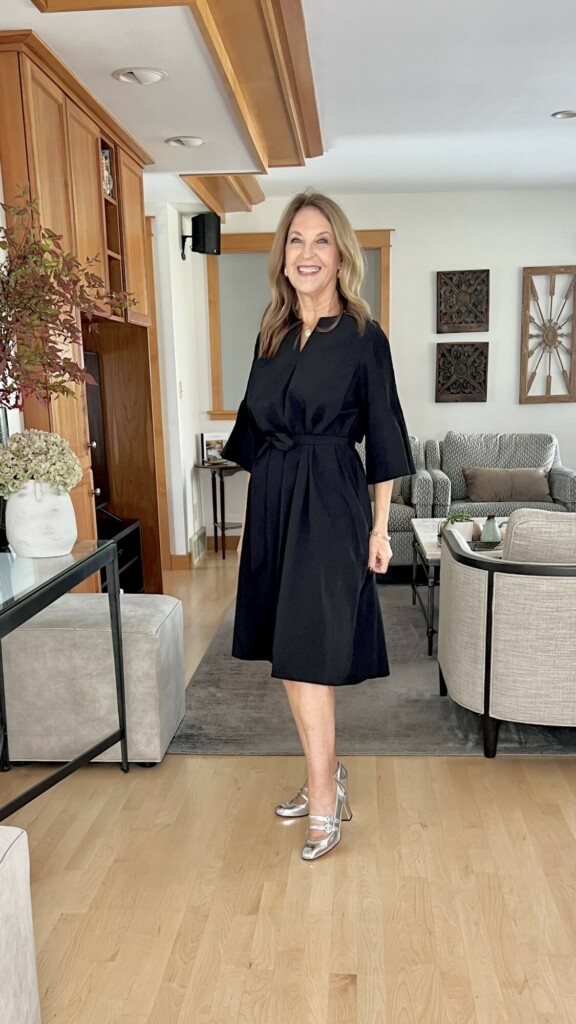 Shop the Post

Here are a few more items from S-DEER To check out.

Thank you for reading. If you enjoyed this post, don't forget to tap the subscribe button. Subscribing ensures you receive all the blog posts directly in your email, so you never miss a post. Also, feel free to share any questions or comments you have.
xo Sandy
Thank you, S-DEER, for sponsoring this blog post.