Sandy and Jennifer
Have you ever wondered what wardrobe stylists talk about when they get together? We chat about our favorite fashion trends and how to style them, of course! Last March, on my trip to Arizona to meet the Nordstrom6, Jennifer Sattler, aka @closetchorography, and I spent a lot of time talking about everything imaginable. Still, somehow the conversations always circled back to fashion and our shared love for it. 
We both started our blogs around the same time and thought it would be fun to collaborate on a blog post that highlights 3 of our "essential items" that instantly pull together an outfit, while also sharing each other's aesthetic. I am drawn to classic, understated, neutral tones and patterns. In contrast, Jennifer loves to mix patterns and wear bright colors. Although the style aesthetics and colors we gravitate toward are very different, the styling rules we apply are the same. Let's take a look.
Three essential items that pull an outfit together: 
The 3rd Piece
When I'm styling outfits, I'm always thinking about the "3rd piece". Essentially, it's an extra piece that pulls an outfit together and provides the finishing touch. It can be a blazer, jacket, or sweater. When you add a 3rd piece, it brings structure to the overall outfit and provides a finished look.

T-Shirt
 Whether I've styled you in the dressing room or virtually, you know, I love a good white t-shirt. It's the number one item I suggest to everyone because it's a great classic. Wear it under a 3rd piece, a slip dress, with jeans or with a skirt or dress. 

Great Shoes
Who doesn't love a good shoe? The right shoe can instantly pull a look together. Right now, thanks to the athleisure trend, it's acceptable and on-trend to wear sneakers with just about everything. A good sandal is always at the top of my list for spring too. Wear with joggers, skirts, day dresses, and denim. 

Let's pull the 3 pieces together.
Sandy's Personal Picks

Jen's Personal Picks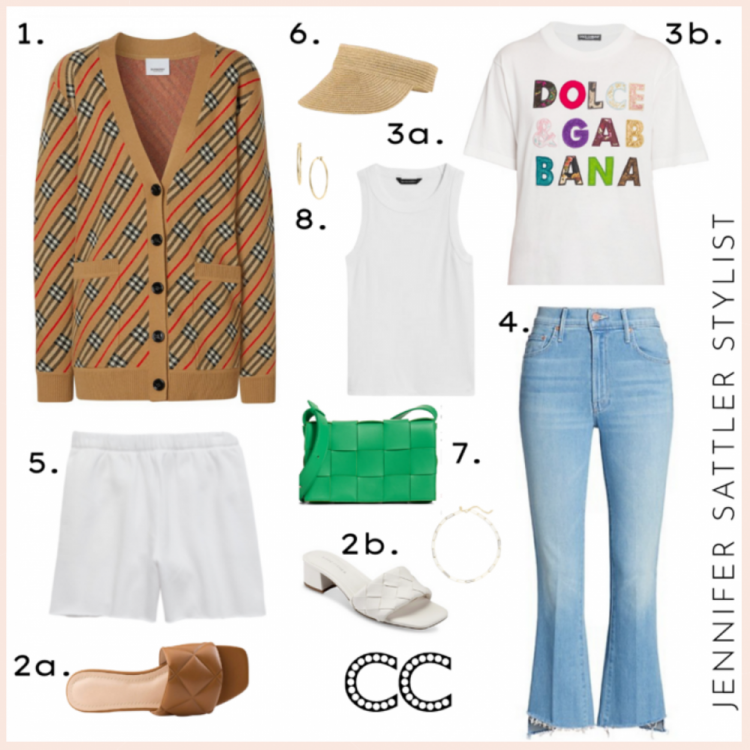 Now head over to Jennifer's blog to see how she styled her 3 essential items: www.closetchoreography.com. 
Thank you for reading. Leave me a note; I'd love to know what you think about our three essential items. 
– Sandy